Since the revolution began in 2011, Cairo has witnessed a blossoming of street art expressing voices from many segments of Egyptian society and social movements. The women's movement, defined in broad terms, was among the first to express its messages of anti-harassment, anti-brutality and freedom of agency on the city's walls.
Many of the images have gone as quickly as they've come due to weekly repainting projects by the Ministry of Interior, but luckily they were documented in time by savior photographers and will now live on forever on the interwebz.
Here is our round-up of feminist street art in Cairo: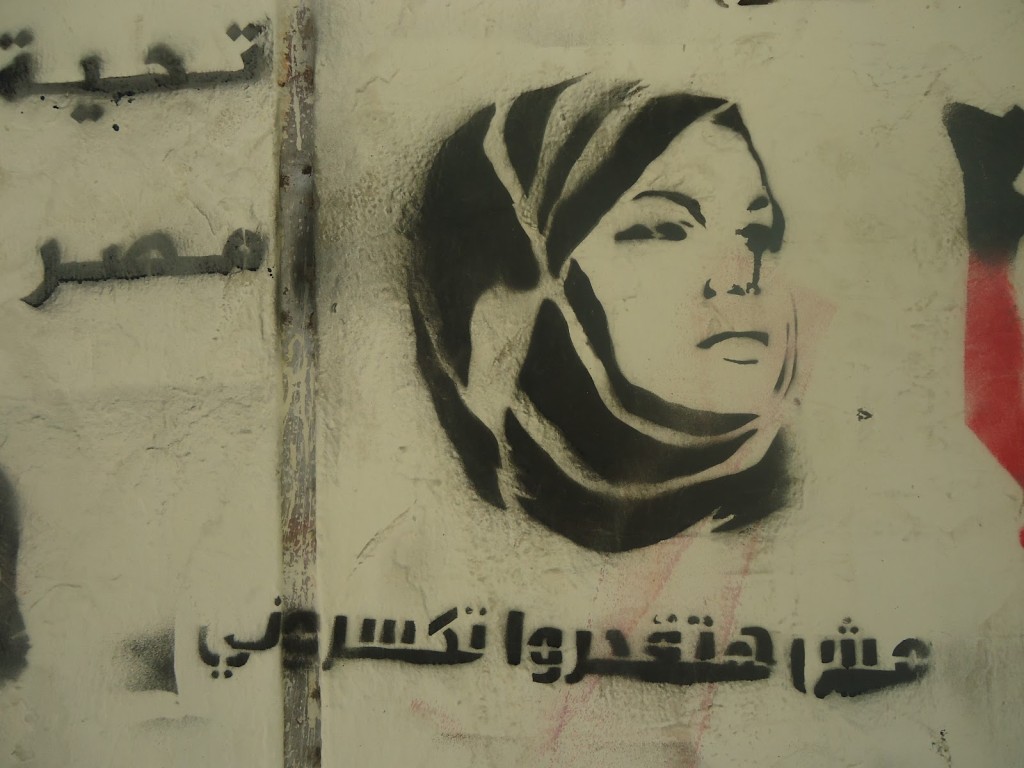 "You can't break me." This piece, by an unknown artist, portrays Egyptian activist Samira Ibrahim. She was among the women arrested at a sit-in protest in Tahrir Square in 2011 where she was subjected to beatings, electronic shocks, strip searching and later, the infamous "virginity testing."
Ibrahim filed a claim in civilian court against the man responsible for the virginity testing, Dr. Adel El Mogy, but her case was dismissed after a military court exonerated Mogy of all charges in March 2012.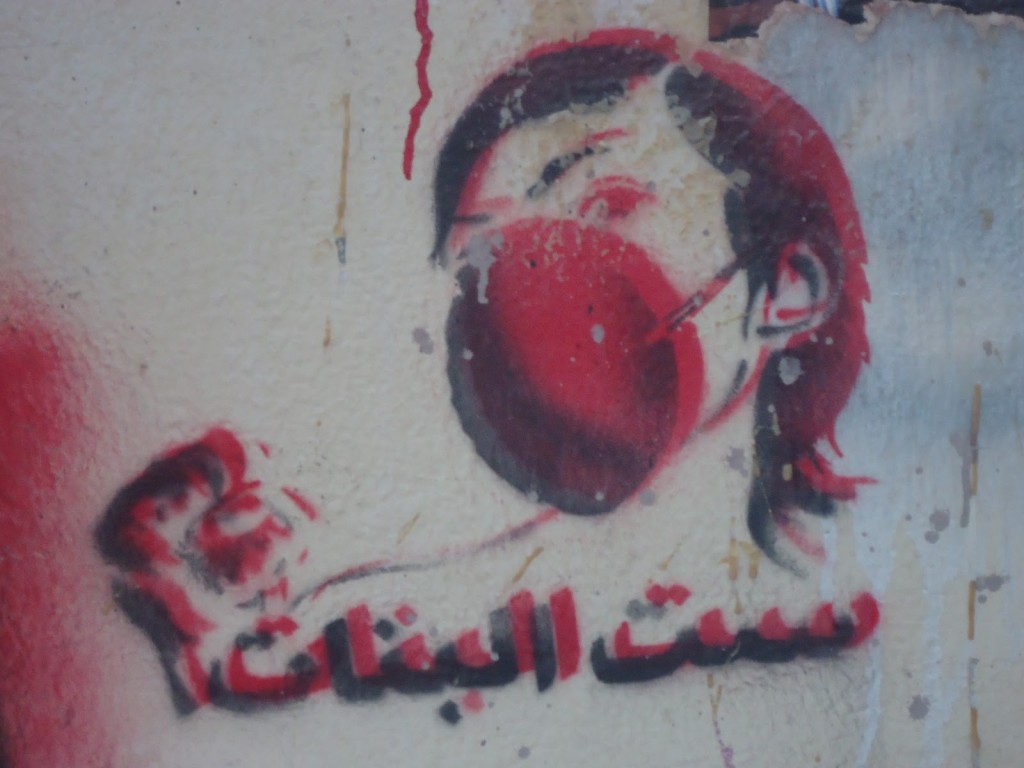 "The best of girls." This piece alludes to the notorious beating and stripping of a young woman by Egyptian security forces at Tahrir Square in 2011. The young woman is commonly referred to as "the girl in the blue bra" as a widely circulated photograph of the incident shows her on the ground with a bare torso, shirt pulled over head, wearing nothing but a blue bra.
The photograph has served as symbol of the state's abuse of power and as a rallying cry for the women's movement.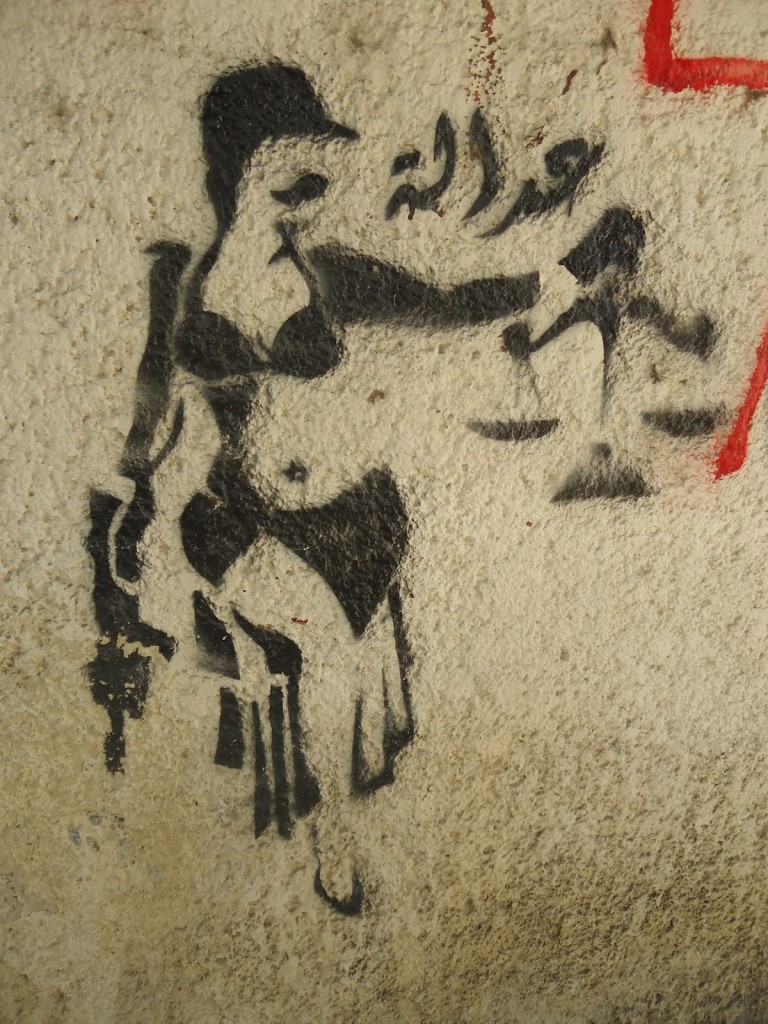 "Justice." Here we have a picture of an Egyptian woman holding a Kalashnikov assault rifle in one hand and a balance scale (the election symbol that represented Mohamed Morsi on ballots) in her other hand. The Arabic on the top right reads "justice" and was the slogan of Morsi's campaign.
We are unsure of the exact meaning the artist was trying to convey (if there was one) but we have a theory.
The woman is dressed as a belly dancer but wears a man's mustache in a genderfuck-esque performance. She demands answers: What does it mean to be a woman during a time of revolution? How can she balance society's demands for her to preserve her "femininity" with her need to stand up for her rights as a woman?
The juxtaposition of male and female gender performance also highlights the irony of Mohamed Morsi's symbol of the scale, which represents balance and equality. What does equality look like for women according to the Muslim Brotherhood? What will "justice" look like? Will "justice" see people differently depending on their sex and gender?
Feel free to agree or disagree.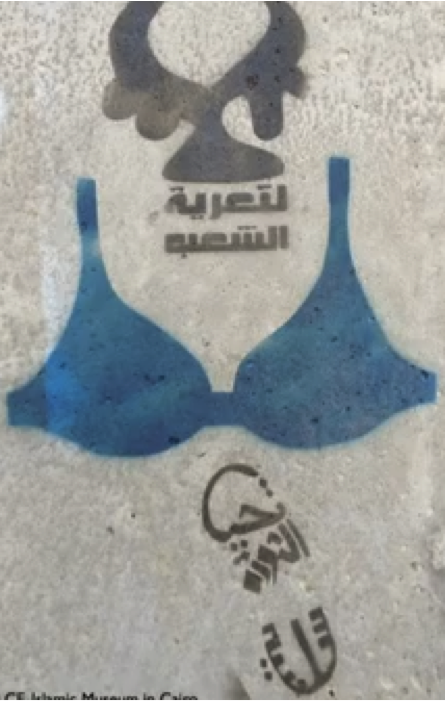 This piece, stenciled by Bahia Shehab, is a reference to the girl in the blue bra.
The text above the blue bra reads "no stripping of the people" and the text below, on the footprint, reads "Long live a peaceful revolution."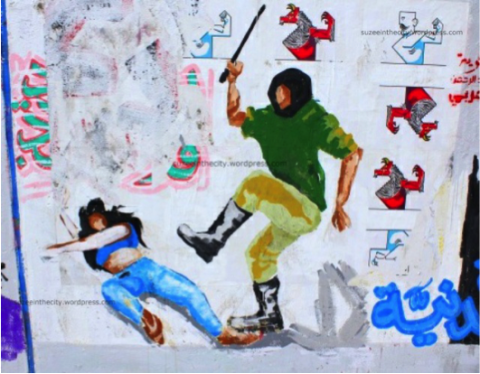 Pictured here is a mural highlighting women's involvement in the revolution. It depicts the blue bra girl incident and also alludes to the state's abuse of power.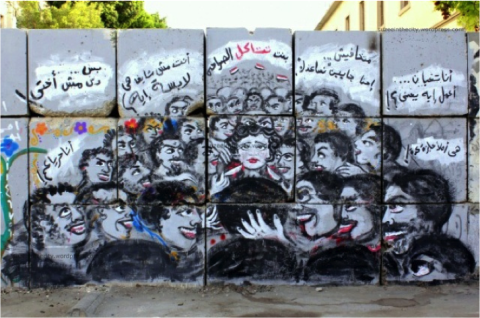 Here we have the "Circle of Hell," a wall mural by Mirah Shihadeh and Zeft, which shows the horror of mass sexual assault faced by female protesters in Egypt. Written above are common "excuses" used by male perpetrators to justify their violence.
"No to harassment" by Mirah Shihadeh. The woman is depicted blowing away street harassers with her can of spray paint.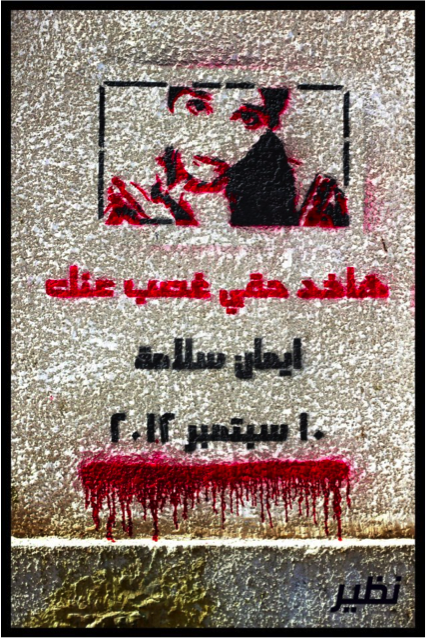 Pictured above is a memorial to Iman Salama. She was shot and killed after confronting a man who groped her on the street. The artist, Nazeer, created this piece hoping that it would bring about awareness and justice to the incident.
This piece by Noon al-Neswa (also known as Nooneswa) shows three women with different head coverings. The Arabic below reads "Do not label me."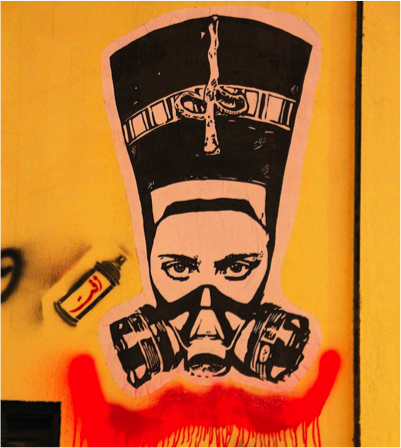 Nefertiti (wife of Egyptian pharaoh Akhenaten) wears a gas mask as a symbol of women's involvement in the revolution, stenciled by El Zeft.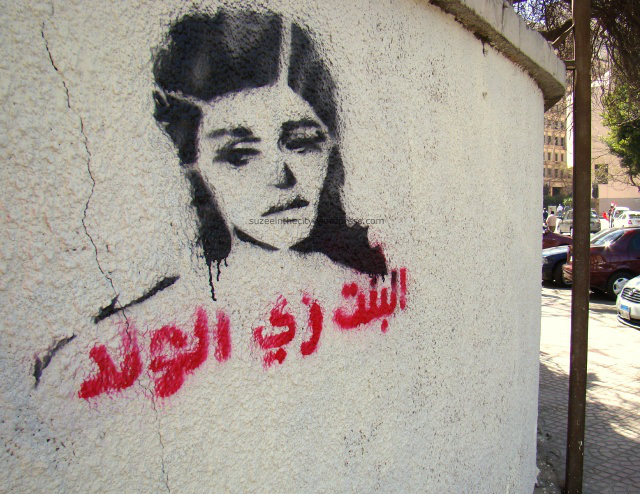 "A girl is just like a boy," by Nooneswa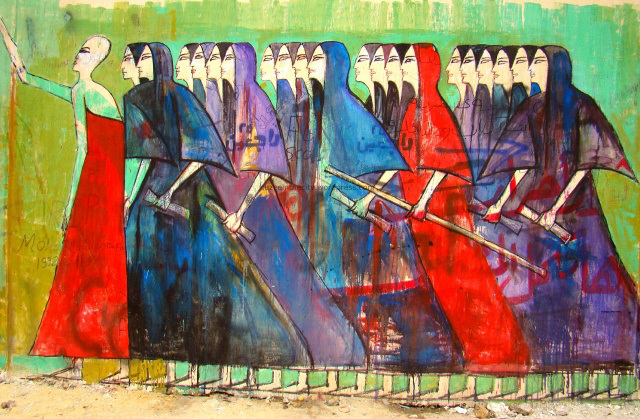 This mural on Mohamed Mahmoud St. downtown, created by artist Alaa Awad, shows pharaonic women preparing for battle.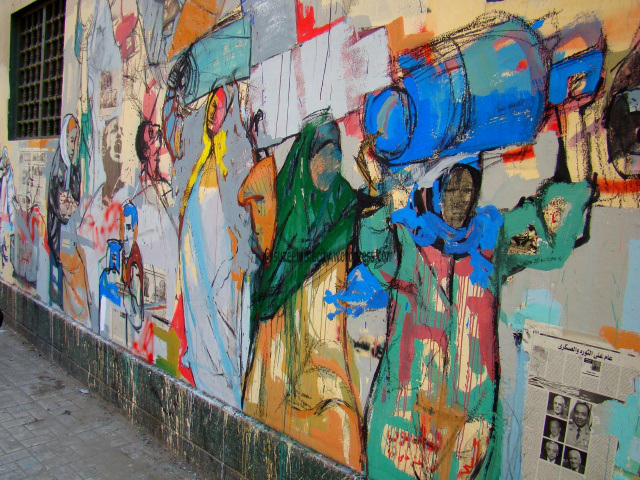 Another mural found on the wall of AUC's main campus downtown illustrates the weight women carry on their shoulders and their potency in sparking action (symbolized by the gas kegs), not necessarily in reference to the uprising, but a general testimony to their vital contributions in society. The artist is Hanaa El Degham.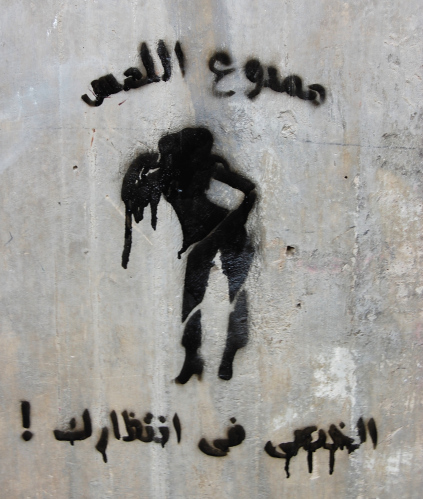 "Don't touch or castration awaits you," by Hend Kheera, the first Egyptian street artist to be featured in Rolling Stone magazine. She is known for her straightforward, honest, no bullshit approach to her work.
"Fear us, government!" by Kheizer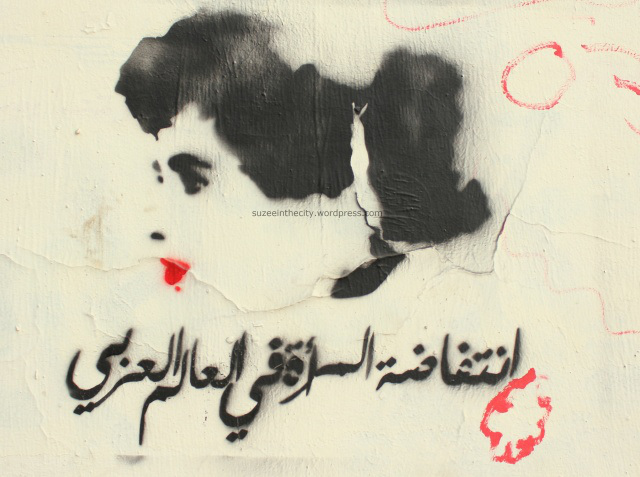 This piece is a reference to "the uprising of women in the Arab world" social media campaign, which aims to empower Arab women through digital media such as photographs, story sharing, and memes. The movement currently has over 120,000 likes on Facebook.
WE SAID THIS: Don't miss "7 Street Artists We Love"