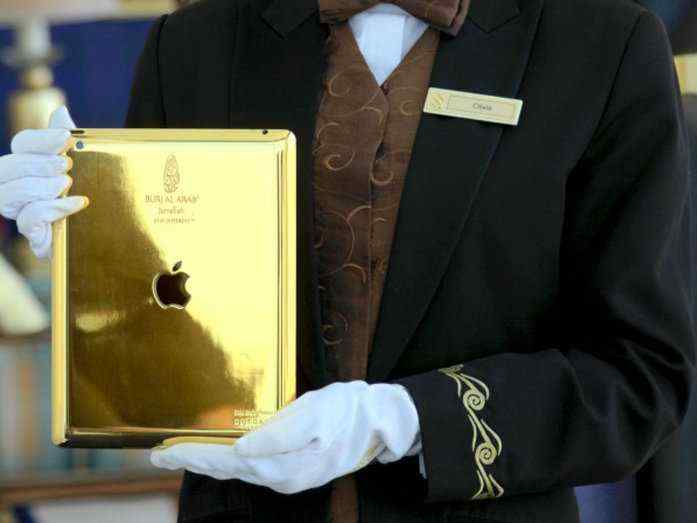 Burj Al Arab here we come!
Dubai's Burj Al Arab hotel, known as the world's most luxurious hotel, has surprised us with their newest luxury amenity: 24-carat gold iPads.
The 24-carat gold iPads were designed exclusively for Burg Al Arab and engraved with the hotels logo. The seven star hotel is now offering a 24 carat gold plates iPads from Gold & Co to every guest upon check-in.
The iPads come loaded with "interactive customer experience" software that enables visitors to have full access to the hotel in a touch of a button.
The Burj Al Arab describes the software as a "virtual concierge" and it is the first hotel in the world to offer it. This software provides the visitors to access both information and the executive selection of hotel services, such as the Guest services Directory, detailed descriptions of Burj Al Arab's restaurants and spa menu, as well as private dining, butler and housekeeping services, among many other options.
Not only will you be given the gold iPad to make your stay more luxurious but they have also recently introduced iMacs inside all of their suits. Sadly, the gold iPad has to be returned as the guests check out.
However The 24-carat gold iPad will soon be available for purchase at Burj Al Arab's bespoke boutique, alongside other technology products, such as the gold iPad mini, gold iPhone 5 and gold BlackBerry Q10.