A lot of people don't know Airbnb is, and why it's actually better than staying at a hotel. Airbnb is the largest accommodation sharing site; just like when you book a hotel, you go on their website or app and book the period of accommodation of your trip, whether it's only one night or more. However, unlike a hotel, with Airbnb there are so many different types, ranging from a modern home in a village, a studio, a tent, or an airy apartment that can fit a group of friends. The common factors of all Airbnbs are that most of them are sparkling clean and comfortable, and usually, the hosts are amazing at giving the authentic local insights.
Egypt is no exception to that! You'll find the most beautiful holiday destinations featuring the best prices. Using Airbnb, you can rent your holiday apartment in Cairo, Dahab, Siwa and more. You'll get the chance to create memorable moments by going on some off-the-beaten-track tours since it's much easier to interact with locals who can direct you to places you wouldn't experience if you booked the normal hotel tour packages.
Scroll down to check out some of Egypt's best Airbnbs.
Located in Giza, this contemporary oriental studio apartment is the perfect place to enjoy a great view of the breathtaking Pyramids of Giza. It has one bedroom, two beds, and one bath, and you can either have the place all to yourself or share it with four friends.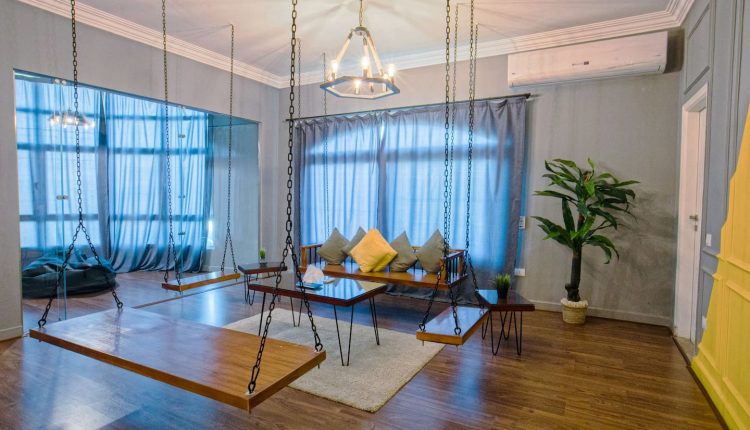 Rent this apartment and you'd feel like you're on a lemonade tropical island. Perfectly situated in the most popular area of New Cairo, Waterway. It's near several restaurants, cafes, a supermarket, and other shops, it's also a few minutes away from the main road, which connects New Cairo to all other areas. The apartment has three bedrooms, four beds, and three baths, you can either have the place all to yourself or share it with a maximum of five guests.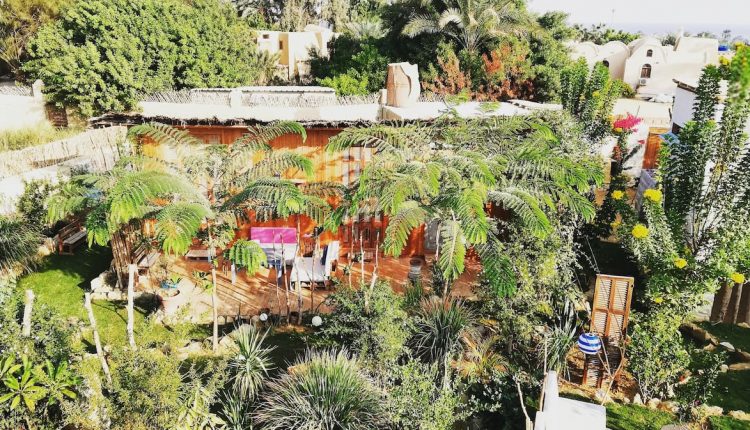 This 27sqm wooden house is the perfect getaway, it's nestled in Tunis Village, Fayoum, just a step away from a rich treat of historic sites. The place offers one bedroom with a French bed, one bath, a living room with a fully equipped kitchen, as well as a loft bed above the kitchen area. Barefoot also features a fire pit, a tiny but heated pool, a beautiful small garden and a private deck with a comfy seating area.
Located in the heart of Cairo, Heliopolis, this charming retreat is a favorite for many. It's an eclectic fusion between vintage and modern furniture giving you all the privacy needed and on top of that, it offers your very own garden space. The house has one bedroom, one bed, and one bath, perfect for three guests.
This studio apartment can be your temporary home away from home during your visit to the beautiful but crazy city of Cairo. With one bed and one bath and the studio's location in the city center gives you a good connection to most of the city's popular areas.
Situated on the first line of the seashore in Dahab, the beautiful cozy house is fully equipped and has a beautiful garden with a sitting area for you to enjoy your morning cup of coffee or the clear sky at night. The place is perfect for two guests, as it offers one bedroom, one bed, and one bath.
Located in Siwa, Oasis, the Temple House is surreal but traditional. Situated in a quiet residential area opposite Shali Lodge Kenous, and is only three minutes walking distance from the center square of Siwa where you can literally find anything you need. The house is perfect for a group of three friends, it offers one bedroom, two beds, and two shared baths.
Located in the heart of the beautiful historic Downtown Cairo. This apartment is so stylish it hurts; it might just be the most beautiful apartment around town. Situated in an early-20th century building situated in the freshly renovated pedestrian quarter of Downtown. The vibe of the apartment is a mixture of antique, vintage, and new furniture. It's a two-bedroom apartment with three balconies, a nice equipped kitchen, and an additional loft bed area.
This dreamy apartment is located in Dahab, Eel Garden and it's only two minutes away from the beach. It offers one big bedroom with two beds and one bath, and also features a rooftop with a breathtaking view of the sea as well as a really nice shared garden area; what more could you want!
Built during the 1940s, this villa should definitely be on our bucket list. With high ceilings and well-lit windows, this charming place can be your ideal base for exploring the city as it's situated near the center of Cairo in the neighborhood of Heliopolis. The vibe is an eclectic mixture of vintage and modern, offering you all the privacy needed for a memorable holiday.
WE SAID THIS: Have you tried Airbnb before?