As we age, so do our brains. According to the study "Aging and the brain" conducted by R. Peters, normal aging can cause our brains to shrink and our cognition to change. It can even lead to mild memory loss, as well as differences in the levels of hormones and neurotransmitters that we produce.
Fortunately, just like with heart health, what we eat can have a positive impact on our brain health. And Prevagen is making eating to support our brains easier than ever before.
What is Prevagen?
Prevagen is an over-the-counter dietary supplement that's specifically developed to support brain function.* It's formulated with apoaequorin,* an ingredient that was first discovered in the jellyfish species Aequorea victoria.
In fact, in one clinical study, Prevagen enhanced a number of aspects of cognitive functioning in participants over a 90-day period.* Overall, the most commonly reported benefit of the supplement is improved memory in the normal aging brain.* Because no prescription is needed to purchase Prevagen, it's available to anyone. It can be used along with other everyday vitamin and mineral supplements and is not intended to replace any regular supplement regimen.
Food for Thought
In addition to taking supplements, experts recommend eating a brain-healthy diet. A clinical study with more than 4,000 healthy participants explored the impact of diet quality on focal vascular lesions and structural brain tissue volumes. The study results showed that participants who consumed a healthy diet had larger total brain volumes – predominantly driven by hippocampal volume and white matter volume. The scientists concluded that unhealthy eating might increase the risk of cognitive issues due to brain shrinkage, while a healthy diet could protect the brain from declining faster than it naturally does. A brain-healthy diet is one that's limited in alcohol and saturated fats and includes plenty of fruits, vegetables, and healthy unsaturated fats like fish – a good source of omega-3 fatty acids.
Interestingly, the AARP recently conducted a survey to see how people rated their own mental sharpness. According to the findings, adults who were 40 and almost always ate healthy foods were twice as likely to rate their mental acuity as "very good" or "excellent" compared to those who rarely ate a nutritious diet.
The Prevagen Cookbook: "Cooking for Brain Health"
Although many of us are aware that we need to eat a brain-healthy diet, it can be challenging to determine exactly which foods are good for your brain and which aren't. While it can certainly help to go to a nutritionist for guidance, not everyone has the time or money for that. Unfortunately, that can leave people who are trying to eat healthier floundering and still making the wrong dietary choices. This problem is further compounded by confusing messaging on food items in grocery stores. For example, does "low fat" mean that the item is low in saturated fats or healthy fats?
At the same time, even if you know which foods are healthy for your brain and which ones aren't, it can be difficult to come up with recipes that are pleasing to the palate. For example, avocados are healthy – but how can you turn them into a satisfying meal? And what exactly can you do with chia seeds, which are proven to be a good source of omega-3 fatty acids? Furthermore, even if you know one or two brain-healthy recipes, that's not enough to provide you with a balanced diet. To be truly healthy, you need to consume a variety of fruits, vegetables, complex carbohydrates, proteins, and unsaturated fats.
For these reasons, Prevagen has published a cookbook titled "Cooking for Brain Health." It contains a total of 15 delicious and healthy recipes for breakfast, lunch, dinner, snacks, and desserts. Each meal is made up of mainly fresh foods with few or no preservatives and other additives. Moreover, the meals contain a healthy balance of carbohydrates, protein, and fats, as well as plenty of minerals, vitamins, and antioxidants. Plus, each recipe includes a tip about how the main ingredient supports brain health. That takes the guesswork out of putting a balanced meal together, whether it's a fortifying breakfast or a healthy mid-afternoon snack.
For those who are serious about keeping their brains healthy, the cookbook offers an easy way to produce tasty dishes without spending too much time in the kitchen. At the same time, with ingredients like black beans, spaghetti squash, and Greek yogurt, the dishes are affordable for most – even those who are cooking for a family. Because the recipes are specifically designed to be simple, everyone from novice cooks to accomplished chefs can produce tasty meals with them. And that makes eating a healthy diet every day a pleasure – not a chore.
Recipes That Support Brain Health
To give you an idea of how "Cooking for Brain Health" can help those looking to support their brain function and overall health, we've included some of the recipes below.
Breakfast: Flourless Banana Pancakes (serves four)
1 ½ ripe bananas
1 large egg, beaten
2 tbsp chopped walnuts
1/8 tsp baking powder; 1 tsp chili powder
½ tsp vanilla extract
½ tsp cinnamon
¼ cup of fruit of your choice
In a bowl, mash the bananas with a fork until they're smooth. Whisk the egg in a separate bowl, then add vanilla, baking powder, and cinnamon. Pour the egg mixture into the bowl with the banana, and mix everything together. Next, heat a skillet over medium heat. Pour a quarter of the mixture into the skillet, and sprinkle the chopped walnuts on top. Cook for three minutes, and then cook for another three minutes or until golden. Serve with maple syrup, fresh fruit, or on its own.
Lunch: Caprese Sandwich (serves one)
2 slices of bread
2 thin slices fresh mozzarella
3 slices fresh tomato
basil leaves, torn
olive oil
balsamic vinegar
salt and pepper to taste
Lightly toast the slices of bread. Next, layer the cheese, tomato, and torn basil leaves on one slice. Add a drizzle of olive oil and balsamic vinegar, as well as a pinch of salt and pepper. Then, add the other slice of toasted bread.
Dinner: Turkey Zoodles (serves four)
12 oz bag frozen zucchini noodles
1 lb lean ground turkey
2 tbsp minced garlic
1 ¼ tsp Italian seasoning
salt and pepper to taste
3 cups marinara sauce
2 tsp olive oil
Preheat the oven to 400 degrees. Then, heat one teaspoon of olive oil in a skillet over medium heat. Add the frozen zucchini noodles, cook according to the package instructions, and set aside. Heat one teaspoon of olive oil in a skillet over medium heat, add the ground turkey, and cook until brown. Add the garlic, Italian seasoning, salt, and pepper while cooking for five minutes. Next, add the marinara sauce, and cook for five more minutes. Add the zucchini noodles and cook until reheated.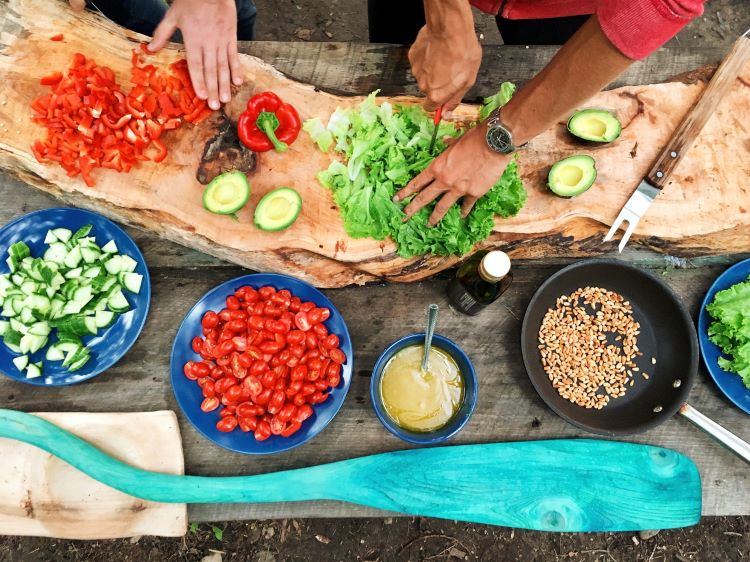 Download the Prevagen Cookbook for Free
If you're interested in more of these mouthwatering recipes, we've got great news for you: You can download "Cooking for Brain Health" for free from the Prevagen website. Just follow this link, enter your email, and choose between the electronic version or the printable version.
Keeping your brain healthy doesn't have to be a hassle. With these easy-to-prepare recipes from Prevagen, you can provide your brain with the nutrients it needs while still enjoying delectable dishes at every meal.
*These statements have not been evaluated by the Food and Drug Administration. This product is not intended to diagnose, treat, cure, or prevent any disease.
WE SAID THIS: Cook your way to good health!