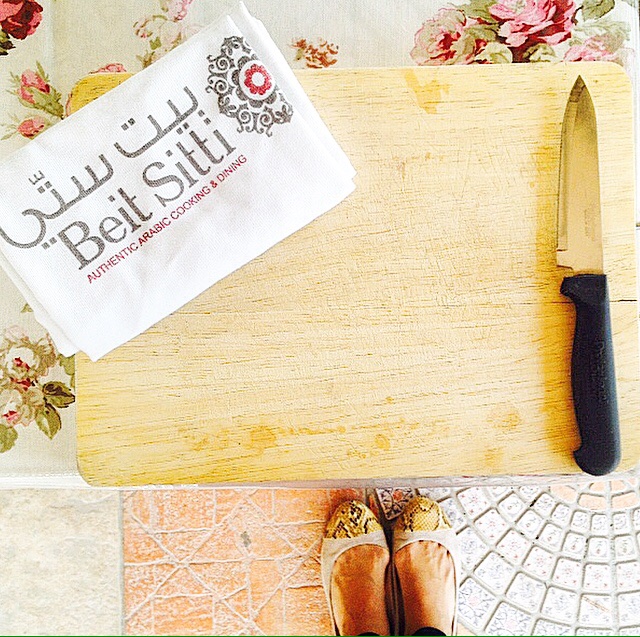 In an effort to keep the memory of their grandmother alive, Maria and her sisters converted their grandmother's quaint villa into a cozy restaurant where patrons can learn to cook their own Levant-inspired menu. Beit Sitti, which literally means "my grandmother's house" is nestled in the historic and charming neighborhood of Jabal Webdeh overlooking old Amman.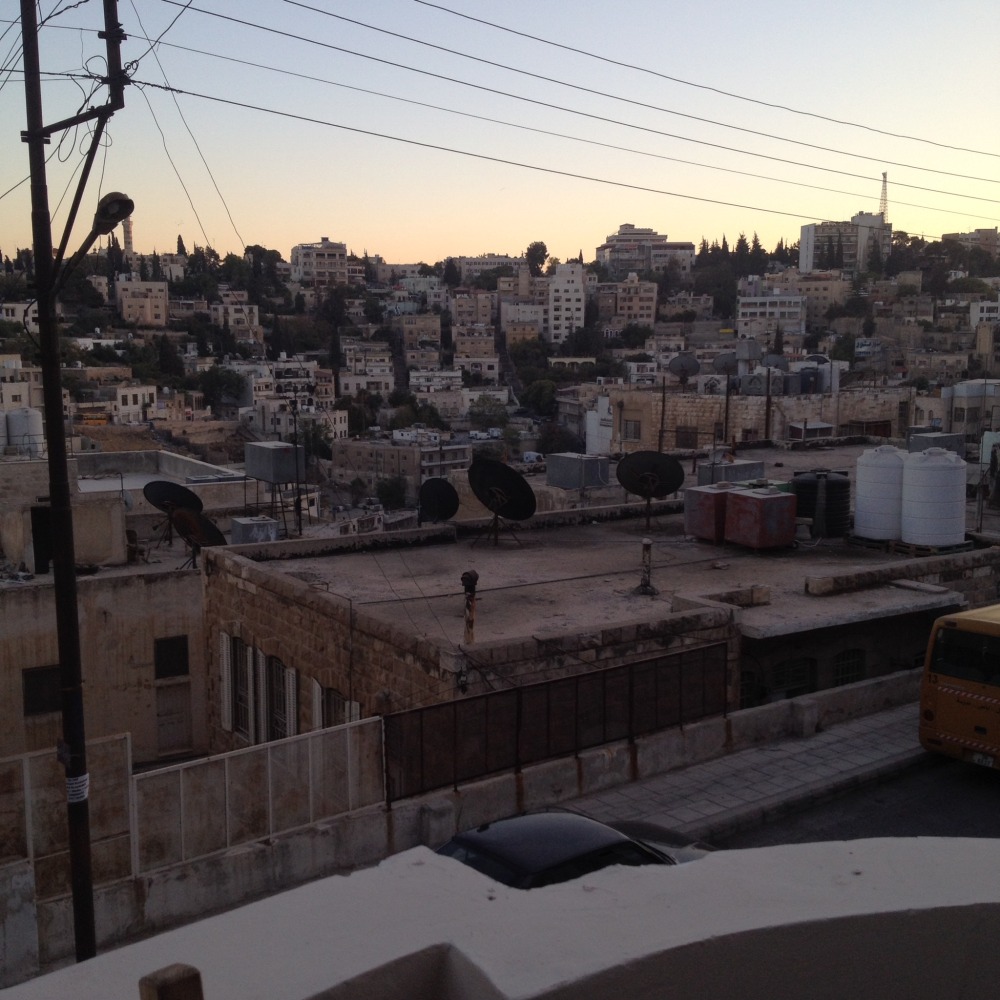 As soon as we arrived, we noticed sixteen chopping boards arranged on a terrace against a backdrop of lemon trees and jasmine flowers. The beauty of the entire experience was woven into every small detail that evening. From the tiny mosaic Beit Sitti sign hanging off the stone facade outside to the antique gramophone sitting in the entry to the handmade olive soaps at the porcelain sinks near the cooking stations, we were in awe.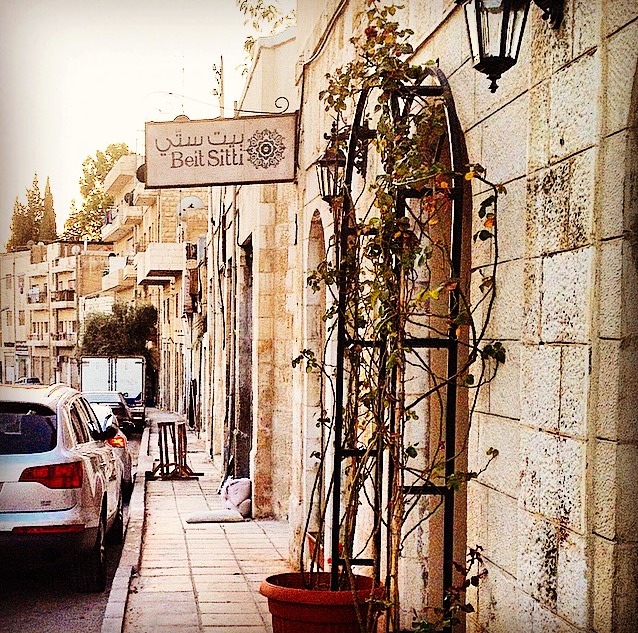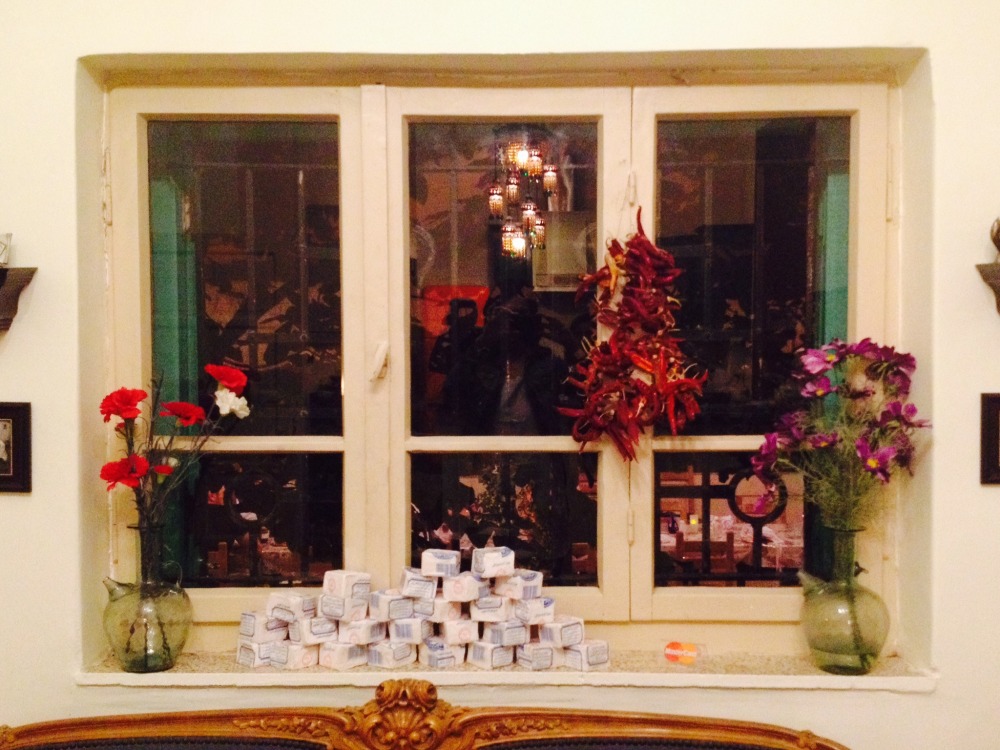 The windowsill was lined with jars of homemade pomegranate molasses and tahini. Jars of orange blossom water, sumac and thyme stacked the shelves in the kitchen. The nostalgia was overwhelming as I passed several black and white family photos next to a backgammon board as I made my way across the beautiful ceramic tiles. It's a good thing we arrived early enough to admire the property before we put on our aprons and got our hands dirty.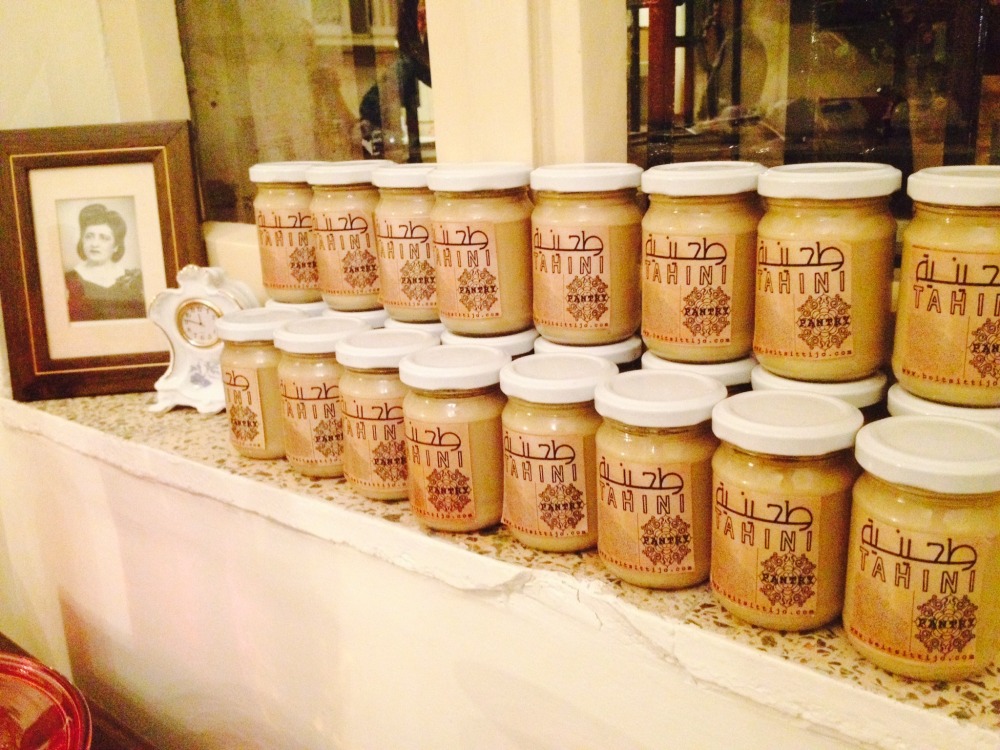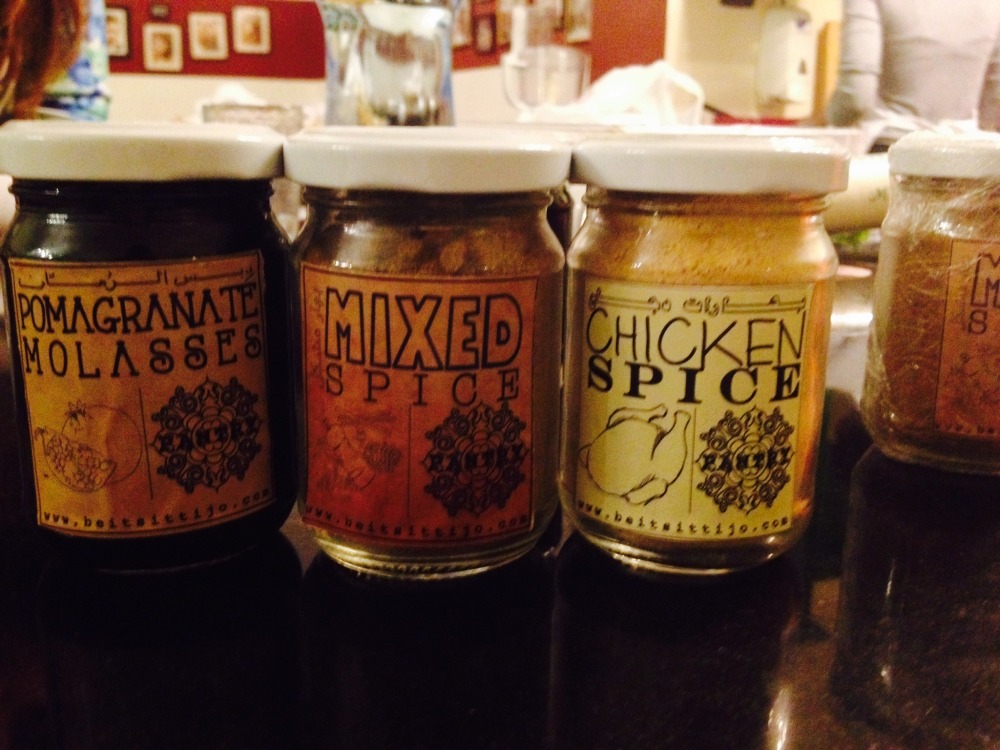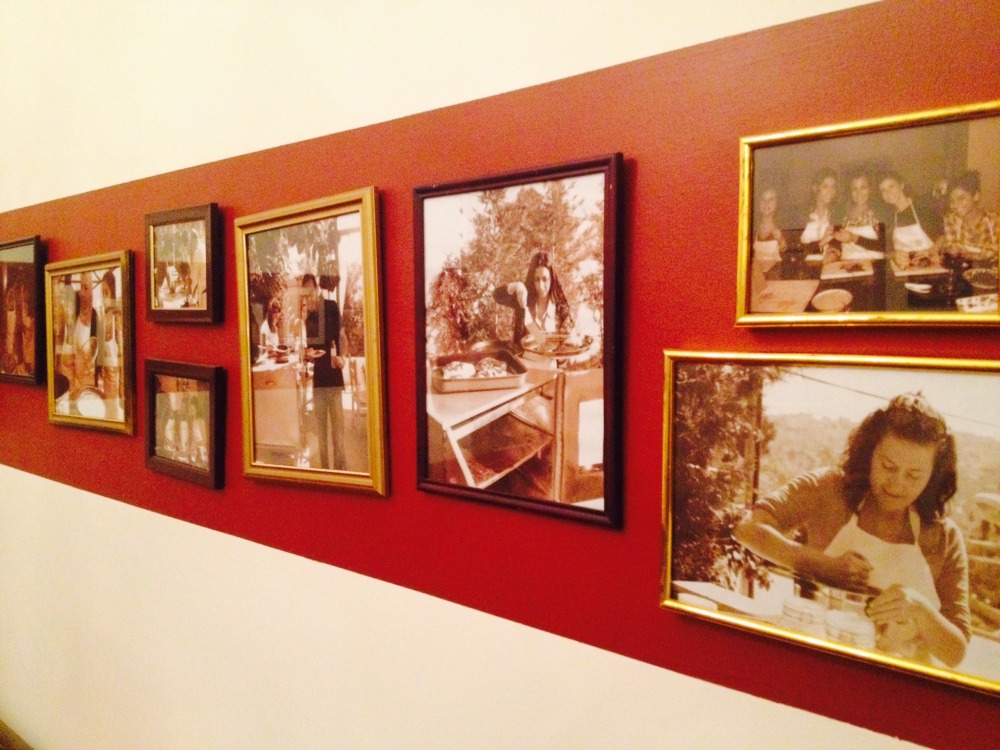 The menu we selected included Mhammara, Yogurt and Cucumber Salad, Ozzi Surrar and Knafeh. Our charismatic host, Maria, aligned us at our cutting boards and handed each person a red pepper to begin making the Mhammara. She demonstrated the perfect chopping technique before releasing us to mince away.
We minced those red peppers until our fingers were weak and the peppers turned into a paste, literally. We combined the red pepper paste with bread crumbs, walnuts, pomegranate molasses, chili pepper, lemon and garlic.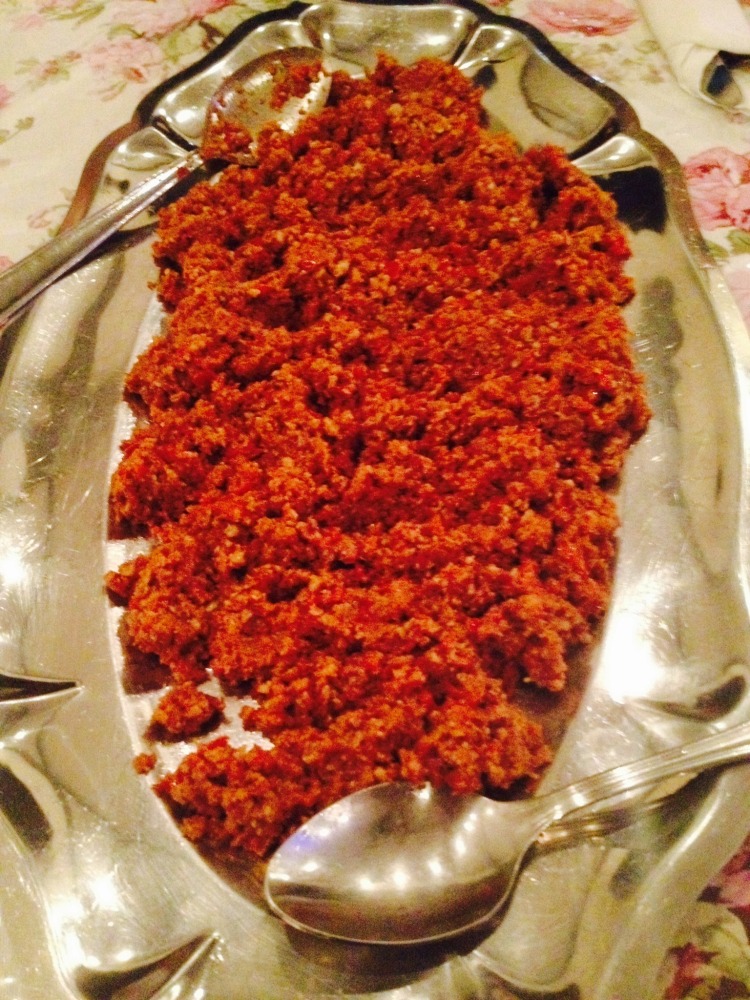 We moved on to prepare the Ouzi Surar, a rice and minced meat dish wrapped in philo pastry, as we were simultaneously quizzed on the ingredients in Beit Sitt's special seven spice blend. We finally tossed the ground beef into a pot to sauté alongside onions, carrots, peas and a generous blend of spices from cinnamon to cumin and more garlic.
Jumping ahead to dessert, we prepared the knafeh, which was surprisingly easy to make. We mixed shredded knafeh pastry (similar to fresh angel hair pasta) with ghee and layered it with two blends of creamy cheese then topped it all off with a sugary syrup.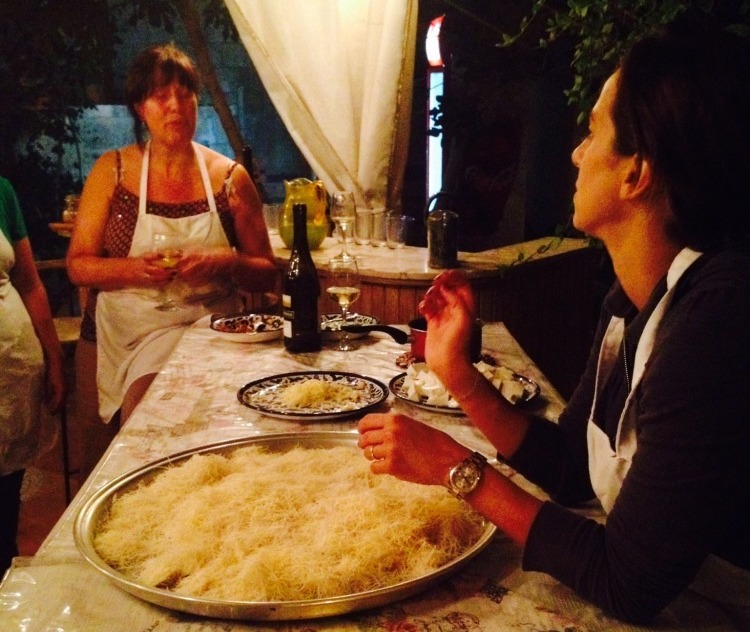 We popped that into the oven and moved on to our cucumber and yogurt salad which was just as simple as it sounds. Our chef had us combine cucumbers, yogurt, lemon and of course, more garlic for the salad.
Once the Ouzi Surar rice was ready, we tucked the philo pasty into small bowls and filled them with the rice and meat mixture. Finally, we folded over the edges, flipped the small bowl onto a tray and voila – we had a little round pasty filled with savory goodness!
As the Knafeh and Ouzo Surar browned in the oven, I took a load off, sipped on a much-deserved crisp glass of a local Suvignon Blanc and chatted with the other guests, locals and tourists alike.
Before we knew it, the cooking stations had been converted into a long dining room table and the aroma of our four-course meal drifted through the terrace. The meal was just as decadent and delicious as expected.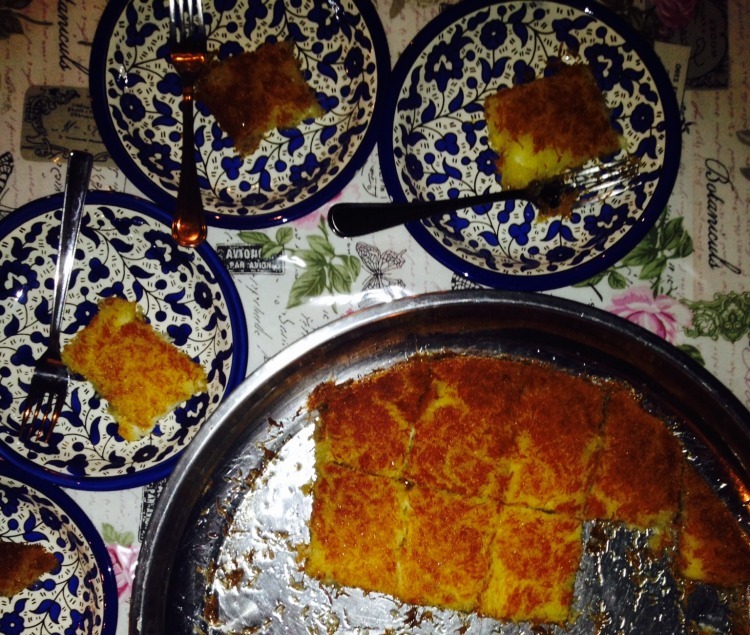 The entire experience was reminiscent of my very own grandmother's house, from the place settings to the abundance of garlic and the oversized portions. It's no surprise that Beit Sitti is rated the #1 restaurant in Amman on TripAdvisor as it embodies the hospitality that Jordan is so famous for.
It's rare to find an authentic Arabic cooking and dining experience in a historic setting that caters to guests from around the globe, it was enchanting to say the least.
I was so impressed by the ease of the recipes that I ambitiously bought a jar of the special seven spice mix and homemade pomegranate molasses to replicate the dinner at home. My taste buds are impatiently awaiting this occasion.
Read more from Carla on Dubai's restaurant scene on Memoirs of a Taste Bud.
WE SAID THIS: Don't miss Photos to Remind You How Beautiful Jordan Is.