Tiles, blue, yellow, and green tones, Tunisia is a Mediterranean dream with Santorini and Morocco vibes. Easy on the eye, full of sunny beaches and historical spots, the North African country holds fabulous layers of explorable sightseeing form tile workshops to clear waters. 
Here are the top destinations you shouldn't miss when in Tunisia!
Sidi Bou Said
The Arab Santorini, full of smooth domes, white and blue, cliff cafes, and narrow streets overlooking the beach. The seaside suburb is a favorite weekend spot for locals and makes for the best Instagram posts.  
Zitouna Mosque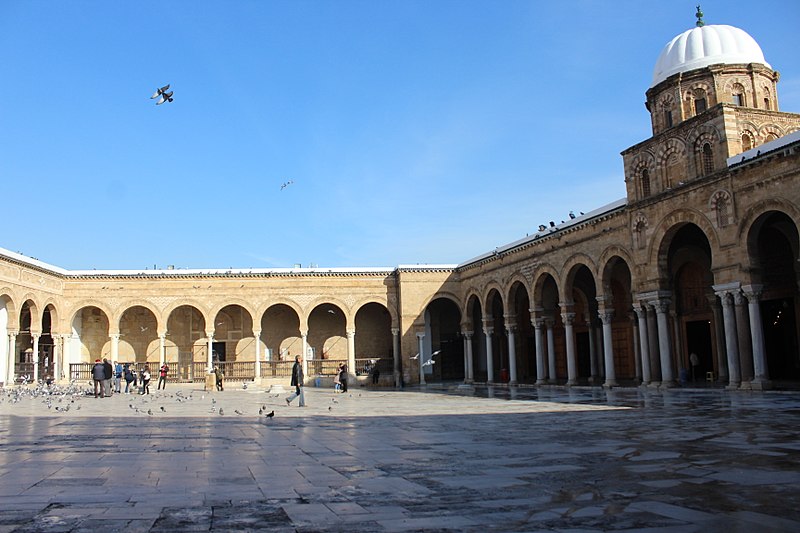 The architecture of this mosque is the city's finest, known as the olive mosque, the building dates back to 732 AD. The area stood the test of time and battles, making it a historical must-visit full of texture and smooth vibrant tiles. 
Bardo Museum
The oldest Tunisian museum and perhaps the most important. The museum built a century ago, is overflowing with visitors checking out the fine pieces of history. The multi-departments unfold vessels of unmissable internationally recognized history. 
Medina
The Medina of Tunis is like Khan El Khalili; it's the oldest city in Tunisia with souks and stores. Walk through bazaars and narrow streets full of nick nacks and authentic cafes. The old town is full of amazing tile work and sightseeing in every corner. 
La Goulette
Overlooking the Mediterranean sea, this port is full of sea air and boats. Expanding between a harbor and sandy beaches for relaxing with a drink. 
Carthage
After many battles with Romans, the legendary Roman-built city stands on the Gulf of Tunisia. The empire held an entire civilization, now you can go back in time and see the beauty of the torn down ancient city. 
Amphitheatre of El Jem
The Colosseum of Rome got nothing on this historic spot. Built a century ago, yet very well preserved, you can almost relive the action that took place there. The well-established scenery is absolutely breathtaking and a must-visit. 
Dougga
Another amazing historical sightseeing spot, just outside Tunisian mountains. Preserved from the Roman period, the well-kept area features epic temples.
Djerba
Full of Mediterranean beaches and white sandy deserts surrounded by white and blue properties. Beyond clear waters, you can explore their local crocodile park or museum.
Monastir
The famous port is a major tourist resort, equipped with ancient ruins and historical sites, marinas, and museums. They're famous for an iconic fishing festival!
WE SAID THIS:  Head to Tunisia for an abundance of history, sun, and sea!