Downtown Cairo is changing. Following a widespread beautification campaign to restore some of Downtown Cairo's most iconic and historical streets, the neighborhood is also undergoing an ambitious plan to make the area more bicycle-friendly. Hoping to make jumping on a bike to do your daily commute or to meet your friends a whole lot more convenient and safer, the local government in collaboration with UN-Habitat is on the verge of launching a bicycle-sharing scheme called Cairo Bike and a network of bicycle lanes.
At just one Egyptian pound an hour, the bicycle-sharing scheme is aiming to create a cheaper and healthier alternative to your daily commute. However, this project is not limited to Downtown Cairo and is set to soon expand to Garden City, Zamalek, and other neighboring areas in the near future, with later ambitions to expand throughout the entire city.
In the run-up to Egypt hosting the 2022 UN Climate Change Conference, more commonly known as COP27, the project is being touted not just as a way to make cycling easier and safer, but as an important of the country's green transition. Despite the project's focus on cycling, it is also hoped that the project will have a positive impact on traffic and pollution in the area overall as more people ditch their cars or taxis in favor of a bicycle.
For many, the words Cairo and cycling don't go together and Cairo Bike has a long uphill struggle to change perceptions and introduce cycling as a mainstream mode of transport to Egypt's capital. But regardless, the introduction of the nation's first large-scale bicycle sharing scheme and proper network of bicycle lanes may mark an important step towards a greener and cleaner Cairo.
While the first phase of the project was officially launched several days ago, unfortunately as of Oct.23 the first phase of the initiative is not yet up and running. However, after looking around some of the bicycle stations and talking to some of the workers, we were told that they expect to be operational in the coming days.
While the project will eventually run autonomously through a mobile phone application, you can register on their website and then pick up one of their smart cards 48 hours afterward if you want to jump on one of the bicycles in its early stages. Testament to the interest of Cairenes in the project and indicative of its potential success, I could barely talk to any of the workers at the bicycle stations without being interrupted every minute by keen young Egyptians asking about how they could rent one of the bicycles, frustrated that the scheme wasn't yet up and running.
Despite the slow and bumpy start to Cairo Bike, the amount of infrastructure already built for the program gives every indication that the Cairo Governorate is serious about the project. While not yet equipped with any of the gadgetry for when the bike-sharing system launches as a fully autonomous system accessed via a mobile application, many of the bike stations are encouragingly large. Pointing towards the project as actually being understood as a practical solution to Cairene traffic, some of the stations have spaces for up to 30 bicycles.
On top of this, Downtown Cairo seems to be awash with these stations on almost street and every turn, with a total of 25 stations and 250 bicycles in Downtown and more to come in Garden City, Zamalek, and other surrounding areas. Considering that every bike in these stands potentially means one less car on the road or taking over the sidewalks, Cairo Bike has the potential to have a tangible impact on Downtown's notorious traffic.
However, having bikes that can be easily and cheaply rented by the public is just one part of the initiative to introduce cycling as a means of transport in Cairo. After Cairo Governorate and UN-Habitat discussed the idea of cycle lanes in Downtown Cairo for several years and conducted a few experimental studies, two kilometers of cycle lanes almost popped up overnight on several streets throughout Downtown Cairo.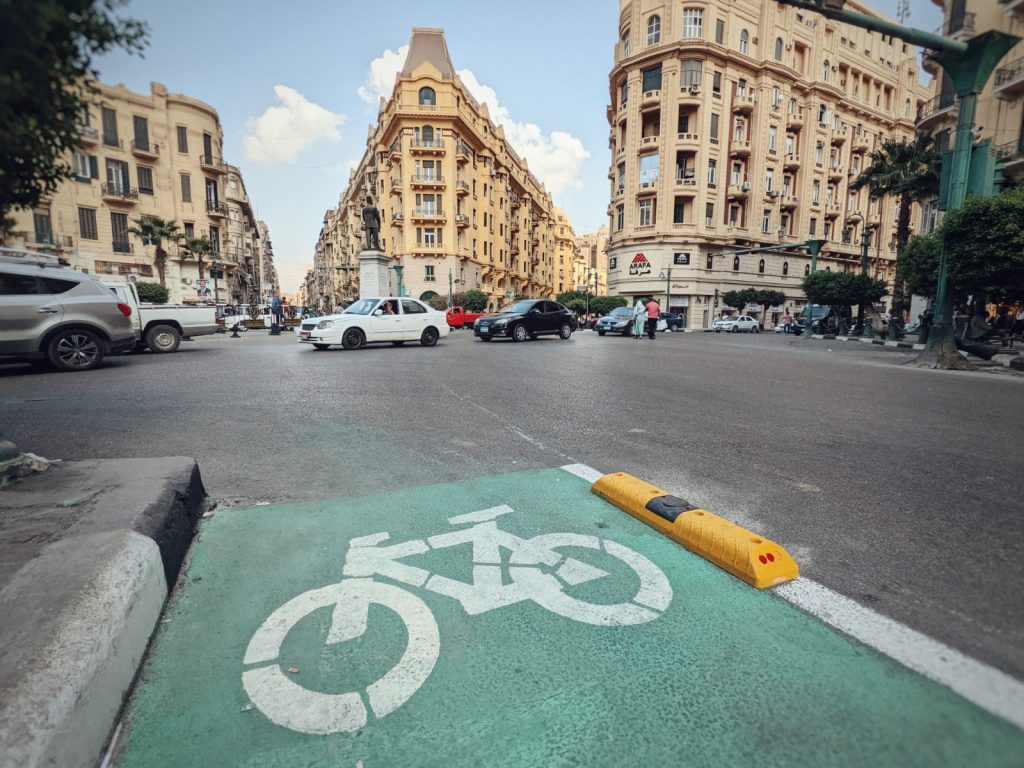 These cycle lanes, however, are more than just narrow strips painted on the sides of a few roads, they're generously sized lanes properly demarcated with rubber partitions to stop cars from taking over the space. Potentially learning from a similar initiative in 2015 that saw some newly painted cycle lines between Maadi, Nasr City, and New Cairo that unfortunately become parking spots in a matter of hours, the use of rubber blocks as partitions in Downtown Cairo should prevent this from happening again.
Another promising aspect of the Cairo Bike is that it is being operated in coordination with bicycle-sharing experts Donkey Republic. Donkey Republic is a Danish company that operates in 70 countries across the globe with a total of 16,000 bikes and it is expected that eventually, Cairo Bike will run as seamlessly as it does in other countries with the option of year-long subscriptions a choice of pedal-powered and electric-assisted bicycles.
For those who drive often through Downtown Cairo and are all too familiar with the traffic that can bring the area to a standstill, the thought of cycling lanes taking away precious space on the road may be a cause for concern. However, studies in cities across the world have actually shown that taking away road space in congested cities for cycle lanes actually more often than not reduces congestion and speeds up travel time for everyone.
For example, in New York's Columbus Avenue in the traffic jam-plagued Manhattan, a controversial and ambitious project that took away road space for protected cycle lines actually reduced travel time for cars by 35%. Cities with old and cramped streets like Paris and London have similarly increasingly begun to rely on the creation of cycle lanes and the promotion of cycling culture as a way to reduce congestion and travel time. Although studies have consistently shown the turn towards cycling as a win-win situation for both cyclists and drivers, opposition to these initiatives always happens and Cairo will be no different.
Egyptian organizations like Tabdeel, who have been promoting cycling throughout the country, have long maintained that Cairo would benefit as a whole from more people jumping on their bicycles just as much as other international capitals like London or Paris. Tabdeel co-founder Heba Attia Mousa told Scoop Empire that "If we dedicated a lane to bikes, it can carry 6500–7500 people per hour versus a car lane that carries only 600–1600 people per hour depending on the speed limit and traffic conditions. Knowing how congested Cairo streets are, isn't it time to think differently?"
Attia went on to state how "From our research on cycling in Egypt, we know that when appropriately implemented, bike sharing provides an excellent service to the local community. It has all the positives of cycling plus the added element of providing cycling as a public mobility service. The new bike-sharing in downtown actually sends a clear message. Cycling is a mode of mobility and it is available publicly at an affordable price."
Cairo Bike is having a shaky start, but there is every reason to be optimistic that this may be the first step in making Cairo a bicycle-friendly city. With the local governorate putting its money where its mouth is, Cairo Bike seems to be getting the support it needs and there has been an impressive amount of decent bicycle lanes created in such a short time, but the question is whether enough Cairenes are going to ditch their cars and give cycling to work a go.
WE SAID THIS: Don't Miss… World's Record-Breaking COP27 Baton Relay Begins From Glasgow To Egypt