An Exclusive One-on-One With Caroline Berzi; On Her Inspirations, Her First Solo Exhibition, and More
Today we had a super interesting and insightful chit-chat with one of the most promising artists in the Egyptian art scene right now, Caroline Berzi. The Cairo-based artist made an impressive career shift to being a full-time artist after seven years as a financial analyst. She recently graduated from SACI Florence with a Post-Bac Studio Arts degree in 2019.
In her work, Caroline focuses on painting, serigraph, and installation pieces. She's participated in several group shows, including Different Melodies (Ubuntu, 2019), Pendulum (Florence, 2019), The Fleeting Other (Florence, 2019), LePasha (Cairo, 2017) and Artabitta (Cairo, 2015 & 2019).
We were lucky enough to get an exclusive interview with Caroline following the success of her first solo exhibition, Genesis. It's taking place in Motion Art Gallery till the 10th of July. The exhibition is an expression of the birth and rejuvenation of nature as an aesthetic topic, leveraging through various materials as a way to reconnect to humanity. We got to discuss the story behind Genesis, her advocacy for the environment, her inspirations, how the COVID-19 pandemic affected her exhibition, and more!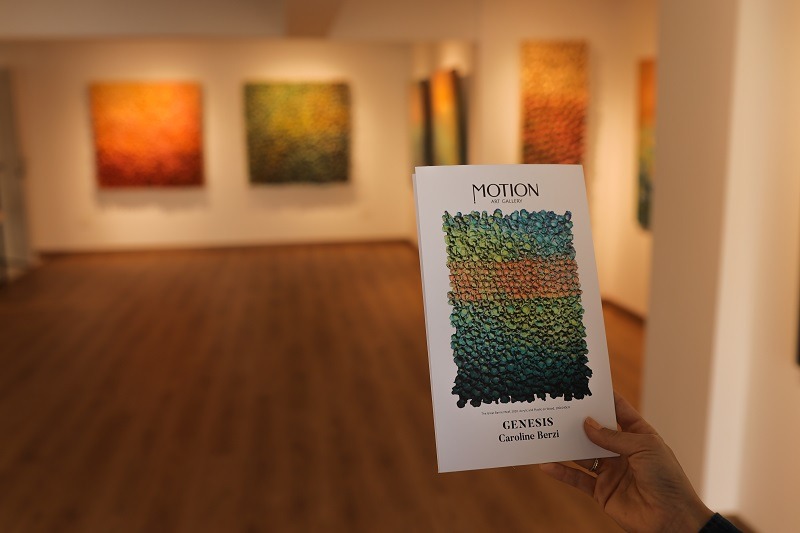 Talk to us about how you got into art and the thoughts that crossed your mind before shifting your career to that of a full-time artist.
My interest in art goes back to when I was a teenager. I was very curious about the 80's graffiti movement in different countries and it was embedded in our culture as students in a French school along with rap music. Street art really caught my attention while traveling because of its scale and vibrant colors and I bought many art books to take back home with me which led me to develop a love for art materials. After graduating in 2010, I chose a career in Business and maintained Art as a hobby. But after 7 years of juggling between Finance, Business and Equity-Research Banking jobs, I decided it was time to take art a bit more seriously.
I shared some of my artworks with different artists and gallerists in Cairo to receive advice and began to consider Art as a career. I was aware that I did not have sufficient professional experience nor an Art degree, but my determination and passion for it gave me the confidence to quit my job in Banking.
I can say I definitely took a risk to switch careers and saying goodbye at work was not easy with mixed emotions about my future, but I left with a big smile on my face knowing I was opening a new chapter in my life; one without a desk job, one that did not halt my creativity, one that did not stop me from producing continuously, one without limit; a stress-free environment for me to produce while advocating positive change in our society. So I wrote a bucket list for 2018 and laid out a plan of which included enrolling for an Art degree. In March 2018, I quit my job and in September 2018 I was admitted to a post-baccalaureate art certificate in Florence Italy at SACI (Studio Arts College Int').
What is the story and inspiration behind your first solo exhibition, Genesis?
The story behind the start of the upcycled artworks began after my return from Italy and I noticed that there was no policies governing the production and sale of plastic materials in Egypt (includes plastic shopping bags, grocery packaging, plastic bottles and many more), and is a highlighted problem worldwide and causing a major setback in marine life. I decided to be part of the initiative to raise awareness in my surrounding and educate new behaviors which I learned while in Italy that help curve environmental issues. Initially I began upcycling materials found in my studio then I started growing my circle as my ambition was to create much bigger artworks.
When Motion Art gallery initially contacted me, I did not have a full collection yet, and when I visited the gallery for the first time, I was really amazed by the space. It's definitely not the typical white enclosed space that we are used to. Located on the 3rd floor, the gallery has an open view to the Nile bank with a wooden balcony.
I automatically knew this was the place for me to create an exceptional spiritual and educational art show by merging the outside landscape with the inside and blending both to have the perfect balance of colors and concept. Genesis refers to the title of my first solo exhibition, a term used to describe the creation of the world in several religious books. My art show converses the birth and rejuvenation of nature as an aesthetic topic, leveraging through various discarded materials as a way to reconnect to humanity.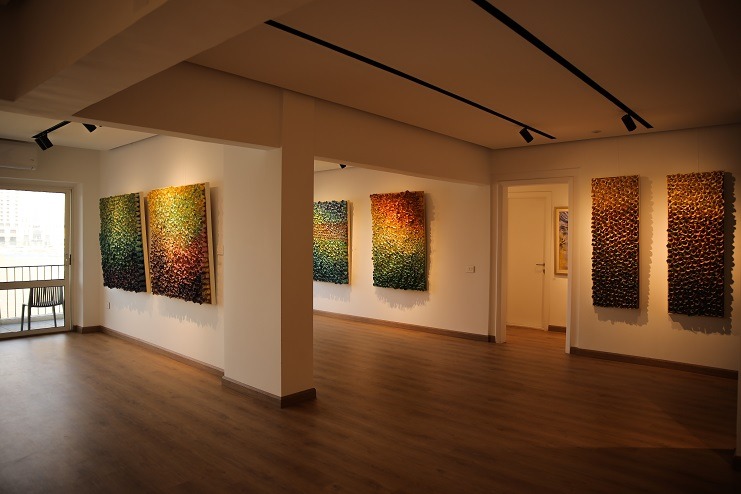 The presented artworks are a combination of surfaces and mediums, the aim of which is to create communication bridges from traditional to contemporary representation. Inspired by Ancient Egyptian heritage, the sacred flowers are symbolic across the artworks to represent nature's fragility and beauty.
If you'd describe Genesis in three words, what would they be?
Conceptual / Humanitarian / Vivid
Talk to us about your participation in group shows that led to this one.
Since I got back from Florence (April 2019), I vigorously worked on painting and mixed media artworks to showcase my artworks. In August 2019, I showcased one upcycled artwork at Artabitta which took place in Al Alamein Hotel in Sahel, titled "Eighty-Two Coral Bleach". It refers to the total number of plastic bottles used for that artwork and is the first upcycled artwork from my 3D series. I used one color, white, to refer to the petrification of corals and the loss of ecosystems caused by climate change and in particular a yearly rise in sea temperature which is killing corals every year. In September 2019, I exhibited a selection of expressive abstract paintings at Ubuntu Gallery in a group show. Inspired by nature and memory of landscapes, the artworks conversed a poetic tempo of nature's scenes using untraditional tools, a variety of surfaces in response to everyday environments.
From there I continued working in my studio in parallel on paintings and my 3D artworks as I was interested to bridge communication from traditional to contemporary art in my show Genesis.
How did the COVID-19 pandemic affect your show, and how did you adapt to this challenge?
My art show was originally planned for the 25th of March, and I decided to cancel the opening reception since the government announced the new security measures to prevent the development of the virus. Later on, the owner of the gallery and I decided to proceed with the art show on the 10th of June because of the need to advocate change in our everyday lifestyle behaviors which we found was a good fit during times where health and survival is a top priority. I also wanted to spread some positivity to our society during these difficult times while adapting to our new daily routines, putting the safety of visitors at the top of my list.
I created an online booking system where visitors can pre-book their private viewing for a timeslot of 30 min. The gallery did not hold an opening reception in order to minimize the number of people at the gallery. In addition, I decided to push my communication to the fullest on my social media accounts allowing everyone to see the artworks without the need to be physically present. I am also working on a virtual tour of the actual physical space that will be published after the show ends.
Which artists inspire you the most?
I really love the artworks of Al Anatsui which stoked me to learn his large-scale works are made of metal bottle caps, Claude Monet for his beautiful shades of landscapes, the spraying technique, and beautiful flowerbeds of contemporary Chinese artist Zhuang Hong-Yi, and Jeff Koons for his playful, enormous steel artworks.
How do you integrate your advocacy for the environment in your art, and what else do you do to inspire those around you to make lifestyle changes?
Firstly comes the technique; I paint vivid 2D artworks using impasto & scrapping to physically mark humanity's negative footprint on canvas. In a 3D setting, I render value to discarded non-degradable materials, collected through substantial collaborative efforts, by delicately molding and painting hundreds of individual miniature plastic sculptures into soft florets.
The second thing is the concept and the theme. I integrated a title for each artwork which refers to Earth's elements. Also, a selection of colors to make the theme aesthetically appealing and not so negatively dramatic. My aim is to restore and strengthen our connection to nature so we can care for it, because one day it might not be there anymore. We get swept into city life, sometimes we forget to look around us, the trees the green leaves, and the blue sky. In the future, our children might not see corals, flowers, and blue skies anymore.
I definitely encourage people to make lifestyle changes for the sake of the environment. This includes going to buy groceries with a reusable bag, installing a water filter at home, or a water dispenser, and calling a recycling company to pick up their sorted garbage. I also encourage using less paper or certain paints that are toxic.
WE SAID THIS: A truly inspiring artist that we're looking forward to seeing go places!