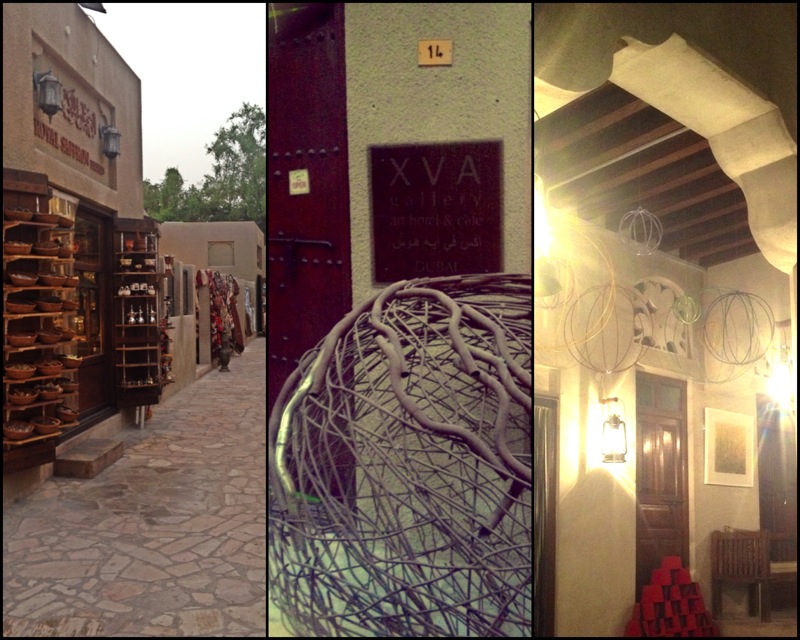 I've been to this area* once before. We were shooting a commercial and I didn't quite get to see the beauty of it.
Today was the day that I had planned to go visit its galleries and I realised after some quick research that 90 percent of them close at 6:00 pm on weekdays. But there was one that closes at 9:00 pm – XVA Art Gallery. It's current exhibition, called "Butterflies in My Stomach", features three female artists: Debjani Bhardwaj, Saba Masoumian and Barbara Wildenboer.
I knew that XVA is inside Dubai's only so-called Art Boutique Hotel. So I gave them a call, told them I really wanted to take a tour around and the operator told me that even though the cafe and gallery close by 7:00 pm maximum, he would keep everything opened until I arrived. Sweet!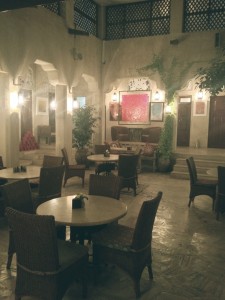 I went there, walked in and found a large courtyard area with tables surrounded by art-covered walls, beautifully designed Arabian architecture and Natasha Atlas's "Mon Amie La Rose" playing in the background. I was immediately impressed.
Greeted by their extremely hospitable General Manager (who, it turns out, was the man who answered my call), he showed me to the exhibition area to start my tour. The pieces were simple and down to earth, nothing fancy about the designs, and so XVA was the perfect host venue.
I finished the tour and the GM pulled me to the cafe to try their signature Eggplant Burger and Mint Lemonade. One: I hate lemonade. Two: I'm finally dieting and strictly abiding by it. I broke both rules and I'm glad I did. The burger is fabulous!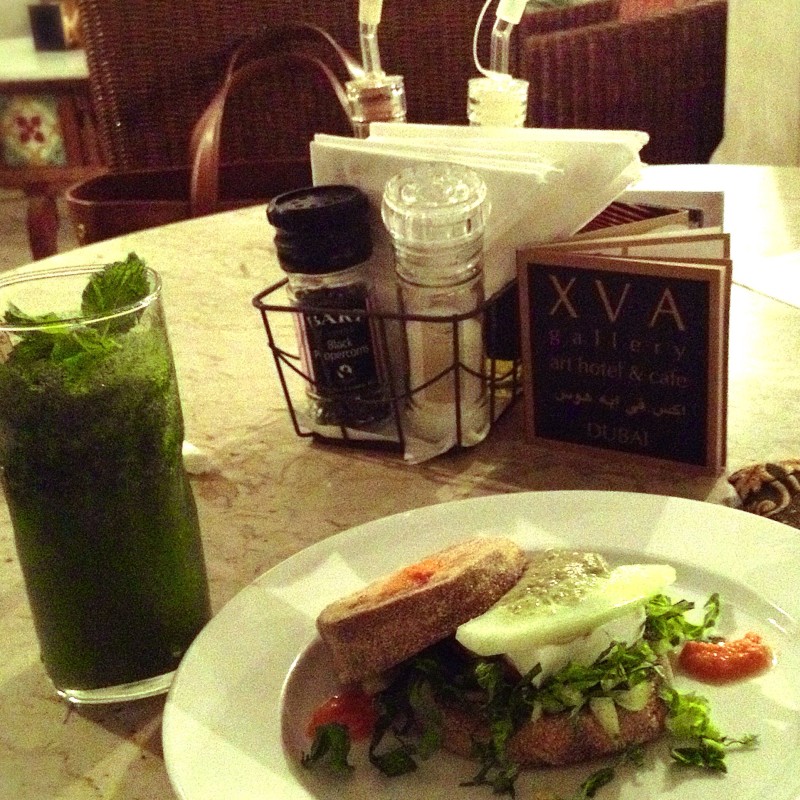 I then continued exploring and found another open space with an installation of dried red roses and a sword. It's the centrepiece of another lounge, which is extremely peaceful and soothing – perfect for late-night, last-minute presentations. On top of all that, they have an art shop and a spa.
I promised myself I would come back again, but this time with a booking of one of their 13 rooms.
Then, while I was walking in between the alleys of Fahidi, the darkness and subtle lighting from the lanterns seemed to release all the negative energy from me that I had gathered during the day. I was lucky, because the weather was nice and windy (not your typical Dubai summer night) so I just kept walking.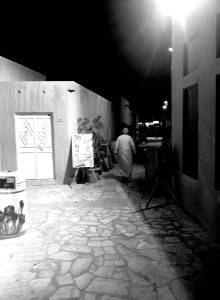 This is where I met Majid Al Abbasi, the Iranian owner, artist and calligrapher at the House of Eastern Arts Gallery. The gallery has a collection of antiques, paintings and a unique Persian art corner made out of camel bone.
There was something about the age of this man, or the fact that he spoke good Arabic and told the story of Old Dubai exquisitely, that immediately drew me into wanting to know more. So I sat down and he went somewhere to prepare Turkish coffee for both of us.
He then told me the story of how he left Abadan during the 1980s after the Iran/Iraq war. Everyone fled at this time, and in 1986 there were only six people living in the city! He never went back, fell in love with Dubai and stayed here, selling calligraphic art first on the streets and now in his gallery.
When I asked him what he likes about Dubai, he said that back home, they all spoke the same, dined the same, prayed the same, while in Dubai, everyone is different but blends peacefully in one city.
He asked me what my favourite Arabic quote was, and I told him a Quranic verse, my mantra that's very dear to my heart, which roughly translated in English means: "Do not hate misfortune for maybe there is fortune for you in it". He drew it and gave it to me as a gift in exchange for a promise to come back again.
The experience today was very touching, soothing and humble. Escaping the skyscrapers every once in a while to come back down to earth is rejuvenating.
* The Al Fahidi District is a well-known cultural site in Dubai. It's one of the very few areas that preserves Emirati heritage. Located in Bur Dubai (Old Dubai), it has a variety of boutique shops and showcases many art exhibitions, the most popular one being Sikka.
Tips & Tricks:
1. Bring your camera with you. If you don't have one, grab a GoPro from any of your friends.
2. Put your phone on silent, or switch it off completely. It adds to the "disconnect to connect" vibe.
3. If you're browsing the galleries, go on a weekend as they close early.
4. If you drive, don't take your car and cab it. Parking isn't convenient and unless you are equipped to deal with the roads of Old Dubai, you will probably get lost.
5. Bring cash along, there are no POS machines in most of the outlets.
WE SAID THIS: Check out Day One and Day Two of Rula's #100DaysofMyDubai series.