Written by Jessica Maggi
Golden-sand beaches? Check. Over 300 days of bright sunshine a year? Check. Luxury accommodation, a rich and varied cuisine, and plenty of attractions? Check, check, check! Just off the south coast of Italy, the sun-kissed island of Sicily truly has it all.
Geographically, the Italian isle of Sicily has everything, from jagged mountains and pristine sandy beaches to roaring volcanoes and verdant vineyards tumbling down to the transparent deep-blue and turquoise waters of the Mediterranean Sea.
Gastronomically too, Sicily boasts a wonderful abundance of high-quality ingredients and flavors bequeathed by Greek, Arab, Spanish, Norman, French and Turkish settlers over the course of its history.
The Mediterranean's largest and most captivating island, Sicily should definitely be at the top of your travel wish list for 2022. If you've been dreaming of a sojourn in the warm Mediterranean sunlight, Sicily villas for rent are the ideal spaces for you to do so. 
Here are three reasons why staying in a luxury rental home on the Italian island of Sicily is the way to go in 2022. 
Comfort, space and the utmost privacy
Holiday home rentals deliver a vacation experience you simply can't equal anyplace else. They have always been a popular option for high-profile vacationers, as hiring your own villa means you can enjoy all the comforts of a hotel, but with no other guests to hog the sun loungers. The property is all yours, without any shared facilities such as crowded lobbies, hotel pools, and buffet breakfast areas. 
With privacy and social distancing now being the new luxury, self-catering villa rentals complete with private garden and swimming pool are in super high demand. 
In a self-contained villa, you can avoid interacting with people outside of the handful of close family and friends you are traveling with in a way that simply wouldn't be possible even in the most expensive hotel. This is especially important now, with the Omicron variant of the coronavirus's rapid spread and highly contagious nature. 
Closeness to stunning coastlines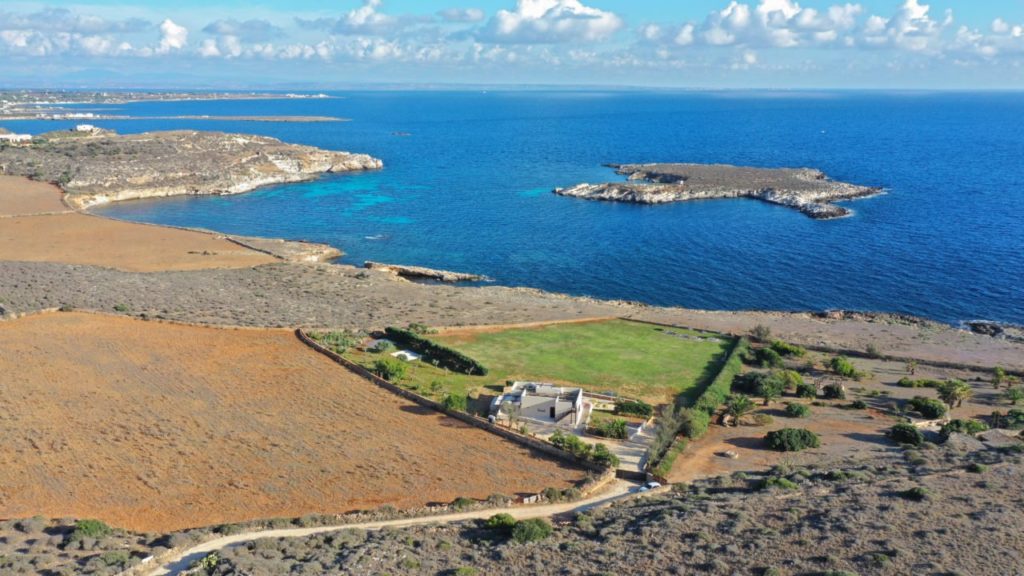 Travelers tend to divide themselves into two groups: those seeking culture, and those for whom a vacation is not a vacation without a chance to bask in the golden sun on the beach. The good news is that in Sicily, boasting almost 1000 miles of diverse and beautiful coastline, you don't have to sacrifice the former for the latter and vice versa.
From sparkling coves framed by dramatic cliffs and hidden bays only accessible by boat to massive rock formations and miles and miles of pristine sandy beaches, most of which are nearly deserted even in high summer, the sun-drenched Sicilian coastline has something for everyone.
Imagine coming home to your own villa after relaxing in the soft warm sand, reading a good book, and cooling off in the glistening blue water all day. Few things are more relaxing than a lovely day at the beach.
Plenty of attractions
Sicily is an open-air museum, dotted with architectural gems and scenic UNESCO World Heritage sites that span millennia. Art lovers will find much to delight them in this triangle of land off Italy's boot, from Roman amphitheaters, Phoenician ruins, ancient Greek temples, and Byzantine mosaics to Norman basilicas, Arabic mosques, imposing medieval fortresses, 18th-century palazzos with frescoed ceilings, and some of the world's best examples of Baroque and Rococo architecture. Layers of history await around every corner.
As mentioned previously, Sicily boasts an unparalleled historical legacy, having been occupied by many different powers over 10.000 years of history. This sunny, tri-cornered island at the very south of boot-shaped Italy is, perhaps more than any other part of Europe, a splendid cultural collage.
A destination where archeological treasures and natural wonders go hand-in-hand, Sicily deserves to be on every outdoor sports enthusiast's holiday wish list. There is a nearly endless list of things to do on this big island off Italy's toe, from trekking, biking, and rock climbing to kayaking, windsurfing, scuba diving, kitesurfing, sailing, and paddleboarding.
Sicily has a great nightlife scene as well, ranging from eating your way through Palermo's street markets, to live performances at Taormina's Greco-Roman open-air theatre dating back to the third century B.C., still used today as a venue for classical operas, theatrical events, concerts and film festivals. 
Summer 2022 is approaching faster than you think. Need some help deciding where to go next? Whether you're looking for an ultra-luxe cliffside villa with panoramic infinity pool, an authentic baglio immersed in the lush Sicilian countryside, or an architect-designed villa complete with jacuzzi, billiard table, and Finnish-style sauna, Select Sicily, one of the island's leading vacation-rental companies, has something to suit all tastes.
WE SAID THIS: For more information, please visit the company's website www.selectsicilyvillas.com.