By Mervat Mohsen.
On Sunday, Israelis shouting 'the nation of Israel lives' and 'death to Arabs' marched through old Jerusalem to commemorate Israel's annexation of East Jerusalem in 1967. Marchers, in the thousands, were mainly young Orthodox Jewish nationalists who paraded in the occupied Palestinian territory to mark Jerusalem Day; a day considered catastrophic in the Arab world, East Jerusalem was annexed to Israel following the 1967 war.
Armed Israeli police pushed Palestinians reacting to the conflict, and cleared the way for the Israeli nationalists who marched through the Muslim Quarter to get to the other side of the Old City and into the Jewish Quarter. Gazans told reporters that such provocations led to the Gaza war one year ago. Last year, that same march through the Muslim Quarter triggered an 11-day war leading to rocket launches from Gaza and airstrikes from Israel.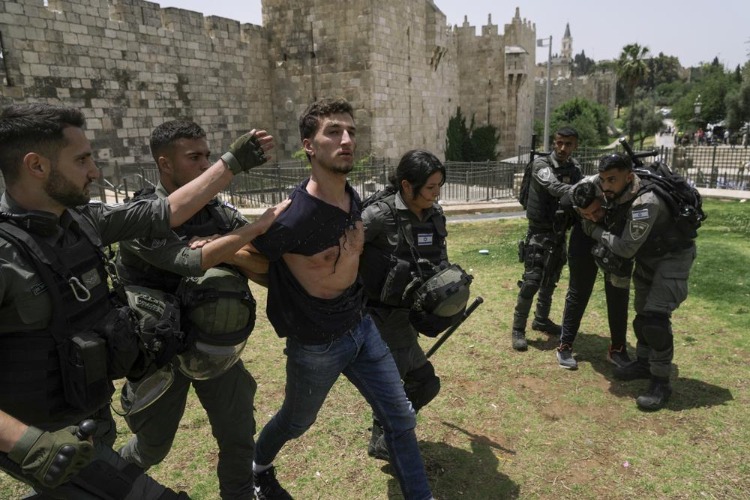 In his latest address at a press conference, Egyptian President Abdel Fattah el Sisi, reiterated the importance of just peace to the Palestinian crisis. The President also affirmed that both Palestinians and Israelis must conform to the borderlines outlined before the 1967 war to attain that peace. The President made his comments during a press conference with the visiting Polish President to Egypt.
Egypt so far has welcomed more than six million diverse refugees who enjoyed all their basic rights. The 1967 war alone displaced around 400,000 Palestinians many of whom live in refugee camps in Jordan, Lebanon and Syria. As a founder of the Arab League and a key participant in the peace process, Egypt actively mediated to find a just solution to the Palestinian plight. According to the Euro-Med Human Rights Monitor, Israelis have killed five times as many Palestinians in 2022 compared to the same period in 2021; the most high profile kill so far has been that of Palestinian journalist Shireen Abu Akleh. Palestinians have killed 19 Israelis in recent weeks while Israelis killed 35 Palestinians within the same period, according to media sources.
In one article in Smart Insights by Dave Chaffey, around 60 percent of the world population use social media at an average daily usage of two and a half hours. The latter percentages should be indicative of growing public awareness of world affairs and educated guesses as to what should be done. Nevertheless, the world's reaction to the Russian Ukraine confrontation which started on Feb 24, 2022 was instantaneous as opposed to the Palestinian crisis stemming in 1948 and ongoing for 75 years.
The Ukrainian war has seen a global systematic action which focused on boycotting Russian oil and gas. Social media has lobbied celebrities to raise awareness and encourage donations to Ukrainian civilians. Actor Sean Penn travelled to Ukraine and America's sweethearts Blake Lively and husband Ryan Reynolds were among the first to donate to Ukraine, contributing one million dollars to help refugees. The number of refugees worldwide including Palestinians reached 30 million people according to UNHCR. In Ukraine, six million Ukrainians fled their homes to neighboring countries after the war. Ukraine's population stands at 44 million people.
People's reaction to world events on social media despite access to a wealth of information at the click of a button should raise eyebrows. Social media has become an outlet for on the spot streaming of content and breaking news as well as features that sometimes become 'trends', or go 'viral'. Reactions from people can have a tsunami effect and people could be cancelled or loved. Nothing prepares the reader for the erratic responses on social media; nor how to explain who can woo whom towards which cause and why. It is back to learning basic journalism 101.
WE SAID THIS: Don't miss…On The Palestine Occupation: Why Supermodel Bella Hadid Continues To Expose Social Media Censorship