On The Palestine Occupation: Why Supermodel Bella Hadid Continues To Expose Social Media Censorship
Social media is changing the media game…or rather dictating it. With so many channels available a spillover of worlds has occurred and information is in abundance. To know what's happening in the far corners of the world you'd have to wait for the nine o'clock news or the morning paper but now with social media, you get to know now…or do you? Everyone with a phone is a reporter and it seems there's no excuse for you not to know what's happening, yet is it unawareness or racism that is allowing certain atrocities around the world to continue. The major social media platforms allow users to express themselves, report on anything as long as it does not contain hate speech, violence or any promiscuous content; recently this censorship has also been witnessed when reporting on specific situations. Who decides what's censored? Who decides what's trending? Who decides the conversation we should all be having now?
These questions have been sparked following recent events around the Russia-Ukraine crisis, the Russian invasion of Ukraine in Feb. this year has caused a public outcry. With Ukrainian refugees fleeing a Russian invasion a racism reveal was made as reporters blatantly stated that these refugees were…different, one Philip Korb Journalist said, "We're not talking here about Syrians fleeing the bombing of the Syrian regime backed by Putin, we're talking about Europeans leaving in cars that look like ours to save their lives." Politicians also chimed in with a former Ukrainian Deputy Prosecutor stating, "It's very emotional for me because I see European people with blue eyes and blonde hair being killed…".
With recent attacks in and around Al Aqsa mosque by Israeli police during the Muslim holy month of Ramadan videos of assault on people praying, differently-abled persons and children were posted on various social media platforms. They did not however cause the same public outcry of the Russian invasion on Ukraine and social media revealed a distinct difference in the reaction to violence on people of the west versus the east. Users of Instagram have spoken out that their content regarding the recent raid on Al Aqsa mosque has been censored.
Bella Hadid, an American-Palestinian supermodel, is the most recent star to be subjected to Instagram's censorship. Hadid has been using her Instagram account to show support for Palestinians by uploading content that sheds some light on human rights violations by Israeli soldiers and exposing the living situation of a Palestine under occupation. With her posts being censored she released a statement calling out the social media platform, "If you really want to silence me — just like the journalists — or really anyone trying to educate about Palestine, Instagram, I will continue to come forward with peace, showing factual information about how the IDF [Israel Defense Forces], the Israeli government, and settlers attack innocent Palestinians for no reason," Instagram's attempt to ban those who support Palestine, according to Hadid, is a clear violation of one's human rights and freedom of speech.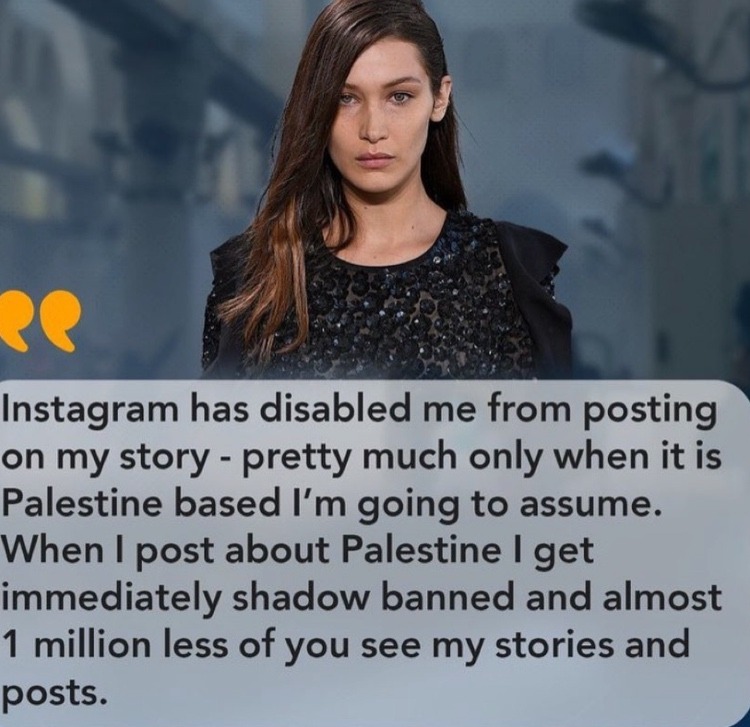 Hadid wasn't the only celebrity to speak out about the issue; American-Kuwaiti journalist Ahmed Shihab El-Din spoke out about Instagram's injustices and bias stating that if the same situation was happening in the west the Israeli government would be facing a serious back clash.
Also, In March, Bella Hadid's sister, supermodel Gigi Hadid, faced a similar situation when she announced on her Instagram account that she would donate all proceeds from her Fall 2022 shows to help those affected by the Ukraine and Palestinian crisis. Fashion magazine Vogue then faced a barrage of criticism after removing Palestine when reporting Hadid's news.
Assuming social media is censoring content on IDF human rights violations in Palestine and then assuming it stops and exposes both sides of the world equally, would this erase the double standards that have been blatantly exposed following the Ukraine crisis? Or is the issue more serious, where people are aware of the violations but chose to care more based on the race of the victim.