#WaraElMazzika: Spotify's MEA Managing Director Claudius Boller Talks Trends, Plans and Outreach in the Time of Corona
Via Rolling Stone
We had a very interesting conversation with one of the most influential figures in the music industry, Spotify's Managing Director for the Middle East and Africa, Claudius Boller. Since joining Spotify in 2017, Claudius has been instrumental in planning Spotify's entry into the Middle East and Africa. Claudius has a wealth of industry and market experience, having spent seven years working at Universal Music Group.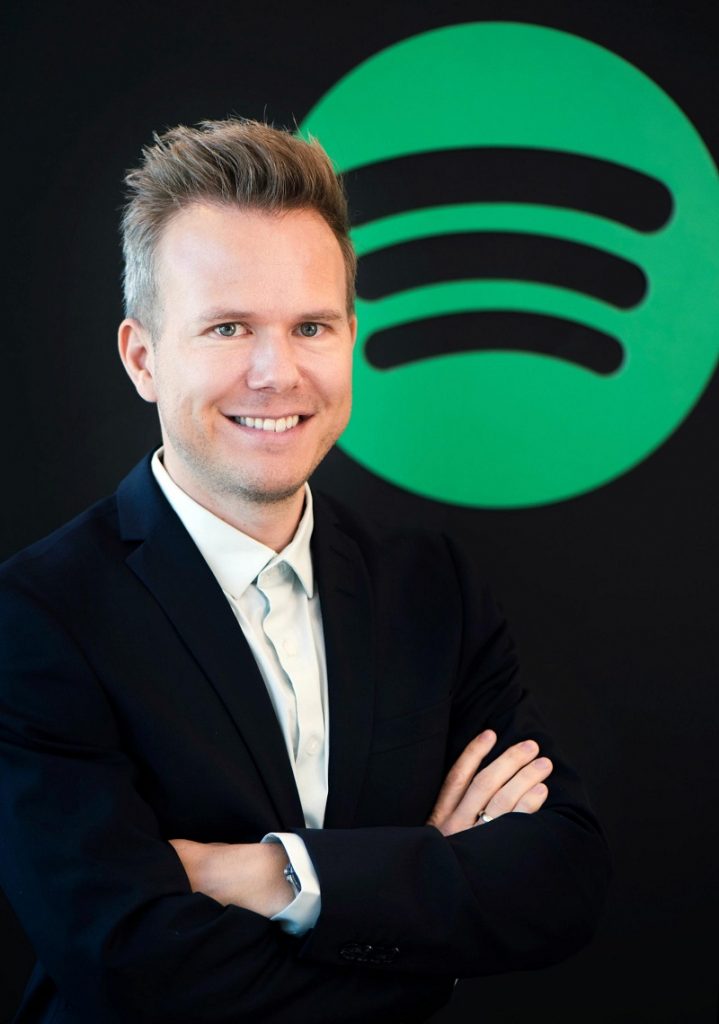 What are the current listening trends on Spotify and how were they affected by the COVID-19 pandemic?
There have been some very obvious shifts over the past few months. Daily routines around the world have been completely upended and that's reflected in streaming behaviors. Back in March, as people globally started spending more time inside, we saw fewer people streaming from their cars during their daily commutes and more people using desktop computers, TVs, smart speakers, and gaming consoles at home.
Our listeners have been getting into the latest at-home trends and creating playlists to match their activities. In other parts in the region like Saudi and UAE, cleaning playlists are being curated by users while there has also been an increase globally in user-curated playlists related to baking (yes, banana cakes), hair maintenance, homeschooling, working from home and children's music.
Wellbeing has been dominating our thoughts lately too and on Spotify, there is an uptick for content related to wellness. We are seeing users creating and following more workout playlists than they were back in Feb, and streams of running, yoga, nature sounds, and meditation playlists are up as well. Naturally, as we gravitate to more practical, home-based music choices, we have seen users moving away from music intended for group celebrations and work.
How is Spotify supporting artists amid the COVID-19 pandemic?
Since the onset of the COVID-19 pandemic, we've been identifying ways that Spotify can help make an impact around the world. Spotify has always been focused on creating connections between artists and their fans, using music to help break down barriers and build stronger communities. We just announced the expansion of our global Spotify COVID-19 Music Relief project in the MENA region. The aim of the project is to offer financial relief to those in the music community most in need. We've partnered with MusiCares, PRS Foundation, Brazilian Union of Composers, UMI in Argentina and Help Musicians, and others giving fans an easy way to provide much-needed support to the global music community.
Our Spotify COVID-19 Music Relief partner in MENA is the Arab Fund for Arts and Culture – AFAC a Beirut based initiative aimed at supporting local artists, writers, researchers, and organizations from across the Arab region, working in the field of arts and culture. Moreover, for artists continuing to create at home, our music talent marketplace SoundBetter is waiving its revenue share and cloud-based audio recording platform Soundtrap is offering extended free trials for educators. We have also partnered with other global music industry organizations to help fund and launch MusiCares' COVID-19 Relief Fund, which works to help ease the financial burden of those whose creative practices and incomes are being adversely impacted by COVID-19. Combatting the impact of this pandemic will take a massive global effort, and Spotify is committed to doing all we can to help.
Talk to us more about the partnership with the Arab Fund for Arts and Culture, and how it will support artists amid the pandemic.
We are really thrilled to extend the outreach of our global music relief project to the region and we're glad to find a partner like AFAC who shares the goals and objectives of Spotify's COVID-19 Music Relief project. The way it works is that Spotify will make a donation to AFAC's Artist Support Grant
program to assist their fundraising efforts, aimed at helping artists during these unprecedented times.
Through the Spotify COVID-19 Music Relief page, we will match donations, dollar-for-dollar, up to a collective total Spotify contribution of $10 million across our global partner organizations. In order for artists to be eligible for AFAC's Artist Support Grant, they must be from and residing in the Arab region. The Artist Support Grant aims to extend support to affected independent artists with a one-time $3,000 grant, per artist to support their artistic practice over a period of 3 to 6 months. Of course, Spotify will not take a cut of any contributions made through any of
our partners' websites.
How did COVID-19 influence the number of Monthly Active Users and Premium Subscribers?
Despite shifting user behaviors, the ubiquity of streaming audio means we can be anywhere our users are. As habits shifted away from more linear-supported moments like commute, and towards at-home moments, listeners are turning to their favorite video, social, and music streaming platforms to stay connected, informed, and entertained. That tracks with what we announced on our platform too with monthly active users up 31% year over year. We are happy to see that Spotify remains an essential companion to listeners as they continue adapting to the current situation. Every moment, more than 30,000 people around the world press play on the same song on Spotify. Suffice it to say, listening connects us, even when we aren't expecting it.
What are some of the popular genres coming out of MENA?
The music scene in the region is more exciting than ever. We are seeing that our listeners are huge fans of Hip Hop (whether local or global). Gaming is massive in markets like Saudi Arabia and Hip Hop also resonates well in this space. To pick out a few specifics, Egyptian Hip Hop is definitely one of the hottest genres at the moment to come out of the country. It's really growing and it's great to see new artists like Wegz skyrocketing on our platform, reaching fans around the world. It's also worth noting Mahragant as a genre that continues to be hugely popular.
Are there new plans and features that the app will introduce soon?
Our latest plan is Spotify Premium Family which has recently launched and is already positively impacting the listening experience for people across the region. It provides family members living under one roof up to 6 Premium accounts at 79.99 EGP. What that means is the whole household gets their own personal Spotify Premium account, they have their own saved music, and playlists, and get Spotify's recommendations based on their unique tastes.
Anyone living with their parents will definitely value this! We're currently running a new offer on Spotify Premium and Spotify Premium Family which will give first-time users the first 3 months for free. It's available until 30 June and is a great way for people to understand the benefits of the platform. Similarly, those who are missing their Individual Premium plan and canceled for one reason or another, we are offering three months for EGP 49.99.
One feature which is really new, still in the beta actually, but currently available for Premium users is Group Session Beta. That allows a group of people to enjoy a collective listening experience of music. You do have to be in the presence of each other but it can be a great way to stay connected while listening.
How can rising artists reach out to add their music on Spotify?
We welcome all artists. The first step here is for new artists to learn about how to deliver their music to streaming platforms. Music is delivered either by a record label or a distributor. If the artist is signed to a label, they'll take care of getting their music to Spotify. If the artist is independent, they can arrange distribution themselves. Spotify works with companies who can handle licensing and distribution of music and pay the artists the royalties they earn when listeners stream their tracks on Spotify. Each service is
unique, so the artists must be sure to do a little homework before picking one that's right for their needs. If the artist's music is already on Spotify, they should download our free Spotify For Artists app, where they can manage their artist profile and access audience data such as who's listening to their music.
With our latest update on Spotify For Artists, artists and managers have access to the same set of real-time stats, data and analytics metrics and even pitch their new music directly to our playlist editors. This is where all the magic happens. The artist and his team can easily pitch a song to us before it drops (releases). It'll be included in a list our editorial team picks from for their playlists, which are available to all our 286 million active users around the world.
Moreover, our Artist Label Partnership team also hosts numerous educational sessions around the region walking artists through our Spotify For Artists app so they can learn how to use their presence on Spotify to connect with their fans and market their music. You can always reach out to us anytime, we are here to support local artists on every level and across all genres.
WE SAID THIS: Let us know in the comments how your music listening behavior changed because of the quarantine!