If you've ever been to Germany, you must've come across one of it's most popular food chains specializing in Italian cuisine: Vapiano. With over 60 branches in Germany and over 150 branches worldwide, it is no surprise that this fascinating chain has finally bestowed upon us its presence in Egypt.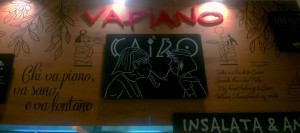 And guess what? The branch, recently opened in Cairo Festival City, is not only customized to Egypt with Pharaonic illustrations, but is also the only branch with Arabic writing displayed, too! We Egyptians tend to get our way, don't we?
And as superb as this chain is, the opening was even more spectacular. With a euphoric vibe that was extremely contagious, the Vapianisti ( the lovely chefs and employees working at Vapiano) left us all with a smile as they cooked while singing and using the kitchen utensils as instruments.
Well known for their exquisite selection of pasta and pizza cooked in front of you per order, we couldn't wait to see if these Vapianisti would dazzle us out of our senses and bring us a piece of Italy right to our tables.
As we waited, the Vapianisti weren't the only ones playing music, as a saxophone player came out of no where and delighted us with a beat you just couldn't help but cheer for! And just at the right time, my favourite pasta of all time was served: Crema Di Funghi.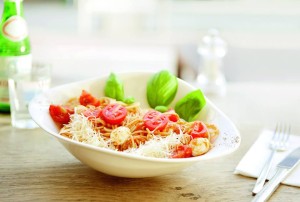 With just the right amount of creaminess, drizzled with Parmesan cheese and a mixture of fresh mushrooms and oyster mushrooms cooked to perfection, the pasta was just as delicious as we remembered and in just seconds, we'd gobbled it all down just in time for our second tasting of the night: Carbonara, which was a delicious red sauce pasta with pieces of beef bacon smothered in onions and parsley.
And though the interior is extremely cozy, with the familiar feeling that wooden tables and high chairs or benches serve, we just wish there were more seats that had a backrest — we are getting kind of old.
Having known we'd be having dinner at Vapiano, we'd starved ourselves all day waiting for this delicacy, so don't judge us when we tell you we had pizza, too!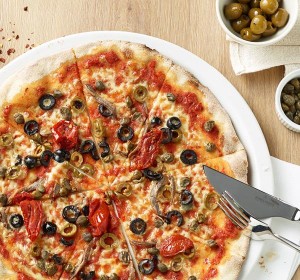 As we headed over to the pizza station, the Vapianisti were having the time of their lives making pizza to the beats of the music and spreading their enthusiasm to everyone around them as well as into the flavours of the pizza they were making.
With the thin Italian crust we long for being made right in front of our eyes, the pizza was light enough for us to demolish in no time without feeling stuffed and heavy. It did, however, take a little longer than we'd expected, but we'll give them a break having seen the crowd of people queued up to get their pizza, too.
We'd say, it's quite the place to have that family dinner you've been planning, because we sure had a blast.

WE SAID THIS: Don't miss Best Authentic Eats in Cairo