The latest Dior campaign is a true masterpiece, shot by the talented Irish-Egyptian artist Rafik Greiss and featuring Egyptian-Dutch model Mohamed Hassan. The campaign was set in a desert location in Sahara Egypt that perfectly captures the essence of both Denis Villeneuve's version of 'Dune' and David Lynch's earlier take on the sci-fi epic. Greiss presents his vision of the Dior men's fall 2023 collection as a Continuum of the past, present, and future .
Designer Kim Jones has taken the Maison Dior back to its roots with his latest menswear collection for Fall 2023. It features a reinvention of a 1950s dress called Bonne Fortune. The wool demi-kilt was worn by Amir El Masry at Cannes and is now part of the 'Ancient Future' campaign, intentionally giving it a Dune-like feel. Jones has been the Artistic Director for the menswear division at the Maison since 2018.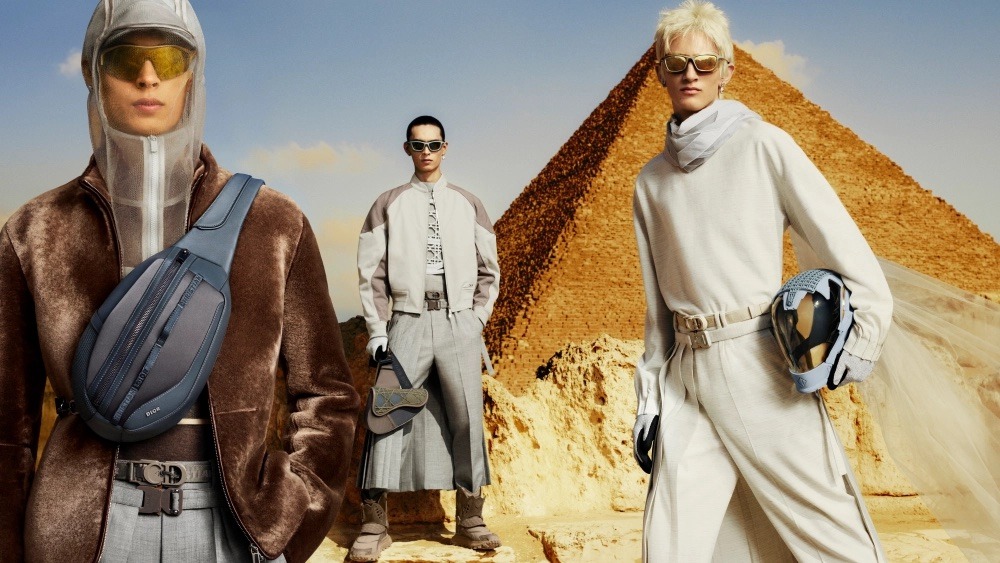 The collection was presented in Cairo, earlier in 2022, against the iconic backdrop of the Pyramids. The latest campaign showcases darker outfits that will remind you of the stillsuits in Dune, along with lighter shades of camel and beige, reminiscent of David Lynch's earlier take on the epic sci-fi novel. Loris Moine's peroxide blond wig, which he wore in the show, is a nod to Sting's character in the 1984 film.
Hamza Taha Studios, a Cairo-based company that specializes in art directing, set designing, innovations and creating visual concepts for movies, commercials and TV series, created the stunning sets for the campaign. The campaign features some of the most stylish accessories, including the Dior Scarab bag, worn crossbody, and the Desert B31 Runner high-top sneakers that resemble moon boots. The helmets and harnesses, featuring the brand's signature cannage motif, are made with 3D printing, adding to the futuristic feel of the outfits.
WE SAID THIS: Don't Miss...Egypt Hosts Dior For Spectacular Launch Of 2023 Men's Pre-Fall Collection