The Arab world, and Egypt especially, doesn't have it easy when it comes to being a woman. Which is why it was quite refreshing when we found out about this team that consists of more than twenty Egyptian women, as young as 18 and as old as mid-thirties, juggling their responsibilities and their passion for American football.
"We love the game so we keep trying and pushing ourselves to do something. It is a new sport here in Egypt, and it gives us the chance to let our guard down. Maybe that's why we love it," Randa Badawy, one of the Shewolves, tells Scoop Empire. Each girl in the Shewolves team has to spend EGP 300 per month to cover expenses like the equipment and field rentals.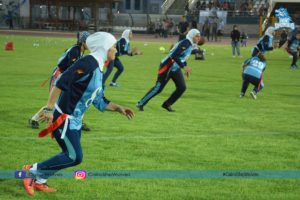 "The head of the Egyptian Federation American Football is really trying all he can to help us get more exposed, which can grant us more opportunities. It's only on rare occasions that the Ministry of Youth and Sports step in to offer us a field that costs less," Badawy tells us.
The athlete opened up to us, telling us about their goals and ambitions: "We are working on the first tournament which will be on 28th of October, and we are trying to find new girls to build the team. Our highest goal is to be more known as a team, which will help us find new Shewolves, and find a sponsor, and we wish that the media support us as they support other sports."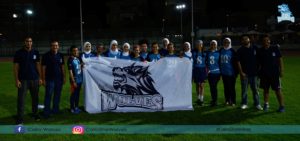 Cairo Shewolves is the feminine arm of Cairo Wolves pack, which was establishment dates back to 2011 when the team was put together after the Wadi Degla project for American football was adjourned leading to the affiliation with the Federation and being official in September 2013. They are proud winners of the First International American Football game for amateur Clubs in Egypt.
American footballers in Egypt have formed four teams so far, but we knew from Badawy that there will be a fifth launched from the American University in Cairo really soon.
WE SAID THIS: If you think you have much game to join their pack, get in touch and shoot them a message!