I am rarely impressed by Egyptian TV, and although Ramadan is known for its medley of 60-something series that pop up all at once in one month just to be replayed the rest of the year, I am rarely intrigued enough to follow any of them at all.
There is one series, though, that has been on the tip of most peoples' tongues lately and that is Segn El Nessa, directed by Kamla Abou-Zekry. Telling the trials and tribulations of a young woman put in the position of continuing her mother's legacy as a head guard at a local woman's prison, Segn el Nessa delves deep into the stories of the women involved and their crimes as well as the life of the lead character, Ghalia (played by Nelly Karim), whose player husband uses her for every cent she's worth.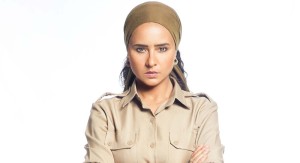 This is unlike any Arabic series I have watched thus far, with no sign of your typical full makeup and perfected do's on set. Instead, you are met with a much realer setting. Characters are presented in their rawest form, tattered and what may seem to be ill presented compared to your everyday actress – the roles are like no other we have ever seen them play. This rough honesty exudes through every scene, creating a relationship with the viewer that very few have perfected.
Digging deep into multiple taboos, such as sex, drugs, police brutality and corruption, the audience is presented with multiple real life scenarios that are very common for the everyday Egyptian. This is not the first time one of these subjects has been brought to light, yet it is in the manner they are presented, with detailed happenings integrated naturally in these peoples' lives.
The series reflects on the woman's role in her home and how each one of these women's sacrifices has led them to jail. Although you would expect a gloomier picture when it comes to the prison itself, you soon realize that, on the contrary, it is the outside world that is much more cutthroat. The prison provides shelter for many, a place to call home to some, and provides community and acceptance without judgement, unlike the world that awaits them outside.
As a viewer, you slowly begin to understand these women's stories, not being able to necessarily relate, yet slowly losing judgement over their actions. This within itself is a breakthrough for the series – the fact that they've actually got you to like and, in some cases, love these criminals.
Although the show mostly revolves around women, the main villain is actually a man. Saber, played by Ahmed Dawood, masters the role of the needy, ruthless lover turned husband of our leading lady. Whether through his tears or his charm, which seems to be his only commodity keeping him alive thus far, this role has definitely created a much brighter path for the actor.
We hate him, yet his story reflects a very common aspect of society that is rarely touched on in Egypt – the woman being the main bread winner of the house. Said to be living in a male-dominated society, it is very common to find that most homes in the lower tiers are run by women.
As shown in the series, be it voluntary or involuntary, these women are pawned off to different jobs such as prostitution, but mostly stick to the more traditional job of cleaning homes, which gives them higher wages then most men of their caliber, making them a great provider all in all.
Now, I am no feminist, but this goes against all pictures painted of the Middle East or the idea that the less fortunate seem to be less forward thinking than those with a more privileged background. Could it be that the modern-day woman has dominated in her role in the lower socio-economic levels more successfully than those still striving daily to be accepted in her fancy business suit and red soled heels?
I have heard of many real life accounts where these woman's wages have been stripped from her only to fuel his dream or his needs and addictions, and just like in the series, the situation always seems to play off the same weaknesses and fear that allow the women to cave. Although this is an international issue and not restricted to the Middle East or a certain sex, it is a key part of this story and creates awareness for many naive viewers watching.

Egypt's elite covers less than 5% of the country's population, and although the masses may be able to relate to these scenes with a less jaw-dropped attitude, I think the greatest thing about the series is the education and exposure it has provided people like us. We seem to be the most ignorant of the bunch, and this only gives us a taste of what is really happening in the lives of our fellow citizens, be it male or female.
I know this seems a little premature, but with all respect to the other series going on right now, hats off to the cast and crew behind Segn El Nessa. Honestly, chapeau.
WE SAID THIS: Egyptian Hollywood has had its highs and lows, but the implementation and attention to detail – be it through the cinematography and impeccable acting or the overall production – has definitely set a new bar for shows in the region.