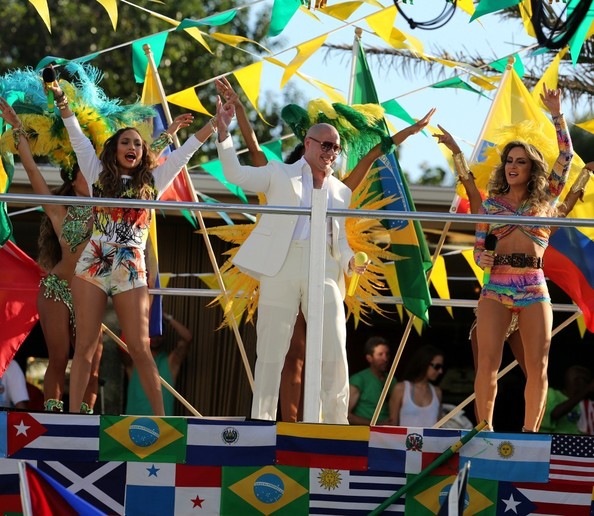 The FIFA World Cup is right around the corner and this year's official song is here to get us even more excited about it. Pitbull, Jennifer Lopez and Brazilian pop star Claudia Leitte have teamed up for the fun, summery track "We Are One (Ole, Ola)". Give it a listen here:
And the closing anthem will be a collaboration featuring Santana, Avicii, Wyclef Jean and Brazilian artist Alexandre Pires, who will perform their track "Dar Um Jeito (We Will Find a Way") at the closing ceremony on July 13th. The smashing World Cup tracklist will also include tracks by Shakira, Ricky Martin, The Isley Brothers and Bebel Gilberto.
Chris Martin stars in Coldplay's "Magic" video as a lovestruck magician's assistant (and as the evil husband) alongside Crouching Tiger, Hidden Dragon's Zhang Ziyi:
And Josh Homme's wild night gets a little out of control in Queens of the Stone Age's "Smooth Sailing":
The Mars Volta may be over, but three of the members have teamed up with Flea for new superband Antemasque and have already released three tracks on their website. Listen to "4AM" here.
The Rock and Roll Hall of Fame induction ceremony saw the remaining members of Nirvana enlist the vocals of Kim Gordon (for "Aneurysm"), St. Vincent (for "Lithium"), Lorde (for "All Apologies") and Joan Jett (for "Smells Like Teen Spirit", during which I assume the Barclays Center imploded). Nirvana was inducted into the Hall of Fame along with Kiss, Hall & Oates, Peter Gabriel and Cat Stevens.
And Drake went undercover in a segment for the Jimmy Kimmel show to ask bystanders in a street about fake news items about himself, including publicly urinating in a Baby Gap and airing a sex tape at a music festival:
WE SAID THIS: What are your plans for Sham El Nessim this year? Check out UK superstar Tinie Tempah at #BeachFest 2014!