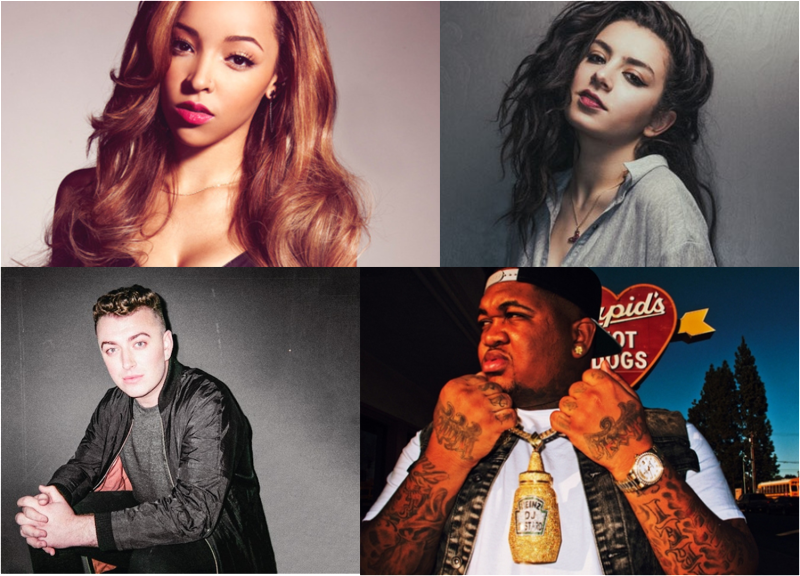 Tinashe
The past few years have been good to R&B, and this year's best new offering comes in the form of 21-year-old Tinashe. She's most known for her own tracks "2 On" and "Pretend", as well as featuring on Kid Ink's "Body Language", Calvin Harris's "Dollar Signs" and the Nick Jonas "Jealous" remix.
The songstress is also multi-talented – she's been acting since she was seven, and is a professional dancer, trained in tap, jazz, hip hop and ballet. Her debut album Aquarius, which was released this year, reached number 17 on the Billboard chart, and in the top ten in UK and US R&B charts. We can't wait to see what she'll release next!
Fun fact: She has a black belt in Taekwondo, so don't mess with her.
Nico & Vinz
Nico & Vinz, originally known as Envy, is made up of Norwegian-Ivorian Nico Sereba and Norwegian-Ghanaian Vincent Dery. Their African and European heritage is reflected in their music, which touches on pop, reggae and soul. Their breakthrough hit "Am I Wrong" is one of the most Shazamed songs worldwide, and has been followed up by popular single "In Your Arms". They performed both songs at last year's Nobel Peace Prize ceremony.
Fun fact: The "Am I Wrong" video was shot in Botswana; the pair wanted to show the world beautiful shots of Africa, as opposed to the negative imagery that is usually shown.
Iggy Azalea
This Australian rapper needs no introduction. She's been building a name for herself for a couple of years now, but this year she's dominated radio airwaves, YouTube viewership, tabloids, you name it. Her top selling singles in 2014 included multiple collaborations with female artists such "Fancy" with Charli XCX, "Problem" with Ariana Grande and "Black Widow" with Rita Ora. For her most recent single "Beg for It", she's teamed up with Danish singer-songwriter MØ.
Fun fact: She may be the I-G-G-Y (and you can put her name in bold), but her real name is actually Amethyst Amelia Kelly.
Sam Smith
This time last year, Sam Smith was most known for guesting on Disclosure track "Latch" and Naughty Boy's "La La La". And this year he's broken our hearts, put them back together, and entertained us with tracks such as "I'm Not the Only One", "Leave Your Lover" and, of course, "Stay With Me". Recently he's been nominated for six Grammy awards, including Best New Artist, Song of the Year and Record of the Year.
Fun fact: Sam Smith is the only artist to sell one million records in both the US and the UK this year.
Clean Bandit
This UK fusion band started out the year with chart-topper "Rather Be" and kept the momentum going with radio-friendly hit singles including "Extraordinary" and "Come Over", as well as latest single "Real Love". They are most known for combining classical music with a modern dance beat, and it just works. They also produce their own songs and create their own music videos.
Fun fact: Much like EDM artists, the band depends on collaborations with independent vocalists in their singles, and they find these vocalists through their own music production trainee scheme.
Charli XCX
We first heard her on Icona Pop's "I Love It" (which she wrote), and this year she made it to the charts on Iggy Azalea's "Fancy" and her own track "Boom Clap", which was featured on the soundtrack of one of this year's biggest films The Fault in Our Stars. She's already toured with big names such as Paramore and Coldplay, and next year she'll be supporting Katy Perry on her Prismatic world tour.
Fun fact: Charli XCX has a form of synesthesia, which is a condition in which senses mix, so she sees music in color.
DJ Mustard
Think back to all the songs you heard on the radio this year… How many of them had "Mustard on the beat"? If it seems like DJ Mustard is everywhere… well, that's because he is. In fact, MTV did a round-up of all the tracks that the super-producer (real name Dijon McFarlane) worked on this year and the result is a whopping 63 tracks. He's also been involved in popularizing up-and-coming names such as YG and Kid Ink.
Fun fact: His 2013 mixtape was titled Ketchup.
WE SAID THIS: Tune in next week to find out which of these artists made it on our list of best and worst songs of the year!