He is known for his deep voice, incredible sense of humor as well as his astonishing radio stunts and hoaxes. We got the chance to talk to Bassem Kameel, who gave us the inside scoop about his future projects, upcoming singing career and more.
Check out what he had to say:
First of all, what was it like to dance in the middle of the Egyptian streets?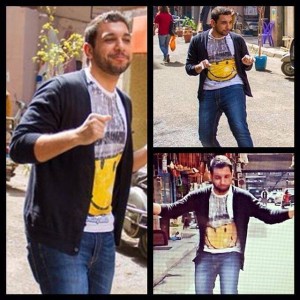 Well, to start with, to dance in the "Kashmagy" video in the middle of Zamalek in front of cafés that were packed with a lot of people was a bit intimidating.  I was really scared and I was actually sweating like a pig. But I thought about it – it's a once-in-a-lifetime chance. I'm not going to mess it up and I'm going to do it as funny as I can. I just want to have fun with my time and dance to "Happy".
This song is one of my anthems. A lot of people call me "Smiley". I like to laugh a lot. I like to smile to life a lot, so "Happy" is definitely one of my all-time favorite songs… It was very scary at the beginning, but then during filming and dancing in the middle of the Egyptian streets and after I saw the end result, it was so much fun.
Tell us a bit about your background?
My name is Bassem Kameel Kamel Hanna Ayoub Abdel Meseih El Sharouny. My family is originally from AlMania. I'm a Gemini. I was born on the 16th of June, 1986. I'm a very naughty Gemini, I have to admit. I love being a Gemini. A lot of people hate Geminis because they think it's the worst horoscope, but I think it's the best to be very honest. I'm not cocky, I'm just saying the truth. It's a fact.
I went to Maadi Canal School. It was an English school. Then, I studied Mass Communications in the American University in Cairo. I majored in broadcasting, which is mainly TV and radio. Also, I minored in music and theater at the same time. I was going to complete a minor in Psychology but I didn't take the last course.
I'm so interested in psychology, body language and behavioral psychology. I love that a lot and it helps me a lot in my work. I'm an artist. I love to sing, I love to dance, I love to write music. I write poems. I love to act. I love to be on the radio. I love to be on TV. You can say I'm multi-talented, maybe!
Who inspires you and why?
I will have to say my brother, actually. Ever since we were young, my older brother always went after what he wanted to do in life. He is very charismatic, everybody loves him. He is sporty yet with an artistic side. He knows his goals and works really hard to achieve them with a balance of being a great father to my one-and-a-half-year-old nephew, Adam. He is also a great husband. He is a phenomenal brother. I want to be just like him.
How did you know that media is your thing? How did it all start?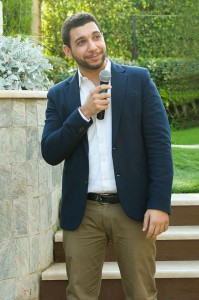 I majored in broadcasting, which is mainly TV and radio – my field right now. I chose that because, as I told you, I'm an artist. I love to do all kinds of things that are related to art, especially music. I compose music, I write music, I sing.
At the same time, I love acting, whether it is in front of a camera or in front of a live audience. So I thought that the easiest and the most direct way to get into this business was to be in the media…
I love to SING, singing is my number one passion. Music is my number one passion with all its different genres.
Even on the radio, I sing jingles, I act in some radio episodes and hopefully in the future it will get me more opportunities to do what I love to do.
You host a live show. What is the weirdest/funniest thing that has ever happened on your show?
Okay, on my birthday – not the last year, the year before – I was on air on the day of my birthday and a girl actually sent me an SMS saying: "Bassem, Happy birthday from your biggest fan and I hope you have 01********* wishes that you want."  I thought that it was a very smart move to send me her number and at the same time wish me a happy birthday. I thought that it was really, really cool and I laughed a lot.
I was proposed to so many times from many girls live on air, which is so much fun, actually, and it always cracks me up.
Also, last Halloween, I had a truth or dare challenge. I made people do crazy things. I once had a guy stop his car in the middle of the street, get out of it and scream at the top of his lungs: "Juliet! Where are you? I'm Romeo, I'm waiting for you." It was in the middle of Al Tgamoa Al Khams street in Cairo. This was Hi-larious.
Another girl was at McDonald's. I made her go to a random guy and simply tell him that she is Cinderella and she is guessing if he is Prince Charming. The guy said, "Yes, my horse is outside McDonald's actually." That was pretty funny as well.
You interview celebrities on your show, like Peter Andre for instance. Which one is your favorite?
I will have to say that my interviews with Arab celebrities are my favorites. Peter Andre was so much fun. He was extremely welcoming and extremely down to earth. We had fun. He gave us CDs. We took pictures. We ate together.
Yet, I think the best interview I have had was with Lara Scandar in my show "Shuffle Hits" as I was debuting her new music to the world. My second most favorite interview was with the young actor Ahmed Malek. This guy is so talented. I have great wishes for him in the future. He is extremely talented.
Who else would you like to interview? And if you have to choose a celebrity to co-host with who will it be?
Definitely Christina Aguilera, if any one knows anything about me they would know that she taught me everything I know about singing. Her voice is out of this world. She can do probably everything, every vocal stunt you can ever dream of. It would be amazing to learn all the techniques of her vocal cords and all the techniques of her vocal aerobics. It would be incredible. I may sing "Just a Fool" with her instead of Blake Shelton. Who knows?
For the co-hosting, it will definitely be Cheryl Cole. She is my dream girl. She has it all; she has the looks, she has the body, she has the dimples, she has the smile, she has the eyes, she has the hair, she has the MOVES. I would definitely co-host with her and may even get married to her. Probably!
You sing, compose, and write lyrics for Radio Hits jingles, not to mention your Michael Bublé cover. Have you ever thought of pursuing a singing career?
As I've said, singing is my number one passion. I think about it every single day. I'm just waiting for the right opportunity. Maybe in the past I was scared. I feel that I'm extremely vulnerable when I sing, which used to scare me, but I learned in the past few years that pursuing what I love to do and to be successful doing it comes with some fear, so I have to get over my fear of being vulnerable and just go record stuff in the studio and perform it live.
Besides Michael Bublé, who is your favorite artist of all time? What is your favorite genre?
This is a hard question because I don't have a favorite artist; I have favorite artists. In terms of female artists, Christina Aguilera definitely tops my list. Her voice is out of this world. I also like Beyoncé, Celine Dion, Mariah Carey, Demi Lovato. We can also say Little Mix. Every single singer who has a GOOD voice, singers who can really sing, not just performers – I relate to singing to be honest.
For the male artists, it has to be Michael Bublé, One Republic, Frank Sinatra, Ramy Ayach, Fadl Shaker… Samira Saeed, maybe. I love her creativity. She is never boring. I love Asala's voice as well. I love how cute Nancy Agram is, too.
About my favorite genre, I always say it's about the beat, the rhythm, the lyrics and the voice. I don't have a favorite genre. It's about these four things; if you combine them and the outcome is really good, I'll love it.
What's next for Bassem Kameel?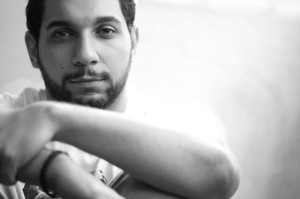 Well, I'm preparing my first single right now and I can tell you that it's called "Tonight, You are in My Arms." I have no idea when it's going to be released. The lyrics are done, the music is done. I just need to get in the studio, record it and mix it. I'm going to release it right away.
I'm definitely continuing in Radio Hits 88.2 doing my shows "الزحمه احلى" from 3pm to 5pm and "Shuffle Hits" from 9pm to 10pm. I would definitely like to be on TV and I'm waiting for the right opportunity. As I said, I love to do a bit of everything. Who knows? Maybe any acting very, very soon, I hope. I can say that I hope.
Any last words?
YES. I love you, Scoop Empire. Thank you so much for giving me this opportunity to talk about myself, my future goals and dreams. I really appreciate it and I hope it comes true. Many, many, many good luck wishes to Scoop Empire and I LOVED the interview. Thank you!
WE SAID THIS: Follow Bassem Kameel on Twitter @bassemkameel and check out his Facebook fan page.