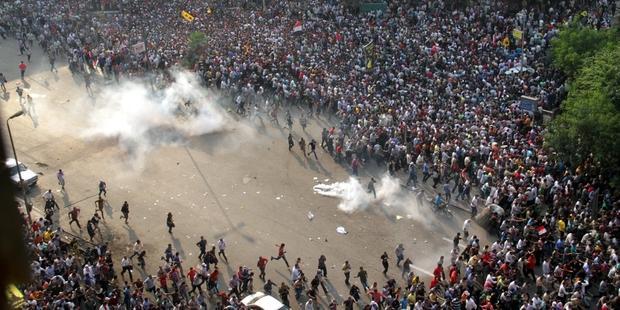 New arrests of peaceful protesters in Cairo undermine the alleged efforts by the new government to commit to freedom and human rights in Egypt. The anti-protest law is a flawed piece of legislation that should be revised and amended so that citizens can exercise their most basic liberties.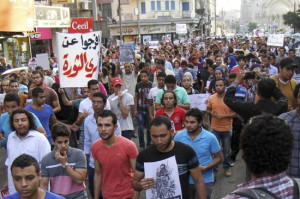 Saturday's demonstration against the recently passed protest law was the first march towards the presidential palace since the new president, Abdel Fattah el Sisi came to office. The protest, organized by "Way of the Revolution" and supported by several political groups, was marching from the El Ahram Metro station towards Ettehadiya when police and alleged thugs disrupted it. The security forces along with unidentified men dispersed the protest by firing tear gas and finally arrested more than twenty people.
On the same day, stands and demonstrations were organized in several countries across the globe calling for the end of the anti-protest law and the release of previously arrested Egyptian detainees. Needless to say, none of these gatherings were disrupted at any point in time.
Egypt's anti-protest law, passed last November, severely limits the basic rights to freedom of expression and peaceful assembly in public spaces. The law not only leaves protesters at risk of imprisonment and arrest, but it also gives authorities the freedom to ban any demonstrations with which they don't agree.
The intense crackdown that Egypt has been witnessing since the Rabaa el Adaweya episode almost a year ago, whether on Islamist or secular opposition, seriously calls into question the commitment of the new government to human rights. Efforts from the authorities to silence all dissenting voices might eventually exhaust already drained Egyptians – a fact that will lead them to publicly express, once again, their discontent.
Meanwhile, as Sisi has been leading a campaign preaching for women's rights and the end of gender-based violence in an effort to convince Egypt that his government is turning a corner on the issue of human rights, the authorities continue to persecute those who peacefully want to exercise their rights.
The old means of oppression and repression keep haunting post-revolutionary Egypt. Yet few people will complain, because now Egypt has a "proper president who will guarantee a democracy".
I am not condemning those supportive of the ruling party and the anti-protest law. I understand that the need for stability justifies the fear of many, especially those who are poverty stricken. The desire to limit chaos breeds loyalty to the current government.
However, Benjamin Franklin's famous quote keeps ringing in my head: "Those who would give up essential Liberty, to purchase a little temporary Safety, deserve neither Liberty nor Safety". Until when should people bow to governments that use power as an instrument of coercion?
It is incredulous to think that a single person, marching peacefully calling for the release of prisoners and the abolition of a law, could threaten a state – especially when we talk about an entrenched military rule. But this is the case in Egypt. And a state challenged by peaceful individuals is a feeble one.
WE SAID THIS: Check out "14 Presidential Promises to Remember".