NAFES: The Saudi Platform Allowing Global Investors to Take Ownership of Clubs and Popular Sports
Saudi Arabia's vision 2030 plan is doing wonders and continues to do so. The country's "Quality of Life" sports program launched the sports event, NAFES (Arabic for compete). NAFES is an online licensing platform that is in partnership with some of the biggest sports events in the world.
Sport is an integral component of our Kingdom's transformative Vision 2030. We would not have achieved these massive strides if it were not for the unconditional support of our Kingdom's leadership. Which were led by the Custodian of the Two Holy Mosques King Salman; and the Crown Prince Prince Mohammed bin Salman.

Said Sports Minister Prince Abdulaziz bin Turki Al Faisal.
NAFES encourages global investors to establish sports clubs, academies, and centers in the Kingdom, and therefore encourage foreign investment in Saudi Arabia. Private Investors can own sports via NAFES, such as basketball, equestrian, football, tennis, swimming, gymnastics, electronic sports, combat sports, and cycling.
This was an organic development that falls in line with our efforts to position Saudi at the forefront of the sporting world globally and that is a crucial part in Saudi Vision 2030. As our sporting ambitions continue, we seek to collaborate with partners and strike a healthy balance between public and private sector investment.

Said Prince Abdulaziz.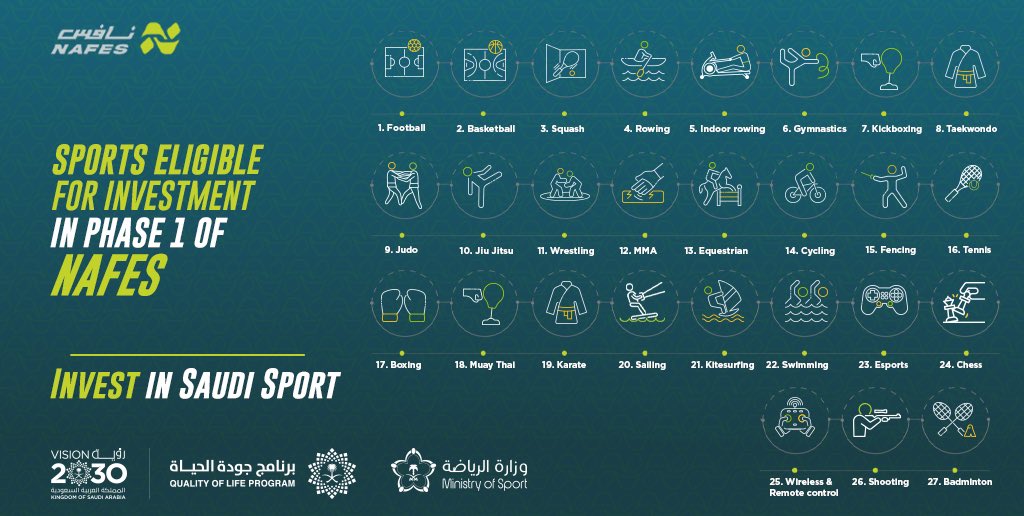 With the investments that have already been done, there is a 37% growth in the number of Saudis participating in sports activities. With a 149% increase in women and girls playing sports. Moreover, the Saudi Arabian sports economy grew 174% within the last three years. During the pandemic, there was an initiative by the Saudi Sports For All Federation called "Your House Is Your Club" that encourages people to do some fitness workouts at home.
Within the last 3 years, there were more than 50 international sports events; from football, golf, boxing, tennis, and WWE. Before that time, governmental funding fueled the sports industry, but currently, the private sector plays a bigger role, and it has lead to growth.
It is a turning point for the Kingdom's sports sector. Our message to investors and the private sector both in Saudi Arabia and across the globe is direct and clear, establish your clubs, compete and draw the future path of Saudi sports investment.

Prince Abdulaziz added.