Mother of Cancer Survivor Shares the Most Inspirational Message About Their Journey
Via Zein Youssef
We all know someone who was young and healthy, yet unfortunately had his life turned upside down in a second after a cancer diagnosis. For a while now, I've been coming across posts of a young brave boy called Zein Youssef who has been battling cancer.
Zein has been diagnosed with high-risk stage 4 neuroblastoma in February 2013 when he was almost 6 years old. During his hard and long treatment journey, Zein has captured the heart of Egyptians on social media. His mother is the most positive and encouraging parent, and has taken to social media to ask everyone for prayers.
While you might not understand why a parent would publicly discuss such a private matter, you have to understand that there are thousands out there going through the same ordeal, and Zein's journey could give them hope and comfort in knowing that they are not alone. Yet out of all the family's posts, this must be the one that hit me the hardest.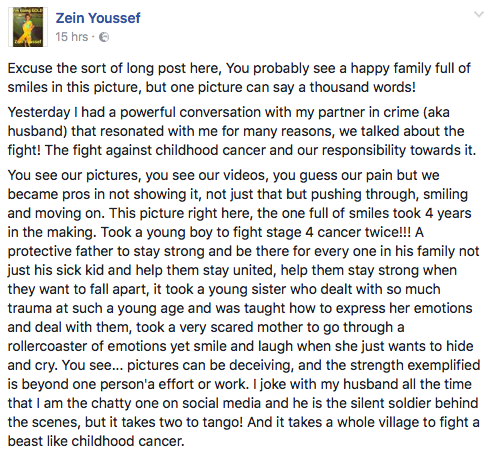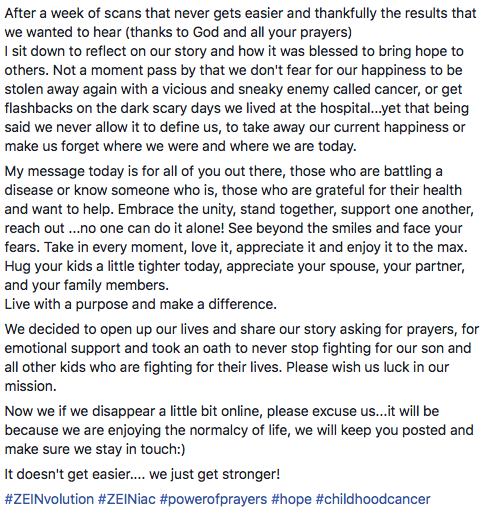 For days, everyone has been waiting for Zein's scan results, thankfully the results were positive with no trace of the tumor. But the mother decided to share the truth behind the positive photos and smiles. The real battle the whole family is fighting. The little sister who has to deal with emotions way beyond her age. The silent father who is the real warrior putting on a brave face. This post is so honest, heart-breaking and inspirational for everyone fighting any kind of battle.
WE SAID THIS: Hamdellah 3l salama, Zein.