Celebrating a decade of storytelling, Scoop Empire has finally actualized its scoop through a delicious collaboration with Mōko, the homegrown chocolate artisanal brand. In this vibrant union, 'A Scoop by Scoop Empire' was born. The arctic blue flavor, reminiscent of childhood, was the perfect way to commemorate the 10 years and that wasn't the only way the magazine celebrated. We sat down with Mahmoud Barakat, founder of Mōko who gave us the scoop on his unique brand, the collaboration with Scoop Empire, and what's next.
Barakat kicked off with the journey of Mōko, "the story of Mōko started with a vision, that there can be a state-of-the-art artisanal chocolatier that is homegrown, breathing new life into a stagnant industry in Egypt." The creative further stated that the brand thrives off being meticulous and bringing personalized elements to the center of their creations through aspects such as packaging and messaging which "fully immerses customers and observers into a dreamy-like imaginative world of indulgence."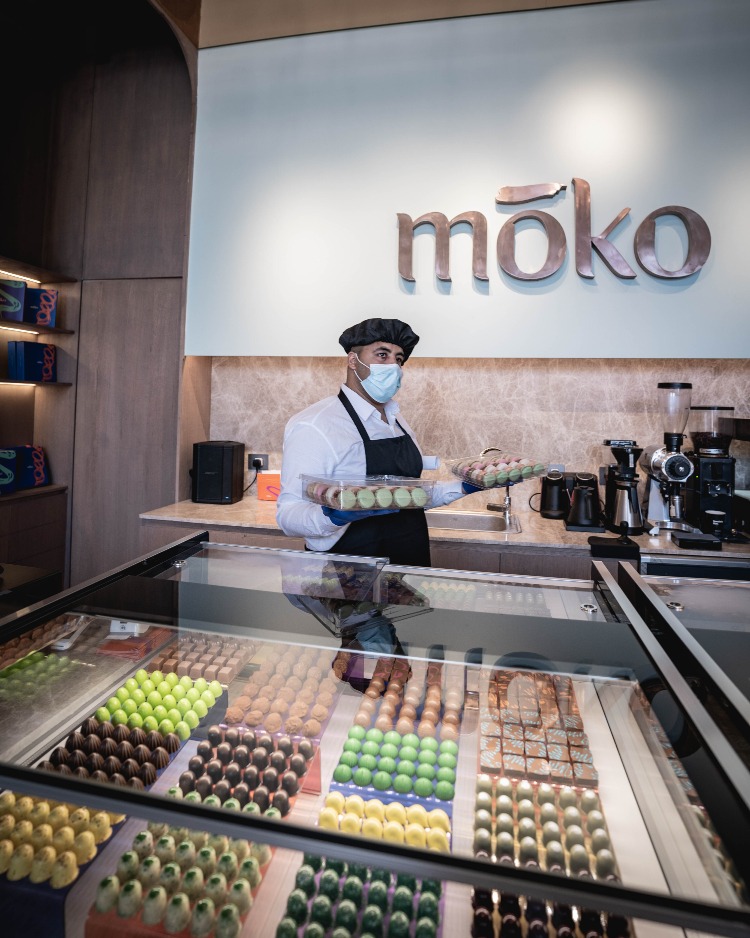 Moreover, he gave us insight as to what makes his bold brand consistently succeed, "We are constantly pushing the envelope of what should or can be done. We're always trying out new flavors and ideas that push the limits and break boundaries on chocolates and pastries," Barakat said. Mōko is not only different due to its ideas but its flavor combinations that are constantly being invented, "Mōko was the first chocolatier in Egypt to offer customized chocolate bars, created instantly in the store. We were also the first to offer local flavors such as Tahina and Halawa chocolates and create fusions with Wasabi, Tonka, and Matcha, adding more playfulness and quirkiness to our range."
Mōko made a splash with its first branch at Diplo, located in Sahel, "It is a prime entertainment hub in the middle of the North Coast and fits our identity of being vibrant, playful, and creative. It also is spot-on to our target audience, and persona," Barakat said.
Barakat went on to discuss the delectable collection of exotic flavors of 'Summer Fusion' that was the highlight of Sahel season. "We wanted people to talk about our flavors and talk about Mōko as a brand being different. The summer fusions campaign though isn't limited only to our six new chocolates it also refers to the summer menu which can be tailored to each and every client. Think of having a wasabi gelato brioche sandwich or waffle with caramel sauce, for example." This campaign hammered on the notion of customers being as wild and free as possible.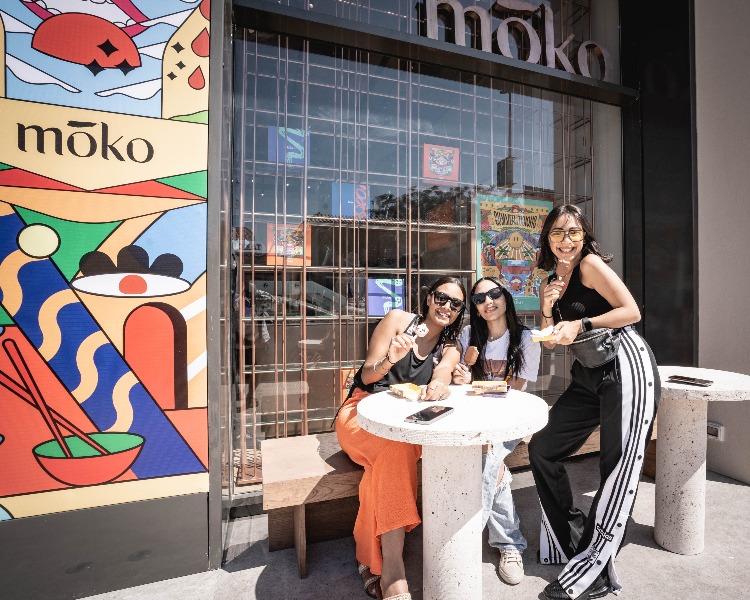 Things got even more delicious once Mōko formed its unique fusion with Scoop Empire, creating "A Scoop by Scoop Empire" in honor of the magazine's 10th year anniversary. "The idea came to us in one of our brainstorming sessions, and we instantly knew that this is 'it.' The process of creating the actual Scoop was somehow challenging until we found the perfect texture, color, and visual identity," Barakat shared.
As Barakat expressed Mōko and Scoop Empire have similar brand values, the partnership didn't end with a flavor, they only went on to create a fruitful collaboration. The creatives joined forces again on Oct. 4, 2022, to give back to Al Nas Children Hospital, "considered the largest medical center of excellence in Africa and the Middle East specializing in treating children suffering from congenital heart defects." They did so by passing out "A Scoop by Scoop Empire" ice cream to children in addition to donating proceeds of the sales made from the ice cream in support of the hospital. Egyptian actor, Amr Wahba was in attendance, making the children's day by giving out ice cream and guiding them in drawing the thing that brings them joy the most, ice cream. He also helped in creating cut-out hearts which upon making, the kids were asked to who they would give. The aforementioned activities were planned in partnership with Art Cafe.
The idea all started when Barakat and Scoop Empire's Chief of Content, Sabrina Khalil wanting to do a CSR component along with the flavor created to commemorate the 10-year anniversary. "Being a homegrown Egyptian brand, we believe it is extremely important to give back to our community. We are born and raised here, growing here, and thriving here. There is no growth without a wider contribution to the people and planet we live on," he said.
Barakat went on to share his thoughts about the heartwarming day. "Emotions of my childhood came flooding back once I saw the children all wanting ice cream; it reminded me of constantly wanting ice cream every day as a kid. This collaboration between Scoop Empire and Al Nas was a natural progression, as both Scoop Empire and Mōko have the same ethos of giving back to the community and doing things that are innovative and pushing boundaries."
Finally, Barakat shared what customers can expect of Mōko moving forward. "We will continue pushing limits on bringing artisanal state-of-the-art creative chocolates, pastries, and desserts to Egypt"; this is seen through the full dessert menu set to launch soon.
WE SAID THIS: Don't Miss…A Scoop For A Cause: Homegrown Brand Mōko Launches Scoop Empire-Themed Flavor