A huge milestone was achieved for Lebanon when Cadet Officer Jana Sader became the first woman in the army to pilot the A-29 Super Tucano attack aircraft. Following two years of intense studying and flight training, Sader was able to complete her training program and graduate from the Laughlin Air Force Base in Texas, USA. Now that she graduated, she can begin her career journey as a fighter jet pilot and take to the skies aboard the A-29 Super Tucano attack aircraft used on various missions including close air support and armed surveillance.
The event was one worthy of celebration as many took to Twitter to congratulate the Cadet including the Lebanese army:
Sader's new role marks a new era for women in Lebanon as the country has been taking slow steps in integrating women in the military. During Lebanon's civil war that ran from 1975 to 1990 when women were first enrolled in the Lebanese Army Forces. A year later, in 1991, the government released a new resolution that 10% of the soldiers that are employed in the Defence Ministry have to be women. Each female recruit has to go through the same training as male recruits and are not restricted to administrative roles but are assigned tasks in combat units as well.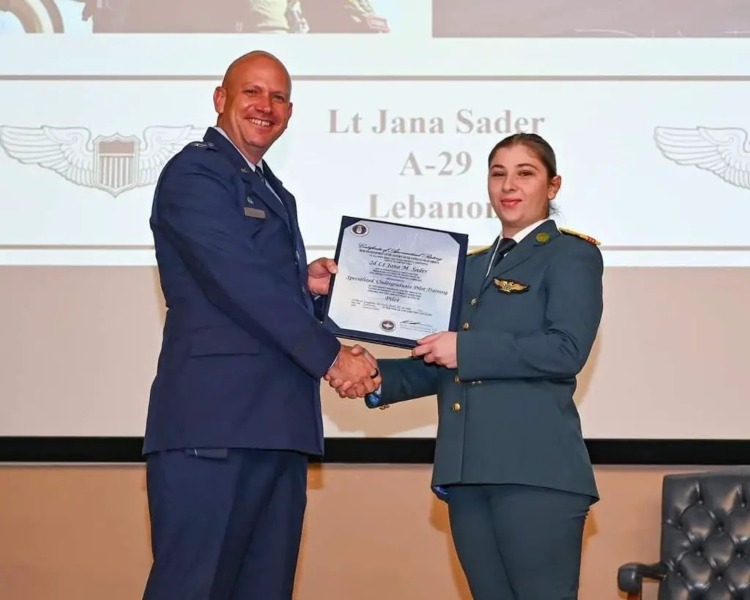 Sader's achievement as a female fighter pilot is one that casts a wider net on what can be possible for women in the military and Air Force. Other prominent women dominating the field include Civil aviation Captain Rola Hoteit who became the first ever female pilot of the Middle East Airlines