Moataz Radi, or Mizo, Egypt's Kung Fu Superstar is successfully competing with China's top kung fu fighters in international championships, but sadly, no one seems to know! Egyptians are super hooked on Football, and the fact that Egypt has qualified to the World Cup, and are forgetting about the other sports. Mizo has brought to everyone's attention that he is not been given the recognition and support he deserves.
Since 2006, Mizo had dominated the sport in Egypt for his weight class of above 90 kilograms, and has also enjoyed success on the world stage. He is now preparing to join the national team's training camp ahead of the world championships later this year in China. Despite his heavy build, 28-year-old, two meters tall, Mizo, moves lightly during training at a modest gym in the October 6 district in Western Cairo.
"I'm the only Egyptian, even the only Arab and African, to win a kung fu world championship's gold medal for the +90 kilograms weight class, and I found that my popularity in China is more than in my country," said Mizo.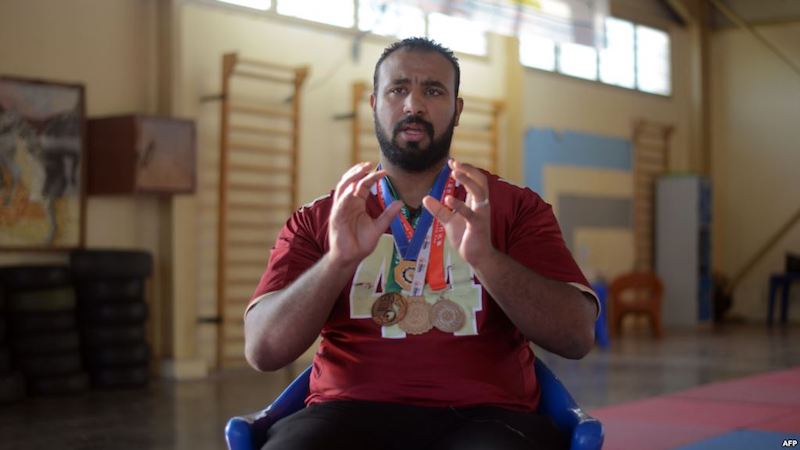 He is becoming a role model for younger generations, Mizo told Free Malaysia Today, "I won the world gold medal in 2015, silver in 2016, and bronze in 2017, and I am now training for the coming championship."
"Egyptians learned about kung fu from Bruce Lee and Jet Li, and they pictured kung fu players always in mid-air," said Mizo.
In October 2017, Mizo participated in one of the sport's top tournaments The King of Kung Fu in China, invited by the local kung fu federation. The tournament had eight matches, "more than 70 channels were covering it and there were a lot of viewers." In Egypt, without sponsors, Mizo gives kung fu lessons to provide for his wife and young daughter and cover his training, travel, and injury costs.
In November 2014, Mizo broke his leg so badly that, he says, no one expected him to fully bounce back. Yet the following year, he competed in his first world championship and won the gold medal.
"I saw in Moataz (Mizo) during the period of his injury perseverance that I have never seen in any fighter in the world," said Ahmed Abdel Aziz, the Kung Fu Manager at Mizo's Club.
WE SAID THIS: Mizo, we've got your back! Keep making us proud.