This Sunday, Egyptian president Abdel Fatah El-Sisi announced a hike in sales taxes on imported and local cigarettes. Yes, even Cleopatra!
This marks the third time in the past year that cigarette prices have gone up and follows a trend of increasing cigarette costs in the country. Remember when L&Ms were only 4.5 LE just six years ago?
With these new prices, we anticipate a swell in black market activity (although we'd stay away from the Chinese packs, to be honest – the market isn't regulated over there and you don't know what you're smoking!), rolling tobacco to gain popularity and shisha consumption to grow. Or, you know, we could just QUIT SMOKING!
Officially, according to Ministerial Decree 119 of 2015, these are Egypt's new cigarette prices: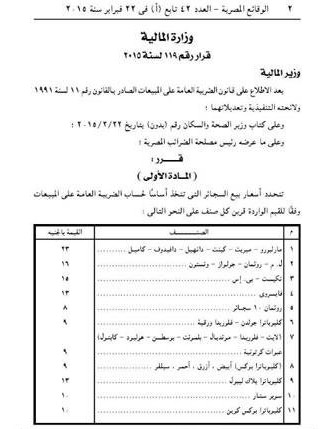 But according to Al Masry Al Youm and a quick survey of our local kiosks, below are the going rates on the streets, depending on your poison brand of choice:
Marlboro, Merit, Dunhill and Davidoff: was 19.75 LE, now 25.5 LE
L&M: was 14.25 LE, now 19.25 LE
Next: was 13.75 LE, now 18.5 LE
Kent: was 19.75 LE, now 25.5 LE
Rothmans: was 14 LE, now 18.75 LE
New Lites and soft packs of Cleopatra, Golden, Blue Mint and Florida: was 8 LE, now 12 LE
Bustan, Lite, Mondial (red, blue and green) and hard packs of Florida, Hollywood and Capital: was 8.25 LE, now 12.25 LE
Cleopatra Super, Cleopatra box (normal, red and blue): was 8.5 LE, now 12 LE
Viceroy: was 11 LE, now 15.75 LE
Rothmans 10-cigarette pack: was 7 LE, now 10.75 LE
WE SAID THIS: Don't miss You'll Never Complain about Gas Prices in Egypt after Seeing the Rest of the World's Prices!