Following the announcement made by Dubai Municipality, all the water parks in the emirate are now allowed to reopen, while maintaining regular sanitization and hygiene requirements. The circular stated that cleaning and sanitization "should be performed after every use, or at a minimum of once every hour for all common areas".
Dubai has some of the most entertaining water parks in the region, and summer time is usually when these parks are full. We've selected some of our favorite rides across the city, so you can choose which ones to go to, and prepare yourself to visit soon to enjoy some summer fun!
The Leap of Faith at Aquaventure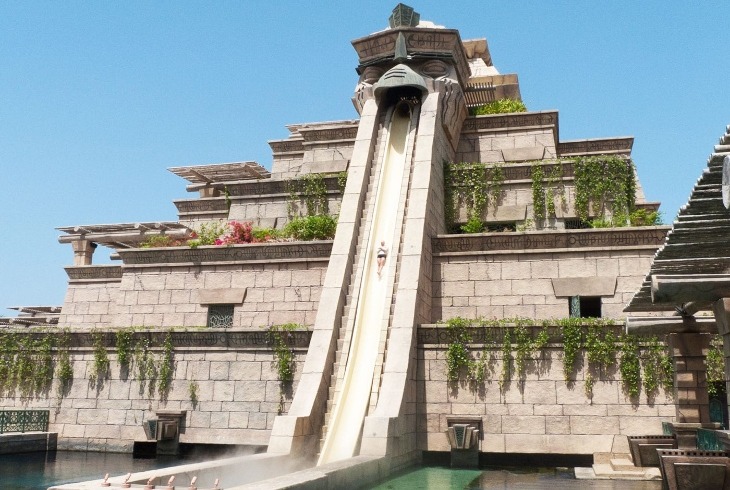 This is one of the scariest rides at Aquaventure! The Leap of Faith is 60 foot high (18 meters or a 9-storey building), making you experience the best adrenaline rush, and before you know it, the ride will be over, and you'll be heading to the staircase to try it one more time.
Poseidon's Revenge at Aquaventure
Another one of the most thrilling rides at Aquaventure is Poseidon's Revenge. It's insane! As soon as you get into the transparent glass tube, you hear a count from three to one, and as soon as it ends, the ground below you opens, and you're dropped. This ride is sure to make your heart drop.
Wipeout and Riptide FlowRiders at Wild Wadi
This ride is one of the most popular ones at the famous Wild Wadi. If you want to experience some beach waves but you're at a water park, or you enjoy surfing, try Wipeout and you can even test your surfing skills. We promise you'll enjoy it. It's also one of the first rides you spot when you enter Wild Wadi.
Tantrum Alley at Wild Wadi
Enjoy the splashes of water and the endless tubes leading to each other in this ride. The best part about Tantrum Alley is that it lets you enjoy the ride with friends or family, in a four-person floaty.
Constrictor at Laguna Waterpark by Meraas
Last but definitely not least, a dark tunnel definitely adds to the suspense of any ride. The Constrictor at the Laguna Water Park is a tube slide that you can enjoy alone, or with a partner.
WE SAID THIS: Which one would you go to?