Crew socks have been around since the 1940s, and today, they are still one of the most popular sock styles out there. Their cotton blend design helps wick away moisture, so your feet stay dry and comfortable throughout the day. If you're looking to buy custom crew socks wholesale, it's important to understand their benefits and why people love them.
1. Maximum comfort
Crew socks are exceptionally comfortable. Whether you're off to work or heading out for a hike, crew socks will keep your feet warm and comfortable all day. Other types of socks, particularly ankle socks, have a habit of sliding down under the heel. You spend more time fixing your socks than you do wearing them.
Crew socks stay put, and they provide comfort all over that other sock styles can't compete with.
If you know how to wear crew socks properly, you'll find that they're more comfortable than virtually any other sock style out there. They stay in place, and they provide warmth all over.
2. Exceptionally versatile
Women and men crew socks are incredibly versatile. It doesn't matter where you're going or what you're doing, they can provide the comfort and proper fit you need to enjoy your day.
Cool crew socks will keep your feet dry and cool during hot summer months or intense workouts. Thicker designs will keep your feet warm even during the coldest of winter days. No matter the activity or climate, you can find a crew sock that will meet your needs.
The crew fit works well with virtually any look, whether it's business attire or a more casual outfit. You can find form styles and dark colors that pair well with suits, or you can find wacky styles and colors that are ideal for a casual night out.
3. Fun Crew Socks to match your personality
Crew socks have a longer cuff, which provides more room for fun designs and color choices. You can find crew socks with designs to match every personality, from sports to animals, quirky geometric shapes and everything in between.
Fun designs and colors add a little something special to your look. They can easily be hidden by pant legs, or you can show them off and make them the focal point of your outfit.
There are hundreds of design options, and if you're creating a custom look, the possibilities are endless.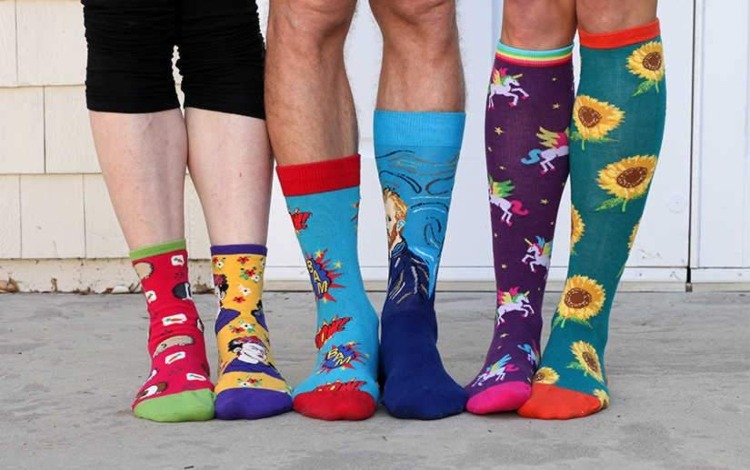 4. More cushioning
One of the biggest complaints about ankle socks and other sock styles is that they can get uncomfortable after a while. Crew socks have better cushioning in the sole, so they're comfortable even if you're wearing them for long periods of time.
For sports or exercise, the extra cushioning can help prevent fatigue. In the cold winter, that extra cushioning can help keep your feet comfortable if you're wearing your socks to bed.
You can also find crew socks with even more padding in certain areas, such as the heel or ball of the foot. Some have more complex designs that help add support to your arches. If you have fallen arches, that extra support can help prevent pain and foot fatigue.
5. Moisture wicking
Crew socks are made with a blend of cotton and polyester material, which helps wick away moisture to keep your feet dry and comfortable.
That's why crew socks are preferred by athletes and outdoor enthusiasts.
While these socks are great at keeping you dry, they also help maintain the natural moisture of your feet. They can help minimize dryness and ensure that moisturizer does its job to keep your skin hydrated in the drying winter months.
6. A better fit
Many people find that crew socks offer a better fit than other sock styles. That's because they cover the entire foot and part of the calf. In addition to keeping you warm, this fit also provides better overall comfort.
If you choose the right size, you don't have to worry about the cuff falling down or the heel sliding down the sole of the foot. Crew socks come in a variety of sizes, so you're sure to find a pair that fits your feet like a glove.
Crew socks are a classic sock style. They offer the comfort and versatility you need, and the fun designs you want.
WE SAID THIS: Crew socks for the win!