Art D'Egypte, in collaboration with Culturvator, has officially announced the highly anticipated third edition of the internationally acclaimed art exhibition, Forever Is Now. Set against the historical backdrop of the Great Pyramids of the Giza Plateau, this extraordinary event will captivate art enthusiasts from around the world. Scheduled to take place from Oct.26 to Nov. 18, this edition promises to be a groundbreaking celebration of art and history.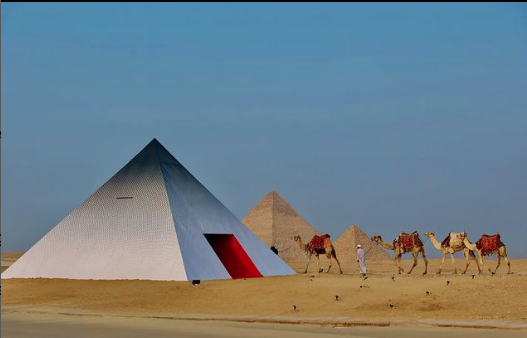 Forever Is Now redefines traditional concepts of art exhibitions by showcasing contemporary artworks within the Pyramids' iconic setting. Along with Art D'Egypte creating a unique fusion between contemporary art and ancient history. To learn more about the third edition, we reached out to the woman behind it all, Nadine Abdel Ghaffar. She summed up the upcoming round, saying, "The Forever is Now exhibitions transcend time and space, inviting people from around the world to look at the UNESCO World Heritage Site through a contemporary and artistic lens."
The art exhibition has gained international acclaim for its exceptional curation that seamlessly integrates diverse artistic styles and mediums. The third edition promises to build upon this success by featuring renowned artists from Egypt and around the world. Through carefully selected artworks that reflect a wide range of themes, techniques, and perspectives. Abdel Ghaffar also added, "We're inviting the viewer to be at the centre of the work, engaging with their curiosity and their interest, to be in conversation with a newer experience than before, through the most ambitious creative endeavors so far."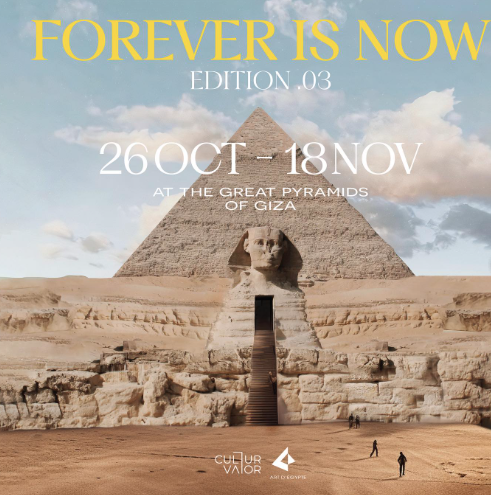 In addition to showcasing stunning artworks within the pyramid complex, the latest round will offer a range of immersive experiences designed to engage visitors on multiple levels. Interactive installations, performances, and workshops will provide opportunities for art enthusiasts to actively participate in the creative process. This inclusive approach aims to foster a deeper appreciation for art and encourage dialogue between artists and audiences.
WE SAID THIS: Don't Miss…The Theatre Of Digital Arts Redefines Art Through The Metaverse