Over the course of the week, we've been following the unfortunate struggles of the Palestinians, as they try to stand their ground against the face of the Israeli forces, bravely protecting their right of remaining in their childhood neighborhood and home. As a result, social media has been aflutter with thousands of outraged Arabs expressing their disdain of the current brutal ethnic cleansing taking place, as Israeli settlers unrightfully and illegibly claim possessions of homes belonging to Palestinians since birth. Amidst this chaos, an absolutely justified state of fury has been ongoing, with people's loud chanting of "Save Sheikh Jarrah" ringing in our ears. As this ordeal continues to plague the residents, an important question comes into play..how can we actually save Sheikh Jarrah? How can we act whilst being hundreds of miles away?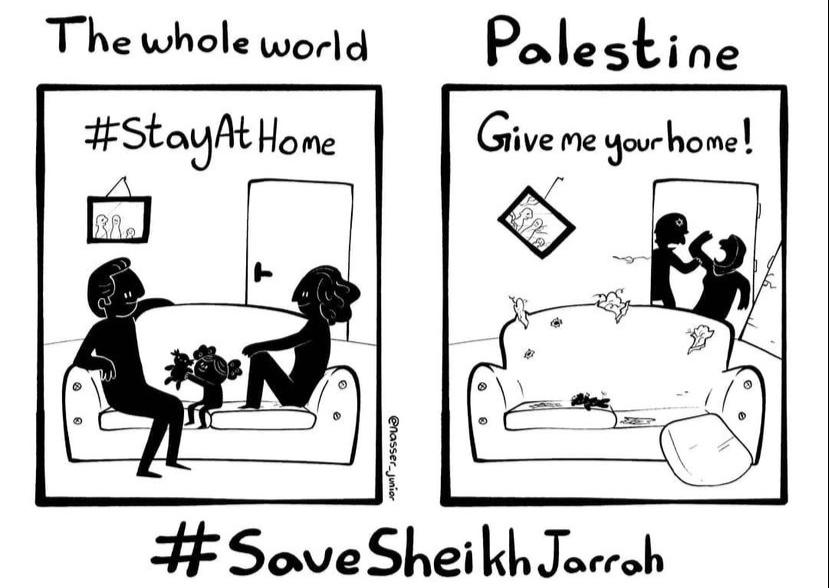 KEEP TALKING, KEEP TALKING, KEEP TALKING ABOUT IT
You might feel helpless whilst sharing the hashtag #SaveSheikhJarrah, and circulating viral videos of Palestinian families courageously fighting to keep their homes. But, never undermine the power of social media. As long as we're adamant on keeping the case alive, continuously showing solidarity and making them feel a sense of unity, we focus the spotlight on the brutality Palestinians face everyday at the hands of Israeli forces. Highlighting the brutal repressions Palestinian protestors are currently facing, as well as the regime of oppression they're trapped in, further reinforces our desire of just how much more it deserves our attention.
In some countries, there are ways to donate in order to help out hundreds of Palestinians who have suffered injuries from bullet wounds, as well as loss of sight, amid the intensifying clashes and mounting tensions in East Jerusalem. As they were admitted to hospitals, which can be lacking in necessary medical equipment given the huge number of injuries, the International Development Relief and Foundation (IDRF) based in Canada, is now offering a link where people can donate. The donations will enable the IDRF's field team to support the hospitals and the Palestinian Red Crescent with urgent medicine, disposables, and consumables.
In addition, other entities and non-profit organizations such as Middle East Children's Alliance, and Let's Talk Palestine, have been opening up donation spaces and spreading their stories, which have gone viral. They continue to encourage people to take action by shedding light on the stories, fostering people to act by donating, as well as signing petitions to members of congress, whilst constantly updating the world with the situation back in Sheikh Jarrah. Their objective is to ensure their audience is well informed about what Palestinian residents are facing, hoping the whole world will double their plea, and help them sustain their right of keeping their homes.
WE SAID THIS: We'll keep saying it again and again. Take action, and save Sheikh Jarrah!