It's a Monday, like any other Monday, and I'm looking for a workout. I'm feeling a bit bored with my typical classes and don't feel like working out alone, so I'm on the hunt for a new class to try.
That's when it hit me: A friend had recommended a boxing class she had been attending pretty regularly before Ramadan (side reflection – funny how all our fitness routines tend to go from hardcore to nonexistent within days of Ramadan starting and then seem to take forever to ramp back up) and I had expressed interest in trying it, but never managed to go.
"Today's the day", I told myself, as I packed up my gym bag with workout clothes and scoured my sister's room for her boxing gloves. All I really knew about boxing was that the communal gloves typically stank pretty badly and I wanted to avoid getting any of that sweaty bacterium near my skin at all costs. I was able to find fingerless gloves outfitted with gel protection on the knuckle area and figured I was good to go.
Finding Round 10 Boxing Club was pretty easy. I love anywhere that has properly inputted themselves into Google Maps and these guys checked that box. The class started promptly at 7pm and they're pretty rigid about timeliness – a rarity for Dubai.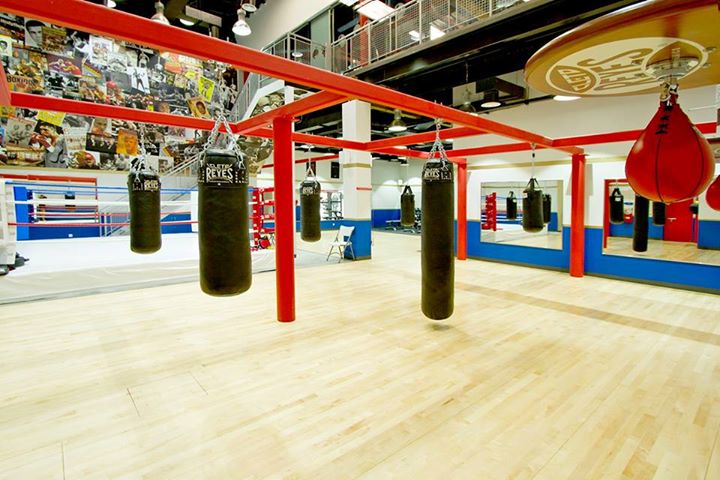 My friend and I managed to squeeze into class a few minutes late, joining the class for a jog… outdoors. My initial reaction was to balk and make some excuse about asthma to avoid the ridiculous humidity outside, however I was at a boxing gym for a reason, so I promised myself to go with it. When practicing a new sport, you will want to just go with it and enjoy yourself, go for it slowly and get better with practice whilst studying the sport. You can study the sport by checking out this boxing guide which will offer you good quality advice and guidance to pursue your boxing goals.
All it took was two rounds around the gym to work up an insane sweat. Then we headed upstairs for the remainder of the class. I was pretty excited to start punching a heavy bag and quickly slipped on my gloves to get prepped.
But first: circuits. For 20 minutes, we rotated across 12 different activities, stopping at stations like jump roping, squats and ladders for one minute each. I actually began to think there was something wrong with me as my face was the color of a red traffic light and the amount of water running off of me in rivulets was unprecedented.
Additionally, I started to become very irritated with the extremely pungent smell of B.O. wafting around the gym. My deduction skills kicked in and I realized that the AC was off. Begging the trainer to put it back on paid off and I was once again able to focus on making it through the torture at hand.
Breathing heavily, we moved from circuits to pairing up at the heavy bags and taking turns doing a variation of punches mixed with rests, where you would hold the bag for your partner as they do their punches. It was a vigorous workout that really tested your stamina and forced you to reach deep down into your willpower to keep punching through to the end of the timed session.
The whole experience made me feel extremely badass and I was surprised to find myself a bit disappointed when the boxing portion came to an end. The finale consisted of a five-minute abs workout (bringing me right to death's door) and me collapsing onto my mat to catch my breath.
All in all, it was an excellent workout that provided tons of different things to do packed into 60 minutes so that it was simply impossible to be bored. I think in the future, I would prefer to avoid the circuits (especially with a knee injury) and get more boxing in.
It's a must-try for anyone looking for a challenge or to burn a ridiculous number of calories – a boxing circuit class can burn up to 900calories/session!
Round 10 Boxing offers different types of classes to cater to different interests with single sessions costing 100AED/session and packages starting at 850AED/month for unlimited classes from the Boxing Workout class options.

WE SAID THIS: Don't miss Why Flybarre Dubai Is My Newest Fitness Obsession.