By Anicee Gohar
When the internet goes mad when Egyptian women go to the U.S. saying stuff like "Whaz about ze Oscar," it would be great if it could go as viral when Egyptian Sherrie Mikhail Miday runs for judge on the Common Pleas' Court in Cuyahoga County, Ohio. Winning the General elections for State Court this November would mean that Miday would be presiding over the largest civil cases but also the most heinous, violent criminal cases, including death penalty cases.
It might sound like a bit of a heavy topic to chat about around Thursday night drinks, but hold on a sec! If Miday wins, the inspiring mother of three would be the first Egyptian elected to any office, including Judge, in the history of the Unites States. "As a woman of Middle Eastern heritage, she is running to break through barriers, forging a path for girls of all ages to pursue their dreams, too," her campaign team tells us.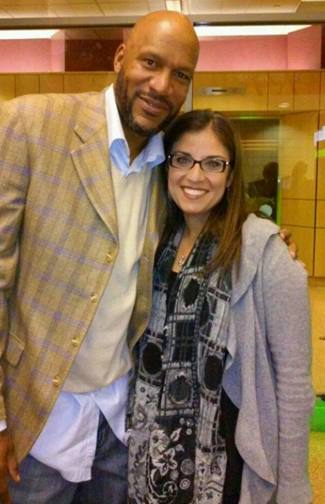 On top of her high qualifications, Miday prides herself for having used her experience, being fair and just, and her temperament to bring together "a diverse cross section of people who seldom work together, such as Jews, Muslims, Christians, rich and poor, and the Black, Brown and White races." Despite it all, her campaign team revealed to us that being "one of few persons of Middle Eastern heritage elected to office takes extra work and more money." During the campaigning Miday will be visiting cities around the United States to engage the Middle Eastern communities aiming at building a foundation of collaboration between all Arabs in the U.S.. Keeping in mind the objective of including Miday in your Thursday night topics of conversation, look who's already got her back! Ron Harper, 5 times NBA champion. Oh, and Naguib Sawiris is also a fan!
Miday didn't have a typical childhood. Her father was the first Coptic Orthodox priests sent—more than 40 years ago—by the late H.H. Pope Shenouda III to minister a growing Coptic congregation in the U.S. Therefore, she spent most of her younger years in the back of a station wagon travelling from city to city throughout the Midwest where her father displayed virtues of charity, selflessness and understanding in the service of others. Needless to say that leadership and humility runs in the family, and that is reflected in her Democratic campaign and service on court.
Today, Miday practices in courtrooms in Cuyahoga County and eight contiguous counties. She had already ran for the same position at the November general election of 2014 where she managed to whip 47.1 percent of the votes from the incumbent Judge Pamela A. Barker! This November, it seems like it could very well be her year as Judge Miday won the Primary election last March.
Most importantly though, insiders tell us that "if there is one item that would serve as an advertisement for Miday, it is Egyptian food. She often laughs as she begins her deep spiral into her Egyptian roots—she has an uncontrollable taste and need for Egyptian food. Her favorite foods are moussaka, koshari, kishk and macarona bil bashamel," the campaign team tells us. This just might be a step further towards making Egyptian food national dish of the world.
WE SAID THIS: Time to head to the campaign website, spread the word, and maybe even make a donation knowing that every little helps.