I headed to Downtown Cairo for a female photography thought-provoking exhibition at Access Art Space in collaboration with Beyn Collective; a place that hones artists and supports research. "Strong Independent" was the name of the exhibition highlighting three divergent photographers all coming together to explore how each defines the words we've been hearing so much of lately: strong and independent.
Previously known as Townhouse Gallery, Access Art Space opened its doors in 1998 as an independent art setting created with the intention of supporting artists of all backgrounds. Upon walking in I was met with a grand pink and red wall symbolizing the theme of the show; providing an interactive experience for people attending the exhibit on their way in or out to stick their representation of strength. Ranging from willpower to mother to resilience, the sea of answers was an art piece of its own. Following my own additions to the wall, I made my way to the three photographers' showcase.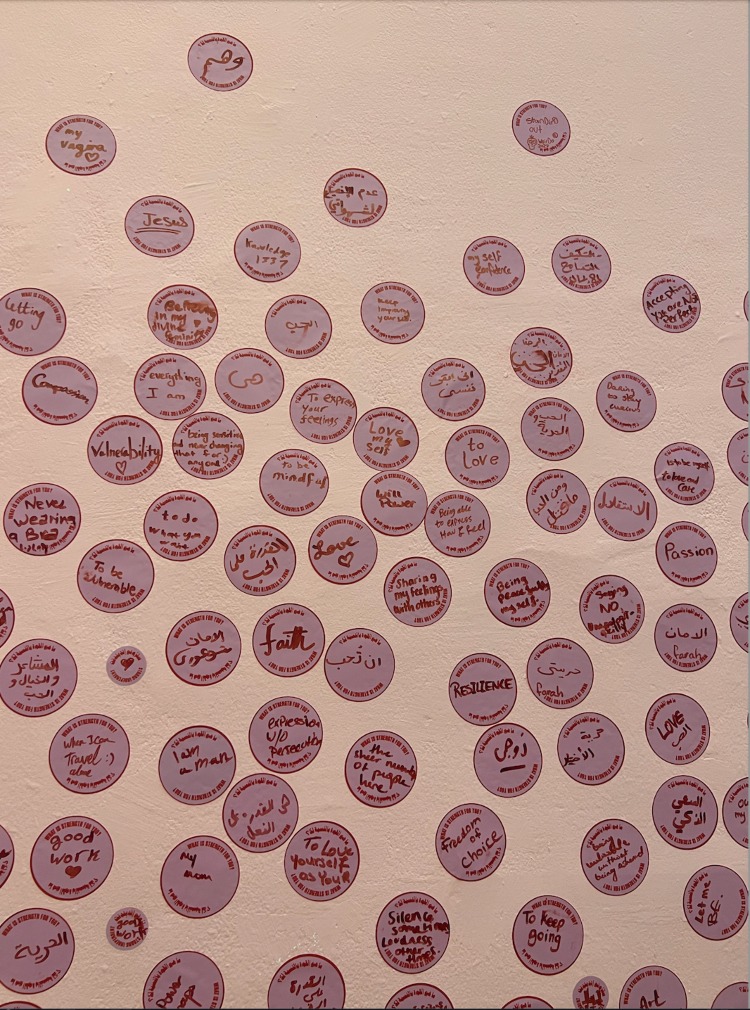 Gardens of Cairo
I started to truly take in the exhibition starting with Egyptian visual artist, Najla Said's Garden Of Cairo series.
Said among the other two artists created an interdisciplinary approach with her series. In this particular collection of photographs, Said reached out to the people of Egypt asking them about certain locations and spots around the city where they felt at a sexual peak. Once she observed these locations, she photographed the locations adding an apple to represent the Adam's apple, redefining shame with a whole new interpretation of the idea of the Garden of Eden.
The photographer expressed the inspiration behind this particular project as the following, "since this is a community-generated project, I wanted it to be as accessible as possible, and to make it feel familiar and inclusive. My main inspiration for the curation was juice shops in Cairo, which worked well with the project title but also in finding ways to encourage interaction with the viewers. It's about nurturing a process to make the apple no longer feel like a symbol of self-restraint. There is no forbidden fruit in the Garden of Cairo,".
The locations shot representative of sexual fantasies ranged from empty galleries to gardens. Said introduced an interactive aspect to her bold photos by adding to her brochures at the gallery a QR code which when scanned showcases all these locations and so in a way brings the Garden of Eden to life.
When asked what she hopes people walk away with after experiencing "Gardens of Cairo" Said responded, "I want people to have the capacity to imagine, without limit. It's such an intimate mental process that happens internally, and yet many feel bombarded with shame. I want people to leave feeling that they are not alone, and if anything, our imagination is one of the few things we truly have full agency over, so use it."
Trailblazers
Moving on from the garden-like section of the exhibition, my eyes shifted toward the black-and-white collection of photography, titled Trailblazers by Egyptian documentary photographer, Lina Geoushy. Inspired by the golden age of cinema, ergo the reason behind all the photos being monochromatic, Geoushy created a collection of images that paid tribute to inspiring characters that we saw in Egyptian films. The self-portraits paid homage to films such as "Ana Horah" or "I am Free" a classic of the 50s which tackles issues regarding women's empowerment and what they can and cannot do as it tracks a young woman fighting for her right to continue her education. Originally a novel written by Ihsan Abd El Qudos, the ideas that it raised was ahead of its time, making it the perfect backdrop for her exhibition.
Geoushy chose to play on a projector, offering a multi-sensorial experience for the audience; watching the film in addition to seeing the collection of self-portraits calling on women not to be pigeonholed. With the use of mixed media, the creative explored the use of old film archives to create a dialogue between the past and present to explore how women used to be versus how they currently are.
The self-portraits mirrored images of diverse types of women. Everything from a lawyer to a belly dancer, all posed by Geoushy herself, making a statement that these are all characters that a woman can be, without being boxed into one certain archetype.
"Definitely a rebellious, powerful, and strong archetype of Egyptian women; who are completely different from one another. Because as a woman you can be a journalist, photographer, a mother, a sister, a student and I think we need to be accepted as all of these things instead of just being pigeonholed into the expectation of why haven't you married yet," Geoushy emphasized.
The artist reflected on how these portraits are about reclaiming different roles as women and that she hopes people walk with a food-for-thought experience.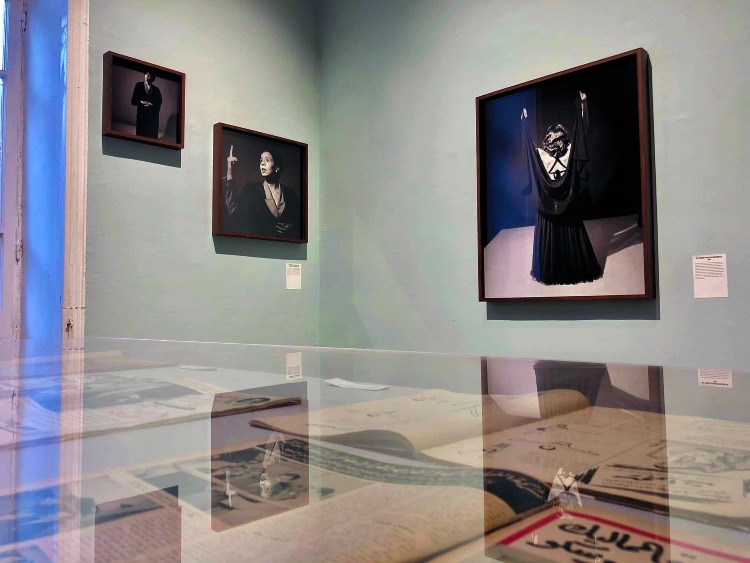 El Malakot "The Kingdom"
The night ended with Egyptian visual artist, Heba Khalifa's El Malakot or The Kingdom series. Along with Beyn Collective, similar to the previous two photographers, Khalifa through her shots was aimed to decipher the meaning of strength. With "El Malakot" the discussion of safe space as a possible meaning of strength came into play. Khalifa portrays this project as ongoing, she met with about a dozen women and she hopes to meet with more to understand their notions of strength and safe space.
Upon meeting with each subject, the artist would photograph them in their safe space or in other words, their malakot; a sacred place enveloped in their privacy.
One of the elements that stood out to me when examining the colorful photographs was that they weren't printed on paper, but rather pieces of fabric. When I asked Khalifa what was the thought process behind this choice, she said, "I wanted to add this almost interactive layer to my work where you become part of their malakot. As you saw from the exhibition, the fabric is quite weightless, alive. So with every movement, it's like we become part of their space."
Between reality and fantasy, Khalifa creates a space where the viewer questions at which point exactly were these photographs shot? Through colorful pastel gradients, contrasted with the people captured wrote about their own interpretations of safety, the art becomes grounded in something much deeper; a search for that safe space.
This is seen through the Korean art photograph where instead of editing the Korean show after snapping the photograph, Khalifa created an installation where the show became part of the person's kingdom.
Khalifa ended her discussion of colors by examining her own definition of safety; "safety for me represents connection. To feel like I am connected with myself and the universe."
The exhibition is set to be open for three more days until Tuesday, Nov.29 for more people to explore their own definitions of strong and independent. So what are you waiting for? Head to Downtown for a unique vibrant experience.
WE SAID THIS: Don't Miss… Celebrating The Art Of Photography At Egypt's Female-Led Workshop: Women Who Create