Exclusive One-on-One With the Promising Star, Karim Kassem!
Via Karim Kassem
The Egyptian movie industry is full of talented promising artists that are on their way to take over the mainstream with steady steps. One of these artists is Karim Kassem, an actor that proved himself with his first breakthrough role in Aw'at Faragh back in 2006!
Karim has two cool projects coming up; an international movie called Sawah where he's the only Arab actor with a main role, and Awlad Rezk 2, the sequel to one of the most successful commercial movies in recent years.
Karim Kassem also starred in other international projects, such as his role as Abu Akram in the British Series The State (2017), and his role as Amit in The First Line (2014).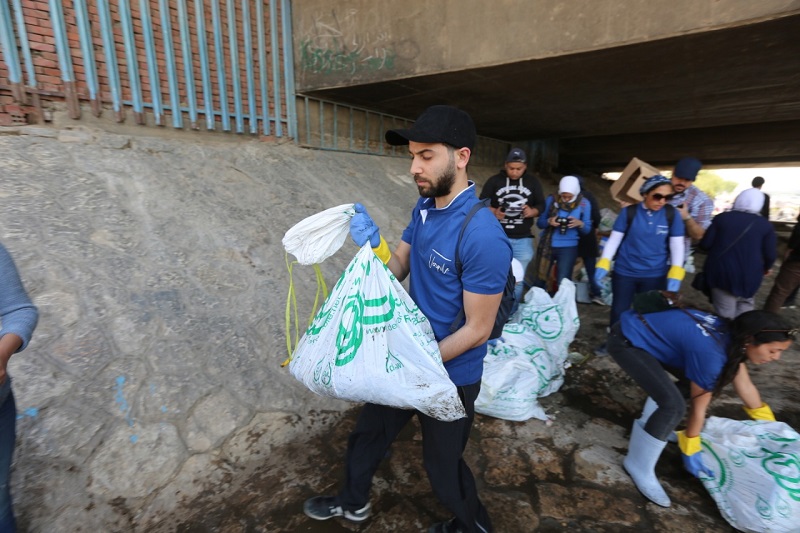 Karim also supports different activities and initiatives that aim to help save the environment; he happens to be the ambassador of VeryNile. We had a chitchat with the promising artist, and here's how it went.
What are your upcoming projects? What's the most interesting thing about them?
My upcoming project is a sequel to Aw'at Faragh, my favorite and my very first movie. The most interesting thing about the project is that I get to revisit my first character after 13 years, to see how he developed as a human being, and how he's struggling now in his thirties. I also get to work with two of my favorite actors, Ahmed Hatem and Amr Abed, and of course Omar Gamal, the writer.
Also, Sawah is coming up. It's a dream come true for me to do a role in Europe. I'm playing an Egyptian DJ who's away from any stereotype associated with Arabs. He's a modern-day Arab man who's going through a crazy adventure. I don't think there have been many roles about young Arabs as they truly are, away from all the negative stereotypes.
About Awlad Rizk 2, it's interesting to revisit my character after three years, and see how he developed, and get to know more about him.
What achievement are you proud of the most?
I'm proud that I'm still fighting and doing my best to work in this industry. I'm proud that I find a balance between commercial movies and independent movies and get to work on international projects beside local projects. However, I still haven't achieved 10 percent of my dreams and aspirations, and I'm still working to achieve them.
What would you do if not an actor?
I would work on something related to art. I've always been into art. I could have worked in production, advertising, or even as a theater director.
What role influenced your real character the most?
Most of my characters influenced me in one way or the other. Like Aw'at Faragh, Bel Alwan El Tabe'eya, with questions of what's wrong or what's right. The struggle between art and religion. Also, I was influenced by Exterior/Night, the director who was not doing well and stuck in his bubble, when he went on some adventures in Cairo, he realized that his problems are just trivial. This influenced me in a way that even when things aren't going as planned, I still remember that life is good and that I should be thankful for what I have.
Also, as much as the roles influence me, I like to influence them; adding a part of me to them; to make them real and relatable for the fans. I learned from the workshops I take that any actor needs to put a part of him in his character.
Which of these characters is closer to you in real life, Aw'at Faragh or Bel Alwan El Tabe'eya?
Both of these characters are close to me, also the character of Exterior/Night. All the struggles they face I have gone through at some point in my life.
What's the difference between working on local and international projects?
There are many common things, like the way you make a movie or a series is the same. But the one big difference is that in foreign projects, everything is very organized, the schedule is put by the minute. Time is money. Everyone knows when they'll start the scene and end it. They calculate everything by the minute and not the hour. I think when I start producing, I should definitely use what I learned there.
Which artists are you looking forward to working with?
There are many artists around the world that I'd like to work with. Starting with directors, I wish to work with Woody Allen, the Coen Brothers, Sam Esmail (creator of Mr. Robot). Actors, I dream to work with Danzel Washington, Edward Norton, Daniel Day-Lewis, Maryl Streep, Juliette Binoche, and Nicole Kidman.
Of all the people you've worked with, which movie maker have you learned from the most?
I've learned something different from each one I've worked with. But if I'd choose who I've learned from the most, Ahmed Abdallah, Tarek El Eryan, and Peter Kosminsky.
I learned from them how to communicate with actors and how to give them ownership of their role. I was lucky that they all trusted me with the roles I was doing, and they always listened to what I had to propose, and we always used to discuss them. They didn't take the artistic license just for themselves but took it as collaborative work. I also learned from them how to be a leader without yelling but by being as humane as possible.
WE SAID THIS: We're excited to see what the future has in store for this artist!