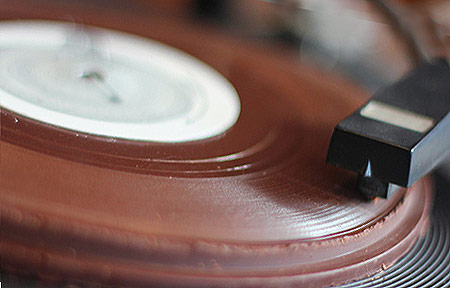 Eid is finally here, which means we can get back to regularly scheduled summer programming and, more importantly, eating whenever we're hungry (or not hungry, we don't judge). Here are our favorite tunes to eat to, all compiled into one tidy all-food playlist.
"Food Glorious Food" from Oliver!
The only way to properly start the day is by prancing through the kitchen singing this classic while stuffing everything in sight into your face.
Favorite line: What next is the question? Rich gentlemen have it, boys… indigestion!
The Presidents of the United States of America: "Peaches"
I have a friend who can't eat peaches because of the fuzzy skins. She's obviously insane. Peaches are succulent, sweet and delicious, and if I could, I'd live in one James-and-the-Giant-Peach-style.
Favorite line: If I had my little way, I'd eat peaches every day.
They Might Be Giants: "Dinner Bell"
This weird-ass song refers to Pavlov's salivating dog, which you may remember if you ever took an introductory psychology class, but gets points for referring to over a dozen types of food.
Favorite line: I don't know whether I'd rather be having an order of bacon, or whether I'd rather be having a basket of garlic bread.
Kelis: "Milkshake"
Granted it's not actually about a milkshake, but a food playlist really isn't complete without this one, and it's a good reminder to go out and get yourself a milkshake immediately. My apologies if this gets stuck in your head for the next four hours.
Favorite line: You want me to teach thee techniques that freaks these boys. It can't be bought.
Suzanne Vega: "Caramel"
Another one that's not strictly about food, but this is one sexy, smooth track, quite like caramel itself.
Favorite line: It won't do to dream of caramel, to think of cinnamon, and long for you.
Morphine: "French Fries with Pepper"
Sometimes you just need a horns heavy song for laying in bed at three in the morning eating fries and feeling philosophical.
Favorite line: By nine, I hope I'm sitting on the back porch drinking red wine and singing… oh, french fries with pepper.
Ella Fitzgerald: "Black Coffee"
Here's one for the coffee lovers, and because everyone needs more Ella Fitzgerald in their lives. But while a cup of black coffee will leave you perky and refreshed, this tune will soothe and sadden.
Favorite line: I walk the floor, and watch the door, and in between I drink black coffee.
Rufus Wainwright: "Cigarettes and Chocolate Milk"
Let's ignore the fact that Rufus Wainwright looks like a maniacal killer here, and that he's wearing the world's ugliest shoes, and instead focus on how beautiful this song is. Just don't look directly into his eyes.
Favorite line: If I should buy jellybeans, have to eat them all in just one sitting.
The Beatles: "Savoy Truffle"
Apparently, George Harrison wrote this song for Eric Clapton and his chocolate addiction, using the names of chocolates in the Mackintosh box. But it serves as a warning, because the song is also about the toothache of eating too much candy.
Favorite line: Cream tangerine and Montelimart, a ginger sling with a pineapple heart.
Weird Al Yankovic: "Eat It"
Weird Al is currently making a comeback, but let's not forget he's been covering the greats for decades. This rendition of MJ's "Beat It" is for all the Arab mothers and aunties who have made stuffing their kids and families into an art.
Favorite line: Have some more chicken, have some more pie. It doesn't matter if it's boiled or fried.
Snoop Dogg: "Gin and Juice"
This one doubles as an addition to your summer playlist, especially if you're on your way to the beach. Just remember to stick to juice if you're driving… and stay laidback.
Favorite line: It's kind of hard being Snoop D-O-double-G. But I, somehow, some way, keep coming up with funky ass shit like every single day.
WE SAID THIS: Happy Eiding and eating, everyone!