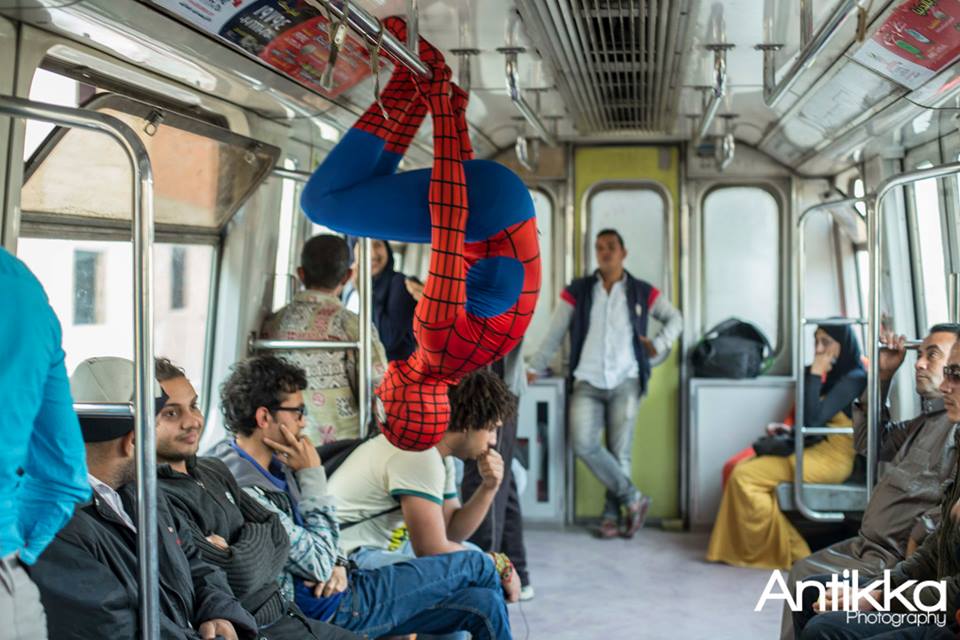 We, Egyptians, can be described in endless adjectives and "creative" is definitely one of them. The city of Cairo is, in itself, a long-standing paradox with its endless diversity, conflicting landscapes and fair share of random, yet heart-warmingly funny sights – those lovely sayings written in Technicolor fonts all over microbuses do add an element of unique humour to the streets, wouldn't you say?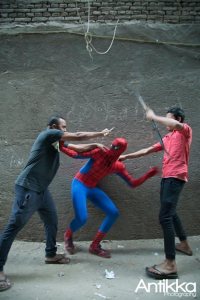 In the past couple of days, Egyptian social media has been bursting with random pictures of an anonymous individual dressed up as Spiderman, casually spending a typical day as an Egyptian.
In the pictures he is seen driving a tuktuk, smoking shisha, stopping a fight between thugs, going through crowded streets and struggling to catch public transportation – the photo shoot was definitely aiming for intensely realistic scenes.
Needless to say, when these pictures were uploaded on Antikka Photography's Facebook page, they spread like wildfire, with everyone wondering who the hell is this guy and what exactly is he doing?
Speaking to quite a few news agencies, the "Egyptian Spiderman" came forward and explained his motives behind the random photo shoot, which at first glance seems quite funny and light-hearted.
Speaking to Ahram Online, Hossam Atef, the photographer shooting Spiderman in Egypt, explained that "If Spiderman spent a normal day of an Egyptian's life, he'd be exhausted." The tongue-in-cheek photo shoot aims to depict the daily struggles of Egyptian citizens as they go about running their errands.
Atef also spoke of the hardships he faced while attempting to stage the photo shoot, especially since he had not sought a license.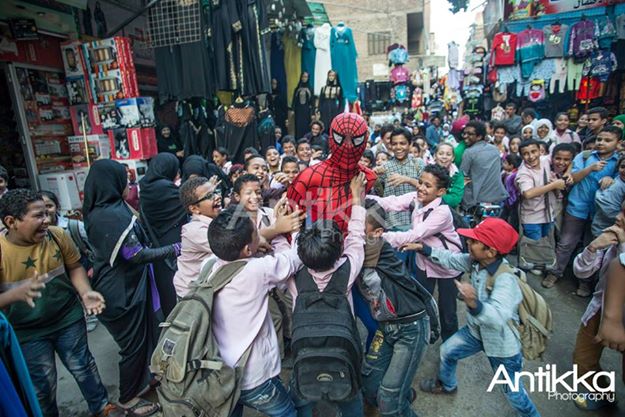 This rather simple yet outspoken photo shoot got our minds stirring; life in Cairo is definitely not for the faintest of hearts. Sure, it's the only home I know, but is it a welcoming one? One that makes us all feel safe, secure, warm, comfortable, and truly happy? The question here is not if it's perfect, but rather, if it's sufficient for all the different strata of its population to thrive and live fruitful, fulfilling lives.
Chapeau to this awe-inspiring artist who is creatively and unapologetically expressing his resistance and criticism of the status quo. The pictures' satire yet simplicity make them all the more special. You go, Egyptian Spiderman!
WE SAID THIS: Don't miss our interview with Magdy El Shafee, Graphic Novelist and Author of Metro.