Discovering MENA: Egypt's Presidential Elections
Sisi supporters holding election posters. (AFP)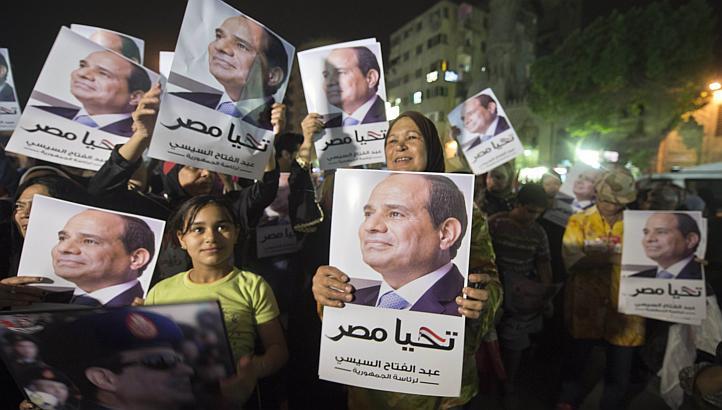 Now that both the EU and the Carter Centre have announced they will not be electoral observers in the presidential vote scheduled in Egypt for May 26-27, the tone is set for murmuring and gossiping. Although both organizations have cited different reasons behind their decisions, the truth is that many others are possible:
1. "Administrative reasons" that have made it impossible to send key equipment to their team of monitors – or, at least that is what the EU has used to justify its decision. While the EU hasn't said whether it believes that Egypt's authorities have deliberately undercut the mission, this step is not usual at all.
2. Every time a country/organization speaks out declaring their concern about Egypt's deteriorating situation, the authorities slam the statement as interference in the country's internal affairs. But they do want these entities to put their seals on this milestone, this step back to square one.
3. Other monitoring agencies haven't agreed to monitor the vote, revealing how little international legitimacy the presidential poll has left.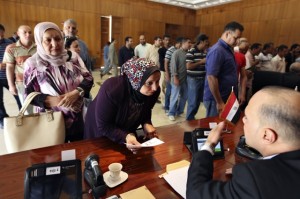 4. Irregularities have been reported concerning the votes cast by Egyptian expatriates across the globe. In order to obtain a higher turnout, postal voting, as well as voting by migrants, Egyptian tourists and pilgrims have both been allowed.
5. The Constitution, whose draft was completed by a 50-member committee that was far from demographically or politically representative, was approved in a referendum held in dubious conditions and presents a text that lays the foundations of a (yet again) repressive state in which no civilian right is guaranteed.
6. No real electoral activity is taking place. Former Army Chief Abdel Fattah Al Sisi has not appeared in any election rallies and has restricted his campaign to television appearances and interviews. Nor does Sisi have a true electoral programme. In his nomination speech in March, he affirmed he wouldn't have an electoral campaign in the traditional way. Even though the electoral programme has not yet been unveiled, his campaign officials insist that everybody knows the shape of the future as he imagines it, i.e. the issues it hinges on: countering terrorism, ending the security vacuum and developing the economy.
7. Sisi, everybody's favourite to win the election, has pledged to complete a crackdown against the Muslim Brotherhood if elected. Since last August's massacre, hundreds of alleged MB supporters have been killed and more than 16,000 members of the Brotherhood and other Islamists have been arrested.
8. There's only one alternative candidate, Hamdeen Sabahi, who's not exactly from the new generation and doesn't appear to have the slightest chance. Moreover, Sabahi has called Sisi the hero of the "2013 uprising" and also accuses the Muslim Brotherhood of being "politically responsible" for "terrorism" in Egypt. Not precisely an inclusive figure.
9. Egypt is clearly being witness to a deteriorating human rights situation, particularly when it comes to the indiscriminate detention of political opposition and activists, many of those not belonging to the MB. Dissent has been silenced, and academics, activists and protesting college students keep being intimidated. For instance, Amr Hamzawy, one of Egypt's most prominent liberal politicians and intellectuals, was charged with insulting the judiciary for a tweet in which he criticised a court ruling against three U.S. nonprofits that promote democracy.
Many civil society organizations, such as the Egyptian Center for Economic and Social Rights (whose offices were raided and members were arrested last December), have been harassed and threatened. Most importantly, a controversial protest law was passed last November, a regulation that has led to the arrest and convictions of thousands, notably activists Ala Abdel Fattah and Ahmed Maher. One example will suffice to prove this: according to Freedom House's democracy index, Egypt is either deteriorating or stalling on all measures.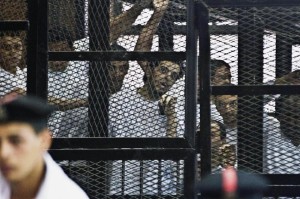 10. The climate has also hugely deteriorated for the press. It's not only about journalists being unable to reach out to Sisi campaign officials, but about a journalist Abdullah Elshamy on the verge of death following a more than 100-day hunger strike after being unfairly imprisoned for allegedly joining a terrorist group and spreading false news. Three other Al-Jazeera journalists are held in Egypt on trial for defamation and supporting Morsi's blacklisted Muslim Brotherhood, together with 17 other co-defendants, and are facing charges that have sparked an international outcry.
It's also about innocent foreign journalists being beaten in demonstrations accused of disseminating lies in their countries about the purity of Egypt's transitional process. Right after the constitution was suspended on Jul. 3, security forces preemptively closed down all Islamist broadcast outlets and raided their offices in a crackdown that led to the subsequent detention of several journalists. We should have guessed then.
11. Egypt is nowadays an example of what could be called "selective justice". The world was utterly shocked last March when both the leader of the Muslim Brotherhood, Mohammed Badie, and 622 MB supporters were sentenced to death by the Minya criminal court, which handed down a final capital punishment ruling for 37 others. These had initially been sentenced to death after a trial lasting only a few days and were part of another group of 529 MB supporters, most of whom were jailed for life in the final sentencing.
Both trials were not conducted properly, for each lasted two sessions without hearing the defence's arguments. Even the public prosecutor thinks the mass death sentence trials were nonsense. Egypt's government says its judiciary is independent, and the worst bit is that it surely is: the Judges are setting themselves up as a symbol of what a (vocal) majority of the population believe, brainwashed by official statements, outright demagogy and state TV.
12. Egypt's economy is in no better shape than it was before the coup. Subsidies on fuel and food are no longer sustainable, something that has become the norm in many countries across the region. Tourism and foreign investment are still quasi nonexistent. The budget deficit is dangerously high. So is the unemployment rate, which threatens to bring Egyptians back on to the streets. In the meantime, while preaching austerity and sacrifice, the President salary is to increase by 950% and bonuses by 110%.
13. Just take a look at Egypt's staunchest allies nowadays: Saudi Arabia and the Emirates. Not really examples of thriving democracies. Oh, and the United States, which despite its concerns over the situation, decided to partially resume military aid to Egypt, conveying a more than moot message about their commitment to democracy and basic values.
14. It was not a revolution, but a coup. And which country in its right mind would want to grant legitimacy to this?
15. There's still hope for Egypt.
WE SAID THIS: Don't miss "14 Presidential Promises to Remember".