"We're changing the world. We're doing all the right things for all the right people for all the right reasons. And it's a load of fun." – Greg Glassman
It's an encouraging fact that now most Egyptians, especially the youth, are eager to improve their fitness, be more cautious about their diets and generally become more healthy.
I'm not talking about the people who only work hard for a "beach body" just one month before summer. I'm talking about those who actually take their body's nutrition and sports seriously.
Recently the number of boot camps in the city has boomed. One of these boot camps is CrossFit, founded by the prominent American Coach Greg Glassman in 2000.
Karim El-Nokaly, an athlete and CrossFit coach in Cairo explained that the prescription of this boot camp is "constantly varied high intensity functional movements". In other words, CrossFit is a program of strength and conditioning which delivers fitness that is, by design, broad, general, and inclusive.
Nokaly thinks that anyone can join Cross Fit.
"The CrossFit Stars program is designed for universal scalability, making it the perfect application for any committed individual regardless of experience. We use the same routines for elderly individuals with heart disease… We scale load and intensity; we don't change programs. The needs of Olympic athletes and our grandparents differ by degree, not kind," he explained.
CrossFit was introduced to Egypt by Coach Ramy Saleh in October 2011, making CrossFit Stars the first and only official affiliate in Egypt and the second in Africa.
According to Nokaly, CrossFit in Cairo grew from training only in Galaa Club in a track full of mud without any equipment to programs in different clubs across the city, including Heliopolis Club and Swan Lake.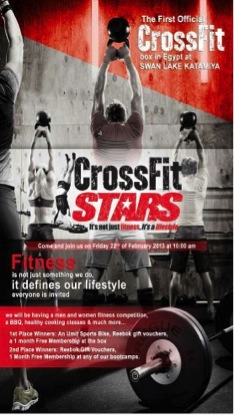 "Our terrorist hunters, mountain climbers, bike riders and housewives have found their best fitness from the same program," said Nokaly.
CrossFit's coaches aim to create a community, with people who want to improve their lives and get out of their comfort zones. If you want to challenge yourself and take your fitness to another level – whether by trying to lose weight, gain muscle mass, run a marathon, compete in Olympics or just for general fitness – then CrossFit is the boot camp for you.
To learn more about CrossFit Stars' locations, schedule and packages, visit their website or their Facebook page. Also check out the video below.