By Sarah Alblowi
Why text when you can express your feelings with the help of emojis? An emoji is worth a million words, right? Over the past decade, emojis have become the new face of texting, taking the social media world by storm. Over the years, we invented and twisted our own takes, like the infamous eggplant emoji to satisfy our busy finger needs.
So, that brings us to the main sitch, are you misusing any of these?
See No Evil Monkey
What people think:
Anything from an embarrassment in a group chat to a shy text to your crush. This borderline "oops" and "I'm blushing" is used as a cute expression.
What it means:
This poor misused guy reflects the renowned "see no evil, hear no evil, speak no evil" three wise monkeys. You can even find them lined up on your emoji keyboard.
Applying Nail Polish
What people think:
Girls use this with a Regina George attitude. An "I'm better and prettier than you" emoji that can be added to top off an argument or belittle someone somehow, putting them in their place.
What it means:
What do you think it means? This simple vague hand is applying pink nail polish. That's it.
Praying Hands
What people think:
Of course, being religious; Arabs assume this a holy praying emoji. The light coming out doesn't help but confirm that he's praying so hard.
What it means:
This is a Japanese gesture for 'please' and 'thank you'. Nothing deep about the sunshine in the background at all.
Girl "OK" Gesture
What people think:
Is she fixing her hair? Is she going crazy? Is life testing her patience so she's pounding on her head? No one knows.
What it means:
Although it looks like she's playing 'head shoulder knees and toes', she's simply creating an O with her body to indicate "OK".
Triumphant Emoji
What people think:
Arab moms use this when they're about to lose their temper with their misbehaving children. This emoji is the calm before the storm. If you get it, run!
What it really means:
Nothing as evil as it's made to be. It's a triumphant face, which is great after a workout or long presentation!
Dizzy
What people think:
I personally thought and still convinced this is a magical shooting star. Often used in Ramadan and Eid to reflect some magic.
What it really means:
Believe it or not, this is a sign of dizziness. Just like in cartoons, when a character falls and starts floating in the air because they're dizzy.
Person Bowing Down
What people think:
It looks like this guy was taking a nap on a desk and the teacher called out on him. This is often used in chats to show someone they've gained your attention.
What it really means:
Another Japanese gesture, dogeza is an etiquette that demonstrates an apology.
Openness
What people think:
Whatever! Screw you! Or maybe a high-five?
What it really means:
Weirdly, this means openness and even a hug! Nothing mean or aggressive at all.
Relieved but Disappointed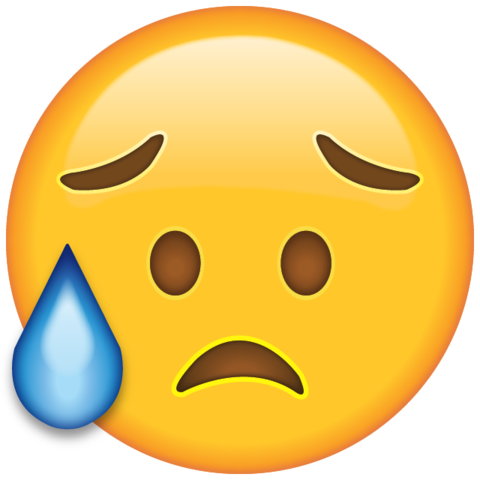 What people think:
Stress, anxiety, and a whole meltdown. This emoji represents you anticipating something awful.
What it really means:
Although the face looks down, it's actually relieved by the sweat coming down.
Information Desk Lady
What people think:
Super sassy and full of attitude, this seems like it's the go-to Emoji for a girl fight.
What it really means:
The not so sassy girl is just an information desk lady trying to help you get your life together.
WE SAID THIS: Insert your favorite Emoiji below!