Since early childhood, I've always had an affection for museums and the ambiance they offer. In my mind, I created the ideal museum, complete with stunning artworks and artistic spaces where I could take in the beauty of art. Sadly, I had never discovered that one ideal museum until lately when stumbled upon the Mahmoud Khalil Museum. You can find this museum in Cairo's Agouza area, and trust me when I say that as soon as you step inside, you'll fall in love with it.
One of Egypt's most fascinating and outstanding art museums, it is renowned for its distinctive collection of artworks. it's not just the artwork collection that's special, but also the building itself that will make you fall in love with it. The Villa of Mahmoud Khalil and his wife was built in 1915 and was reopened by the Ministry of Culture after 10 years of closure back in 2021. This is because the museum was closed in 2010 due to Vincent Van Gogh's Poppy Flower painting being stolen.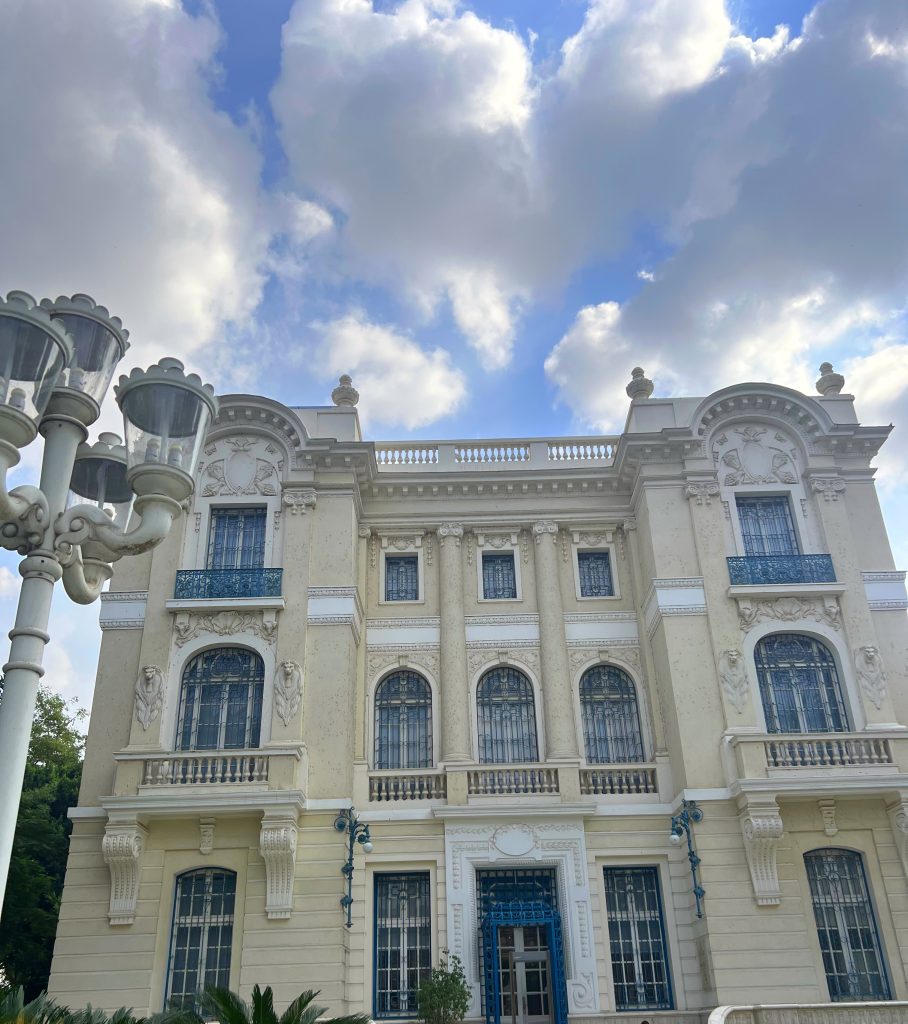 Upon entry, I paid a fee of 30 EGP, which some people may think is too much, but believe me, it's definitely worth it. First, you should know that Mahmoud Khalil was a great lover of art and he was also a unique collector of many precious and exceptional items.
Once you enter the museum, you'll find the three floors used to display the artworks hosted by the museum, while the ground floor is used for administration and contains a library, an information center, and a discussion hall.
Because there are so many artworks in the museum, I only focused on the ones that grabbed my attention. This one in specific felt so surreal as it portrays "An Arab Sheikh from Cairo." It's made of bronze and was crafted by French artist, Charles Cordier. He was one of the greatest French 19th-century sculptors. In 1854, he made his first trip to Algeria and brought a collection of sculptures for inspiration. He then became a noted sculptor, and his work was portrayed in exhibitions abroad such as Paris.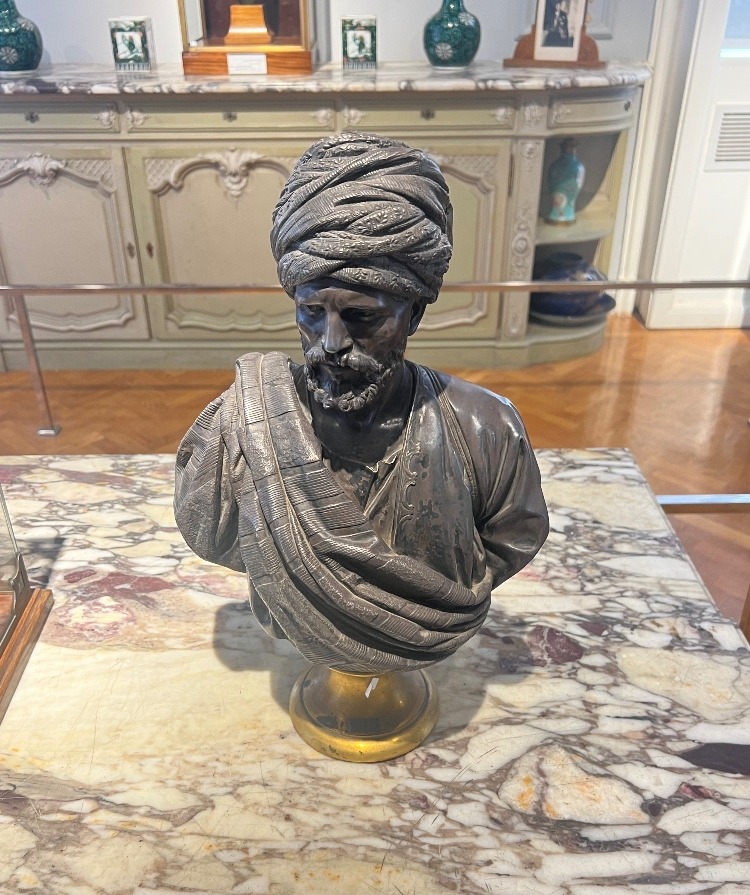 Another piece that can be found in the middle of the museum on the first floor is "Take Up Arms" that's made of bronze and by French artist Auguste Rodin. Rodin was considered by some critics to be the greatest portraitist in the history of sculpture. Most major museums around the world own copies of his works, including museums in Paris, Philadelphia, and Tokyo.
As I went through the artwork, I stumbled upon the caricatures of Mohamed Khalil. While we don't have a clue about the artist who made them, they surely looked fascinating.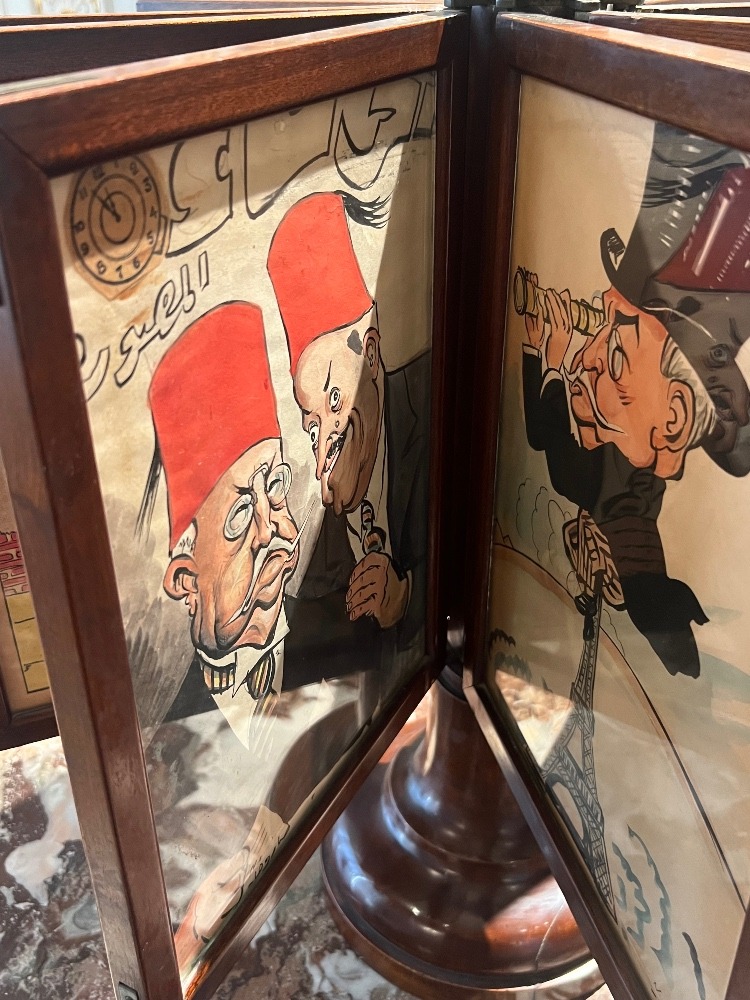 On the second floor, the portrait of Princess Wagram, by German painter Franz Xaver Winterhalter, was absolutely my favorite. Winterhalter was a German artist best known for his airy, idealized portraits of European royalty. Over the course of his career, the artist was commissioned to paint Empress Eugenie, Princess Leonilla, and Queen Victoria, among others.
On the third floor, France's Diaz Narcisse's artwork titled "Flowers" was a masterpiece. The oil on wood artwork conveyed serenity and the artist's talent to perfect the use of colors in his art.
Finally, Khalil was a major sponsor of the youth arts and was the leader of a fine arts lovers association which he established in 1924. This is in addition to his major role in the artistic and cultural exchange between Egypt and France and his efforts were crowned with getting the highest French medals and honors.
P.S: Avoid approaching the artwork too closely so you don't set off the museum's alarm.