Cairo Criminal Court Sentences TikTok Influencers Haneen Hossam and Mawada Al-Adham to 10 and 6 Year Imprisonment
Yesterday, the Cairo Criminal Court issued a verdict sentencing Haneen Hossam to 10 years in prison, as well as Mawada Al-Adham and three others to six years in prison, with a fine of EGP 200,000 for each one, upon charges of human trafficking. Hossam and Al-Adham are TikTok influencers who were arrested last year over various charges including violating "Egyptian family values" and inciting debauchery. However, Hossam was acquitted of the charges in the beginning of 2021 and released, whilst Al-Adham resumed her detention, pending trial over charges of human trafficking.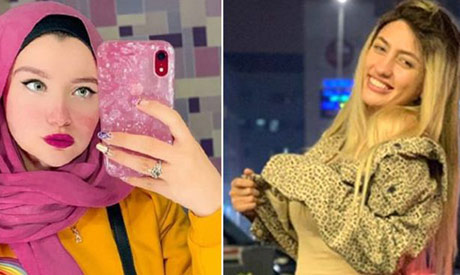 According to Ahram Online, "Egypt's Public Prosecution accused the two women of human trafficking by using girls in acts contrary to the principles and values of Egyptian society with the aim of gaining material benefits."
Hossam and Al-Adham, with millions of followers on TikTok, are famous for posting lip syncing and dance videos on the platform, garnering a large fan base. Hossam's arrest came following a video she posted on TikTok, where she asked women to post live videos, and talk with strangers via the short video sharing platform Likee in exchange for money.