Blackberry is dead. Literally and figuratively, dead. There's a general rule when evaluating what is called "earnings quality" of a firm, to make sure that operationally it isn't defunct and that it is a genuine "going concern", ie it will continue to exist as a competitive player its CORE field. KEYWORD: CORE.
Think of it this way: if you Google "Scientology" the first couple of results will be about Tom Cruise and Katie Holmes' divorce – then a few lines down you will get basics of Ron L. Hubbard's psychology experiment-turned religion. Makes you wonder whether the core is about Tom Cruise's celebrity scientologist status or if there is a genuine set of beliefs that Scientology as a religion is trying to propagate to ensure a better life for its adherents (my thoughts on Tom Cruise and Scientology are secondary to the point being made for this post, but may be in and of themselves post-worthy).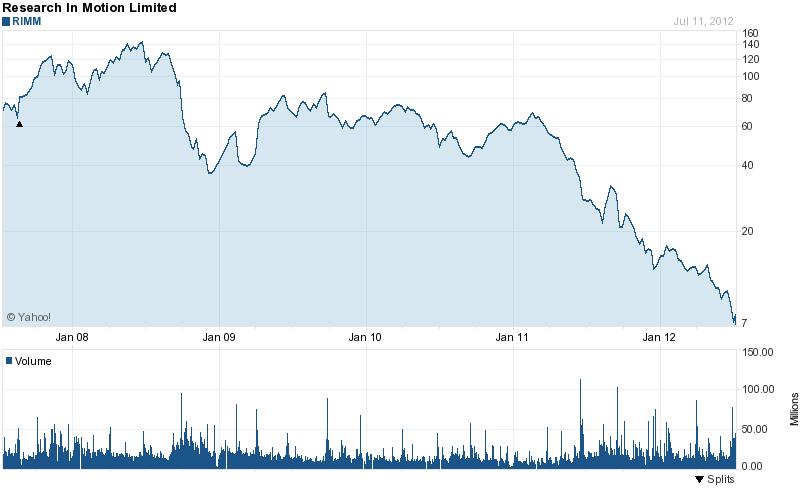 I could start a weekly forum on the reasons why Blackberry's share price has lost more than 94% of its value since 2008. Maybe in marketing itself as a "work-friendly" device, while this seemingly ingenious approach may have been appealing in the last decade, it doubly may have turned out to be the final nail in its coffin as IT departments the world over have started looking at their employees' comfort and their growing desire to mix functionality with recreation, while holding as few devices as possible. People have leaned towards an abundance of applications and software that isn't (entirely) rigid, with hardware that facilitates the use of the gems in the bulging app stores (enter Apple and Android based devices). I am not a techie so those are my basic two cents, but what I will delve into are the repercussions of the poor choices this Toronto-based firm has made. Too bad hindsight is 20-20.
Here's the problem. Companies release quarterly and annual statements that, among other things, report operational and financial performance. Think of it as a firm's report card in a narrative that discusses just what happened during that reporting period. There are four takeaways from what I've read in Research in Motion's last quarterly report. The firm shocked analysts and stakeholders (in this case people like you and me that keep buying these God-forsaken devices) that were predicting a break-even quarter with a half a billion dollar loss. They went further to report that shipments of blackberries were down 41% year-on-year, that the release of their savior, RIM's lifeline, the Blackberry 10, will be delayed a whole year. My guess is that developers at RIM keep missing the mark, and chose a defensive route that will give them a chance to see what the Iphone 5 is packing. In efforts to conserve cash, the firm has put one of its corporate jets for sale. What that means is that the firm is looking for cash savings in places other than its core business – all red flags at RIMs ability to stay a going concern.
What this means for us as RIM's upcoming quarters will be consumed with trying to locate new markets for its devices, deciding on different revenue generating schemes and ever-more ways to conserve cash, it is only safe to assume that the end user (again hopeless users like you and me) will be put on the backburner during either a massive transformation or a slow and painful death. If you were holding out for Blackberry's Appworld to start coming out with applications that compete with those created by Apple and Google; get a new phone because we still have to wait a year to see what's new on RIMs assembly line. Right now, Research in Motion's core business just happens to be a moving target.
I think RIM is going through an identity crisis as we speak; it is trying to reinvent its core business in a world of smartphones that outdo each other at a rate so alarming that only the most innovative and malleable players will survive. The crisis is not only destroying shareholder value but is shaking the confidence of an already-shrinking user base. RIM created the blackberry for corporate elite that have turned their backs on it for sleeker devices that simply perform better on all fronts. The operating system is uninspiring and our obsession with keypads is fading (RIMs performance has left us not-so-starry-eyed). I've had my own masochistic relationship with RIM – I've painfully changed 8 blackberries in 5 years, each time due to some unsolvable defect. I've tried, but this will be my last blackberry. The irony is that the only application I use on my current Blackberry is Bloomberg Mobile; an app that comes pre-loaded with RIM's tanking share performance. That and reading about Scientology.