Forget about sightseeing and shopping malls, the places that tell the entire story, history and culture of the city are always the markets. You'll get to meet the locals, get acquainted with what the city is most popular for, have a fascinating time and bring back lots of cool souvenirs for all your loved ones.
So whenever you visit any of these countries, here are the souks you must pay a visit:
Amman – Souk Jara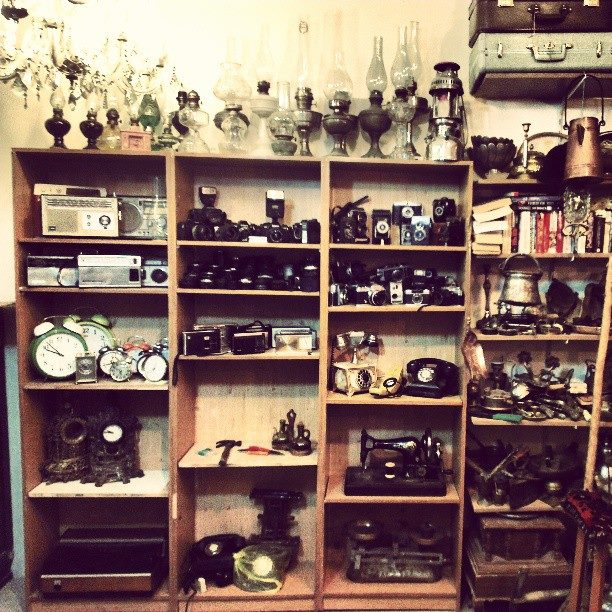 During the summer months, between mid-May and early September, popular flea market Souk Jara is held every Friday in Amman from 10am to 10pm. You'll find antiques, crafts, T-shirts, artwork, food and many other things, making this market a must-visit if you're in town.
Every once in a while, a concert, film screening or other activity is held at the souk, making it one of the highlights of the cultural scene in Amman.
Beirut – Souk El Tayeb
Created in 2004, Souk el Tayeb was the first farmers market to open in Lebanon. It promotes unity and respect for food, land and agricultural traditions.
Souk El Tayeb is a held every Saturday in downtown Beirut at the Beirut Souks, Trablos Street from 9am to 2pm. During the summer months (June-September), it moves to the Beirut Waterfront.
The market hosts over 60 producers from all over Lebanon who sell all kinds of food products, as well as traditional and handmade crafts, such as glass, pottery and kids' books.
Dubai – Deira Gold Souk and Spice Souk
Located in the heart of Dubai's commercial business district, Deira, lies one of the oldest souks in Dubai. The gold souk is said to be the biggest in the world, with over 700 shops, and has some of the lowest prices you can find worldwide.
Although the spice souk is not as big, the atmosphere and scent is an incredible experience that you just don't want to miss.
Cairo – Khan El Khalili

Located in the heart of Islamic Cairo, Khan El Khalili is one of the major tourist attractions in Cairo. With a huge bazaar known to have pretty much anything you can imagine, it is one of the must-visit locations in the capital.
You can find souvenirs, papyrus paper, silver and copper merchandise, as well as jewelry. If you go deeper into the alleyways, you'll find antiques and instruments and practically anything you're looking for.
Alexandria – Fish Market

Alexandria is known for its magnificent fish as it is a coastal city. The fish markets have the freshest fish you can find at reasonable prices and all kinds of seafood that are available within reach.
Kuwait City – Souk Al Mubarakiyah 
This is a popular, traditional souk home to all kinds of Oriental souvenirs and handmade products, as well as meat, fish, fruits and vegetables. You'll find a variety of traditional Kuwaiti products at very competitive prices.
Muscat – Muttrah Souk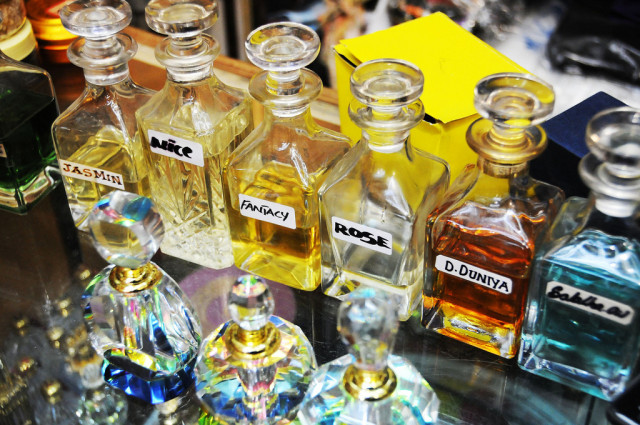 One of the most popular tourist attractions in Muscat is located in the Muttrah district. You can easily get lost in the fascinating things found in this souk. Known for its perfume, it is difficult not to buy a few fragrances. There are also many handmade crafts, jewelry and silverware, as well as antique shops, textiles, Omani artifacts and spices.
Marrakesh – Jemaa El Fnaa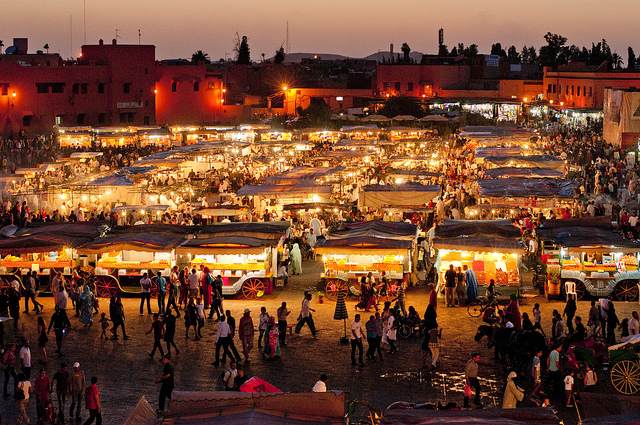 Located in the Medina quarter in Marrakesh is one of the most beautiful marketplaces you'll ever come across. Even though Morocco is known for its souks, there's no place like Jemaa El Fanaa.
In the morning, the open space is filled with snake charmers bewitching their cobras with flutes, medicine men displaying their cures and tooth pullers offering to eliminate the pain. Towards the evening, the square gradually fills with storytellers, acrobats, musicians and entertainers, and you're bound to experience a night you'll always remember.
Medinah – Old Bazaar
Located in Medinah besides the Masjid El Nabawy is a market where you can find pretty much everything, from prayer mats and scarves to clothing and souvenirs – not to mention dates, of course. This market is a must-visit.
Damascus – Al Hamidiyah Souk
Located inside the city of Damascus next to the Citadel, Al Hamidiyak Souk is the largest in Syria. Located in an ancient city with lots of heritage, the souk does not disappoint. There, you can find everything imaginable. It even has a place for candies and traditional delicacies of Syria.
WE SAID THIS: Don't miss Trip Advisors' Top 44 Tourist Attractions in the Middle East.