After more than 21 years, Oscar-winning actress Angelina Jolie is stepping down from her role as a special envoy of the United Nations High Commissioner for Refugees (UNHCR), a role that had Jolie travel to war-torn countries around the world and take part in more than 60 field missions. On every visit, the actress would attempt to paint a picture of what is happening on-ground, giving people an untapped look into the realities of each country. As an avid humanitarian, she will still continue her work but will widen her reach and "engage on a broader set of humanitarian and human rights issues."
Working as a special envoy, a role she took on back in 2012 after she was named UNHCR Goodwill Ambassador in 2001, the actress placed a huge lens on many Arab countries that faced major crises that resulted in massive population displacements. Her most recent visit was to Yemen, a couple of months ago, where she wanted to draw attention to the consequences of the 7-year conflict that the country suffered. During her visit, she spoke with displaced Yemeni families as well as refugees to hear direct accounts from them about how the conflict impacted their lives.
To give a clearer picture, she also wrote up a detailed report documenting what she witnessed when it came to the families she interacted with: "I visited another site where displaced families live in flimsy shelters, with no income and no food at all. Miles away from any water or sanitation. There are no toilets, no showers. And there was no school." More than 17 million people in Yemen need food aid and the number could grow to 19 million later on in the year.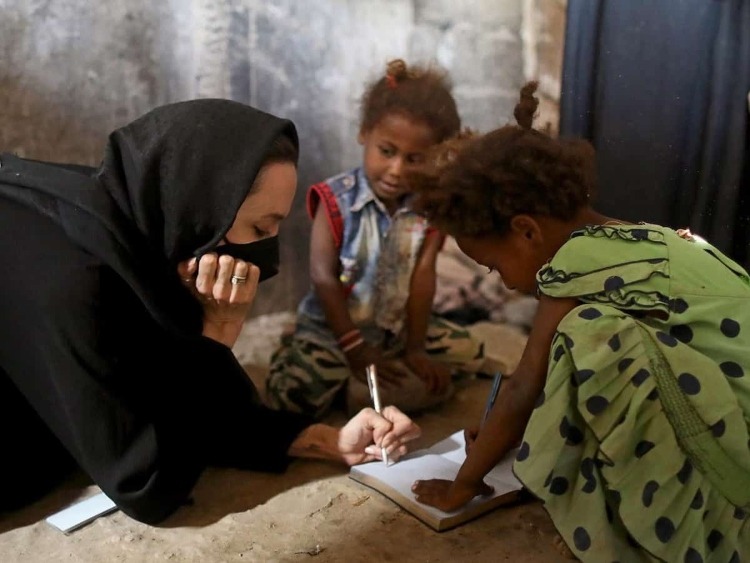 Beyond the visit, after seeing the war-ravaged conditions of the country, Jolie wanted to take action to combat the current crisis in Yemen so she kicked off a UN effort to raise approx. 4.3 million US dollars especially with funding drying up because of other pressing crises in countries like Ukraine. Jolie felt that funding is now more important than before as Yemen was "drastically underfunded amid a conflict that has gone on for so many years without a political solution."
Syria was also part of the actress' humanitarian effort as ever since the Syrian crisis took place back in 2011, she made sure to make multiple visits to countries like Jordan, home to a large population of Syrian refugees to shed light on the current crisis. Back in 2018, during her fifth visit to Jordan, the actress headed to Zaatari refugee camp considered the largest refugee camp in the Middle East and home to 78,000 Syrian refugees.
During her visit, she was accompanied by her daughters, Zahara and Shiloh who played a key role in the visit. In a statement that was released by the UNHCR website, the actress said "my daughters Zahara and Shiloh asked to come with me today—they've spent time today speaking and playing with children their own age who have been forced from their homes, whose family members have been killed or have disappeared, and who are struggling with trauma and illness, but who at the end of the day are just children, with the same hopes and rights as children in any other nation." Following her trip, she again stressed the issue of underfunding stating that the UN refugee agency received only half the funding they requested for the Syria crisis last year.
Even before heading to Syria, the actress was seen visiting other war-torn countries including Iraq, Lebanon and Libya. Beyond her visits, the actress makes use of social media to continue the conversation to raise awareness. Since creating her Instagram account just last year, she made sure to leverage the online platform in shedding light on the refugee crisis across the globe with her very first post about a letter she received from a girl living in Afghanistan. Having stepped down from being a UN Refugee Envoy, we will still see the actress continuing her efforts and casting a wider net in her philanthropic work.