It was definitely a proud moment when Sheikh Mohamed bin Zayed, Crown Prince of Abu Dhabi and Deputy Supreme Commander of the UAE Armed Forces, met the first certified female firefighters. The history-making women have recently graduated from an all-female firefighter course in Sharjah, Qasr Al-Bahar Majilis.
The maiden crew has been hailed for and congratulated by the crown prince of Abu Dhabi on breaking new grounds in the country. He said that these women are "true partners" in the development of the nation, and that "the UAE woman is always proving her worth in performing all the national tasks assigned for her, excelling herself is fulfilling her responsibilities, and meeting her obligations."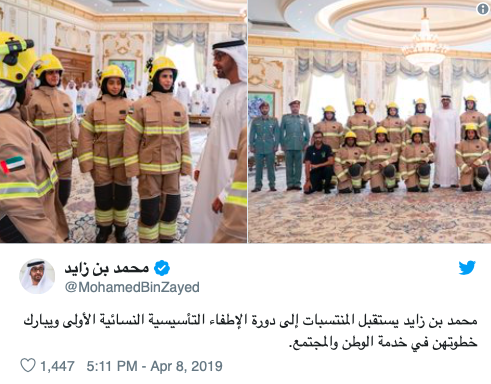 He added, "The UAE, under the leadership of President H.H Sheikh Khalifa bin Zayed Al-Nahyan, set women empowerment on top of the country's national priorities, with women now being true partners and contributors to the national development drive and strategic plans for the nation's present and future."
The UAE's latest batch of firefighters completed their training in both Civil Defence Academy and the Police Academy in Sharjah. The training also involves intense exercises as well as team building.
WE SAID THIS: "UAE women are in every field including space. They are flying planes. Now they have entered the field of firefighting to save lives and help people in crisis. This kind of job used to be done by men earlier but we are no less than men."  – A member of the women firefighters.