Whether it's inside a large open-faced billowing tent or on the hardwood floor of an open stage, a circus performance is the one kind of entertainment that manages to delight the young, the old and all that lies in between. When it comes to the region, international circus troupes like Cirque Du Soleil have become common fixtures, considered the go-to for that needed dose of circus performances. That is why we wanted to shake things up by taking a look at the top regional acts you need to know about.
Gamal El Helw International Circus
Founded over 27 years ago is the Gamal El Helw International Circus that was spearheaded by the man with…the very the same name, a performer who comes from an iconic line of Egyptian circus artists. His family founded the first circus in the country back in 1889. Today, it's a full-fledged extravaganza packed with all the classic acts that we know and love including trapeze artists, balancing clowns and death-defying acrobatics.
A travelling circus through and through, it does not stay in one fixed spot but instead tours and travels across Egypt's governates, managing to make a stop at Marsa Matrouh every summer. In every show, the performances would involve a mix of both Egyptian artists stemming from the El Helw troupe as well as international artists from Russia and Ukraine. Beyond the pitched tent, many of the Egyptian circus performers would also participate in international festivals across the globe.
Groupe Acrobatique De Tanger
Back in 2003, Sana El Kamouni brought a special Moroccan circus troupe to the limelight, Groupe Acrobatique De Tanger. Her idea was to work with talented acrobats from Tangier and bring to fame one of the oldest acrobatic traditions, known as Moroccan tumbling. This type of acrobatic style has a special long history in Morocco and had been practiced with the highest standards imaginable by many Moroccan troupes.
El Kamouni wanted to do things differently so she invited European theatre makers to arrive to Tangiers and set up full-fledged contemporary productions and have the Moroccan circus troupe be the main act of each show. Following their first show in 2004, the troupe gained international acclaim and began to tour the world, presenting a new type of performance that blends traditional acrobatic skills with contemporary theatre performance. It's not merely a circus show but rather an entire production with a narrative and story weaved in. Today, they continue to amaze crowds through funky and bold performances including their 2020 "Fiq! (Wake Up)" show that brought together 15 young acrobats and hip-hop dancers who dazzled the crowd as they performed in front of a backdrop of 100 coca cola crates.
Cirque Du Liban
All the way back in 2005, Cirque Du Liban was a humble troupe of 20 Lebanese circus performers, today it's an internationally renowned performance group made of more than 120 members. What makes them special is that every year they churn out a newly themed show with different costumes, acts and the like, making sure to have a packed line-up of unique performances. Back in 2019, their show was dubbed Americano Circo, an interactive and lively show that had everything from rapid fire rope spinners to a contortionist warping out of a bubble.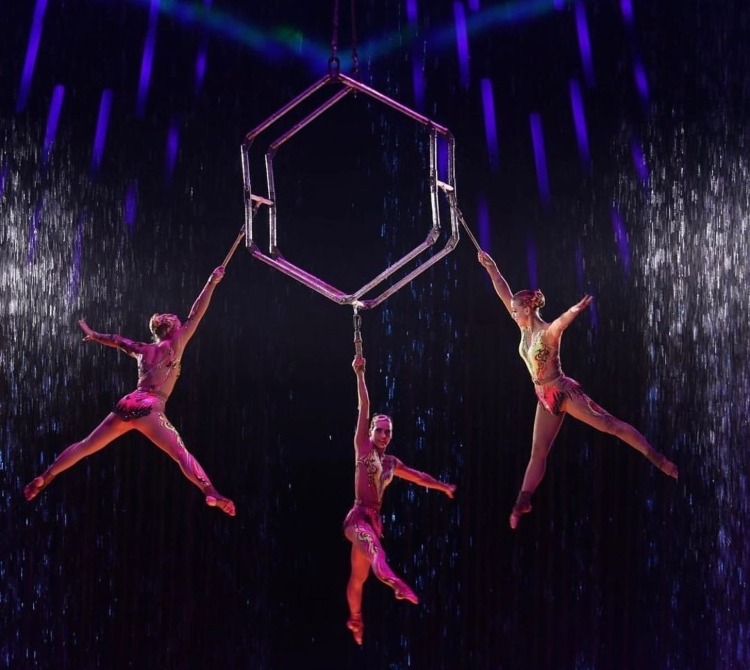 Every year their shows would get wilder, reaching unexpected heights and this year is no exception as Cirque Du Liban created a never done before circus spectacle…meet Fontana, dubbed the first ever water circus in the Middle East where performers soar at death defying heights to the beat of a synchronized dazzling water fountain. Travelling all across the region, Fontana's latest stop was in Dubai just last summer.
Paparouni Circus
Founded back in 2008, Paparouni circus was born out of the passion of three young friends who wanted to bring the world of spectacles and performances to Tunisia. Slowly, over the years they were able to arouse interest from street and circus performers and build a tight network of more than 50 passionate members from over 15 countries.
Since that time, the circus troupe took part in yearly festivals and carnivals like the 2018 EDLEL carnival as well as the 2021 International Circus Festival, attracting big crowds to witness marvelous acts and exceptional tricks from their finest performers.
As can be gleaned from all these regional circus troupes, each one started back many years ago but managed to grow and amass not just a passionate slew of fans but also a prominent name in the exciting world of spectacles and show performances.