A Look Back on Celebrity Couple, Zayn Malik and Gigi Hadid, Who Broke-Up In the Most Modern Way
Via The Express Tribune
Super Model Gigi Hadid and International Singer Zayn Malik, have announced on social media that their two-year relationship is over.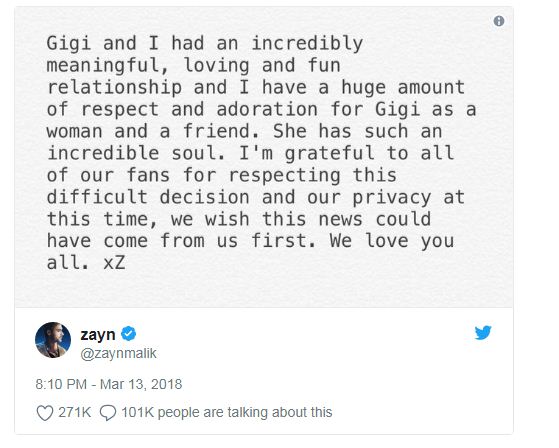 "Gigi and I had an incredibly meaningful, loving and fun relationship and I have a huge amount of respect and adoration for Gigi as a woman and a friend. She has such an incredible soul. I'm grateful to all of our fans for respecting this difficult decision and our privacy at this time, we wish this news could have come from us first. We love you all." Malik tweeted.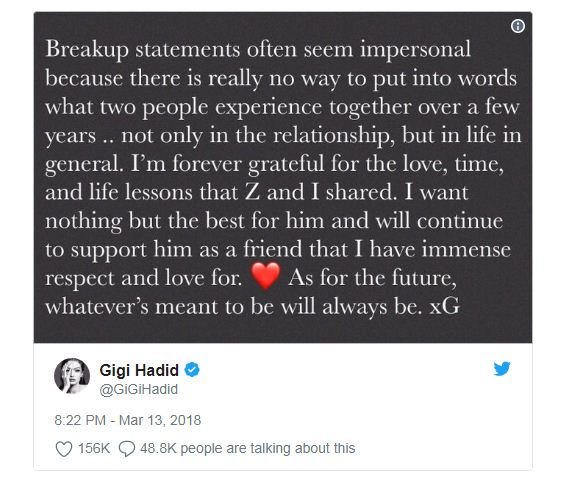 A few minutes later, the supermodel responded "Breakup statements often seem impersonal because there is really no way to put into words what two people experience together over a few years.. not only in the relationship but in life in general. I'm forever grateful for the love, time, and life lessons that Z and I shared. I want nothing but the best for him and will continue to support him as a friend that I have immense respect and love for. As for the future, whatever's meant to be will always be. xG."
We're taking a look back at our favorite GigiXZayn pictures…
Gigi Hadid's heartwarming post for Zayn's Birthday 
Gigi and Malik slaying on Vogue's cover 
Another epic picture for the Vogue shoot… 
Gigi's birthday cake! 
WE SAID THIS: Everyone wishes their break-ups were that classy.