If you're a college student, then you undeniably need the experience an internship can provide. This is where you can learn whether the industry fits you, to think about your career choice, and gain relevant work experience that can spruce up your resume. 
But more importantly, an internship allows you to make important connections. For instance, there is always a chance that your employer might extend your job offer, or that the network you made there can lead you to another job. 
That said, in the current job market, landing a marketing internship can be quite challenging. However, it is not impossible. Here are some tips that can help you with the process.
1. Figure out which field you want to work in 
The marketing industry today is an umbrella term that consists of several different niches. If you know which one you are focusing on, you will be able to strategize your job search better.
For instance, you can look for a position in one of the following areas:
Branding
Promotions and campaigns
Product management
Sales management
Content creation
Digital/traditional marketing
Public relations
Before you start applying, take some time to figure out what each of these positions entails and prepare accordingly. Yes, this might take some time between doing your college assignments. But if you are to get essay help from the EssayHub writing service, you will be able to quickly deal with your college tasks. You can also use additional services like essayservice.com if you have too many assignments on your hands. This will allow you to focus more on your internship search.
2. Know your objective 
Of course, an internship is all about gaining relevant experience. But each position will have something unique to offer you. For instance, some jobs might be perfect to improve your skills and get familiar with the industry. While others might not offer you the same hands-on experience, it might be a great entry point for a full-time position. 
You should also decide what kind of position you are seeking. Consider the size of the marketing firm, its clients, location, and work culture before you settle on your best choice.
3. Know how to market yourself 
When you have clear answers for the points mentioned above, you will have to think of your 'elevator pitch.' After all, you are going into marketing, and you need to know how to market yourself. And it goes without saying that you will need to stand out from the competition. Your resume is not sufficient anymore. Recruiters and employers receive hundreds of these every single day. 
Therefore, you will have to step up, get creative, and offer a unique proposition of what you are bringing to the table. This is best done through an interesting cover letter that is not merely a repetition of your resume.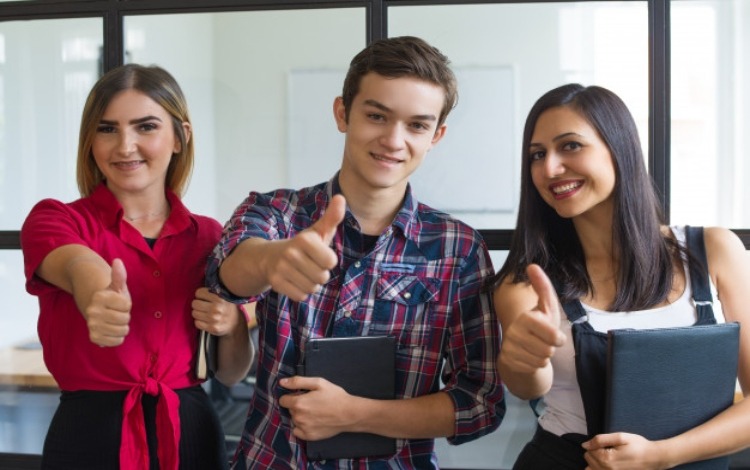 4. Leverage your connections 
It is never a bad idea to leverage the networks you already have. The best way to land a job these days is through someone inside the organization. Even if you do not know someone inside, you can use your current network to connect with others who might be able to introduce you to the recruiting managers of a company.
Today, with social media like Linkedin and Facebook, it is possible for you to expand your network. Make sure that you set aside some time every day to search for new positions. Although it might take more time than you planned, try to maintain a positive attitude. 
5. Use your university resources 
Many marketing students overlook the resources that are already at their disposal. Your university might have made some partnerships with renowned companies that can give you an advantage in the career field.
What you can do is approach your university's career services and enquire what options are available for you. Even if your college has such partnerships, this might not always guarantee you an internship. Instead, it might merely mean that you face fewer competitors when applying for a position.
6. Reach out to companies 
Now, you do not always have to look for internships with companies that have already posted openings. You can, and should also reach out to other businesses and organizations that might not have advertised a position. You do not know whether they are hiring or not unless you contact them. Many companies pick interns from the pile of applications they receive, even before they have opened a position.
Conclusion
You always want to start your internship as early as possible. You should not wait until the last minute, assuming that you will undoubtedly land a job. In the current job market, you are already competing with fresh graduates and even experienced professionals. And, these candidates will not be waiting till summer to apply for internships. 
Therefore, it is crucial that you come up with a plan of action in advance and use it to your advantage. Ensure that you invest time in your job hunt, and keep an optimistic outlook throughout the process.
WE SAID THIS: What other tips do you suggest?