This Week's United Nations General Assembly Summit Explained
The United Nations General Assembly Hall, where world leaders are gathering for their annual high-level summit this week (Basil D Soufi/CC 3.0)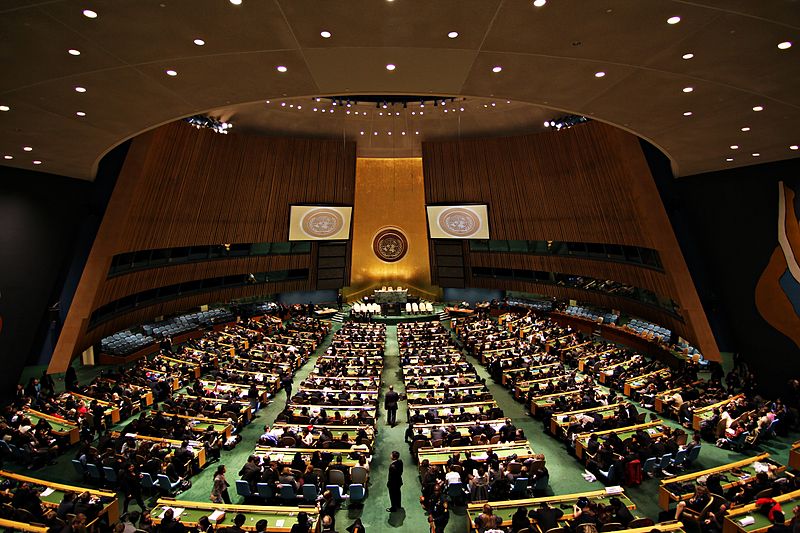 The week-long talkfest that is the United Nations General Assembly begins in New York today. Heads of state from all 193 UN member countries will be given 14 minutes at the podium to address any national, regional and/or international topics of their choice. You can imagine how the annual gathering of world leaders can be, at times, as absurd as it is noteworthy.
But with the number of momentous revolutions, regime changes and elections in recent years, gone are the days of Gaddafi's 100-minute tirades, Ahmadinejad's Jew-bashing and Chavez calling George W. Bush the devil. Although the gawk value of these speeches has decidedly declined (ironically diminishing along with the relevance of the UN itself), this summit is still worth paying attention to as it signals what's important in world affairs.
Here's what we expect to make headlines at this year's summit:
1.Who's attending
Most presidents and prime ministers show up, but sometimes only lesser cabinet members end up at the UN podium, and this can be news in and of itself. Depending on the country, a head of state deliberately skipping out on the summit can be taken as a big middle finger to the UN and those who did make room in their schedule to attend.
But sometimes a country's leader has legitimately more important things to worry about than making a speech in New York. Like Bashar al-Assad and his country's raging civil war. Instead, Syria's Deputy Prime Minister is scheduled to speak in his absence. Also, Egypt's Interim President Adly Mansour is missing from the list of speakers – a minister is scheduled to attend in his place. Kenya's representative, Macharia Kamau, will also be missing in action, as the country's Deputy Prime Minister William Ruto is on trial with the International Criminal Court for crimes against humanity.
Two notable question marks are Venezuelan President Nicolas Maduro – whose government is accusing the U.S. of purposely roadblocking his travel plans as retribution for offering asylum to NSA whistleblower Edward Snowden – and Sudanese President Omar al-Bashir, who is also wanted for war crimes by the ICC. Although the U.S. is not an ICC member, they've voluntarily turned over suspects to the court before. Will the U.S. government arrest al-Bashir and send him to the Hague if he shows up? Will Maduro make it into the country? The two heads of state are scheduled to appear this week, but no word yet on if they've actually received visas.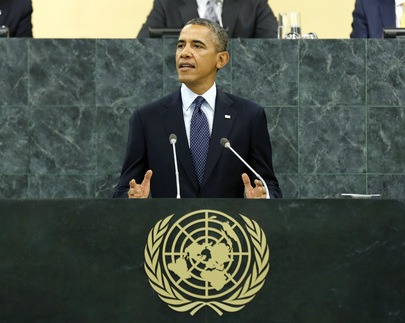 2. Who's meeting
One of the most important aspects of the week is what happens behind closed doors. The UN summit gathers most of the world's leaders in a single place at the same time, offering many unique opportunities for engagement. These sideline meetings are often where sticky issues like regional tensions, weapons programs and a country's internal problems are addressed. Some of them are scheduled (like U.S. President Barack Obama's meeting with Palestinian Authority President Mahmoud Abbas), some are expected but publicly denied and others are hoped for but not publicly scheduled, like this week's highly anticipated potential India-Pakistan meeting.
3. Syria
Although the threat of international military intervention in Syria has faded due to Assad's acquiescence to a deal that requires his regime to hand over its chemical weapons, the details – and there are a lot – still need to be ironed out.
The U.S. is also expected to push the UN Security Council to pass a binding resolution that would lay out serious consequences if Syria reneges on the deal. Problem is, Syria's got Russia and China backing it up and these two countries have veto power in the UNSC, which means they can block a resolution by a mere raise of a finger.
4. Iran
Iran's annual speech typically makes the news. In past years, it was former President Mahmoud Ahmadinejad's vitriolic, anti-Israel, anti-Western powers rhetoric (and subsequent walkouts by American and European delegations) that made the headlines. This year, though, it's all about President Hassan Rouhani, who is making his debut at the UN and is considered to be much more moderate.
Officials deny a meeting between Obama and Rouhani, but U.S. Secretary of State John Kerry is scheduled to meet his counterpart, Iranian Foreign Minister Javad Zarif. This will be the highest-level meeting between the two countries since 1979. Analysts suggest that this week's meeting will help thaw relations between the two countries, with the main issue being Iran's nuclear weapons program. Will Rouhani make any promises in his speech that back up previous statements about willing to negotiate? Will Obama and Rouhani meet? Will the Kerry-Zarif meeting just be another photo op or will it yield any tangible commitments?
5. Cyber-security and espionage
Everyone's still pissed at the U.S. for spying on them, including at the UN itself, so it comes as no surprise that this issue is being brought up this week. In her address today, Brazilian President Dilma Rousseff slammed the U.S. for "meddling" in other countries' affairs, calling it a "breach of international law." We expect that other countries will call Obama out on this issue as well.